---
---
Congrats to Kerry, who won It's Not Shakespeare by Amy Lane! It's Not Shakespeare is being released by Dreamspinner Press today.
---
---
Many thanks to L.A. Witt for donating an ebook copy of her forthcoming m/m romance, The Closer You Get, for a lucky commenter to win! The Closer You Get will be released by Samhain Publishing on November 15.
The virgin isn't the only one with something to lose…

Sequel to The Distance Between Us

Self-described manwhore Kieran Frost is loving the single life. Two years after moving to Seattle, he still has his friends with benefits, Rhett and Ethan, plus a never-ending supply of gorgeous, available men wandering through the bar where he works. A relationship? Spare him the drama and heartbreak. He's got no complaints about his unattached lifestyle.

When Rhett's daughter introduces him to newly-out-of-the-closet Alex Corbin, Kieran's interest perks up. After all, the quiet ones are always the freaks in bed. But Alex isn't just shy and reserved. He's a virgin in every sense of the word, having never even kissed anyone else.

Kieran is no one's teacher, and his first instinct is to run like hell in the other direction. But his conscience won't let him throw the naive kid to the wolves for someone else to take advantage of. The plan is to introduce Alex to his own sexuality, pull him out of his shell, then go their separate ways.

It's the perfect, foolproof plan…assuming no one falls in love.

Product Warnings: This sequel to The Distance Between Us contains a curious virgin, a shameless slut, a trip to a sex shop, and one stubborn heart. Oh, and a dildo.
Excerpt (scroll down and select tab)
About L.A. Witt
L.A. Witt is an M/M erotica writer who, after three years in Okinawa, Japan, has recently relocated to Omaha, Nebraska, with her husband, two cats, and a three-headed clairvoyant parakeet named Fred. There is some speculation that this move was not actually because of her husband's military orders, but to help L.A. close in on her arch nemesis, erotica author Lauren Gallagher, who has also recently transferred to Omaha. So, don't anyone tell Lauren. She's not getting away this time…

You can find out more about L.A. at her website, blog, Twitter, and Facebook.
Contest Rules
To enter, leave a comment stating that you are entering the contest. Contest closes 7 pm CST, Monday, November 14.
By entering the contest, you're confirming that you are at least 18 years old.
If you haven't commented before, your comment will not be visible until after I moderate it. Please do not leave a second comment because your first doesn't show up! The blog gnomes will decide your comments are spam and then only ritual dust bunny sacrifice will salvage your entry…
If your comment is actually an advertisement or if your CommentLuv link turns it into an advertisement, your comment will be deleted. (Most of you do not need to worry – this refers to some pretty clever comment spam.)
Winners will be selected by random number.
You must leave a valid email address in the "Email" portion of the comment form.
Please make sure that your spam filter allows email from stumblingoverchaos.com!
If a winner doesn't respond to my congratulations email within 48 hours, I will select another winner.
If you win, please respect the author's intellectual property and don't make copies of the ebook for anyone else.
This contest is open worldwide!
---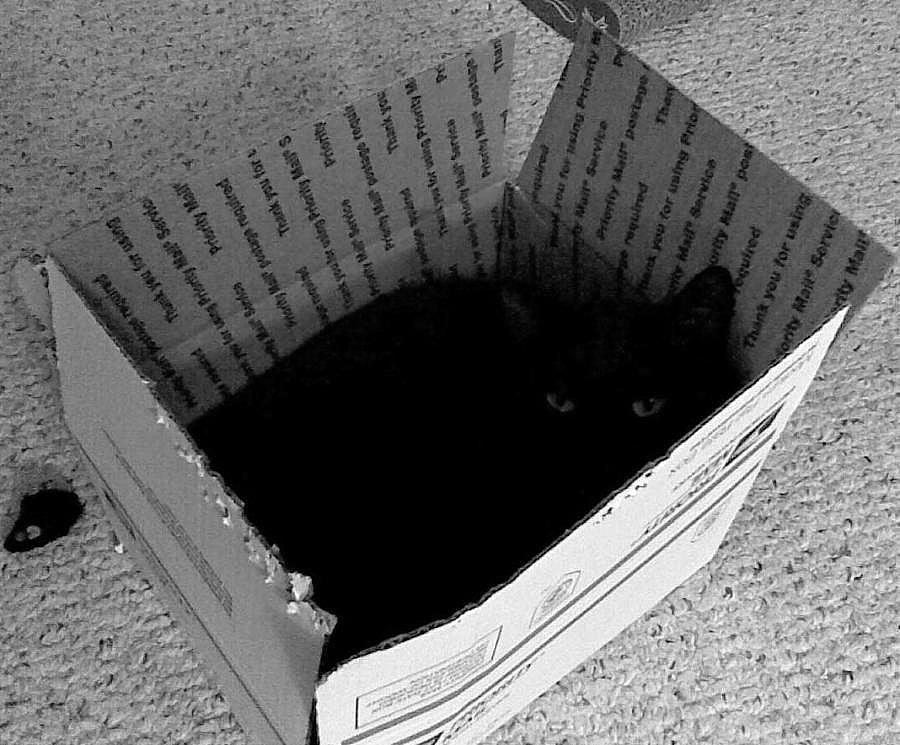 "This box is the perfect size for me!" -Mayhem
In case you were wondering, the USPS has not approved this use of a Priority Mail Flat-Rate box…especially not May's "customization" of the flaps. 🙂