I was trying to see if I could make it to November 1… Maybe next year!
Check out the huge'n'scary'n'black'n'purple spider in Sydney's neighborhood! Eeek!
Author Kim Harrison is having a Halloween costume contest. You have until November 17 to submit your photo entry for a chance to win assorted goodies, such as a copy of Harrison's forthcoming Rachel Morgan novel.
Only a few days left to participate in Obsidian Kitten's contest!
Black kitties. Gotta keep an eye on them is all I'm saying…
Love Natalie Dee's "Why you should learn how to knit" cartoon. Heh.
Hmm. Definitely a unique take on bookmarks…
Reading Update
Wolfsbane and Mistletoe, edited by Charlaine Harris and Toni L. P. Kenner. A pretty amazing cast (Simon R. Green, Donna Andrews, Patricia Briggs, Charlaine Harris, and more) writing stories about werewolves and Christmas.
My Immortal (Seven Deadly Sins, Book 1) by Erin McCarthy. I enjoy McCarthy's humorous works, such as her tales of the Vegas Vampires, but had a lukewarm reaction to this book about temptation, demons, and lust, set in New Orleans. (It was completely vampire free, however.)
A Curious Affair by Melanie Jackson. Although it's categorized as paranormal romance, it's pretty light on the paranormal (the protagonist can talk to cats) and heavy on the mystery and sleuthing. (Also completely vampire free!)
Free-Range Knitter: The Yarn Harlot Writes Again by Stephanie Pearl-McPhee. I received this as an Early Reviewers copy via LibraryThing, so you get a bit more of a review than usual. 🙂 Free-Range Knitter is a collection of essays, split into seven parts as if it were a knitting project: casting on, knitting two together, yarn overs, left-leaning decreases, making one, continuing to knit even, and casting off. Each part begins with an essay about how a friend or family member knits, which then leads to deeper insights. Pearl-McPhee's trademark knitting humour is evident throughout the book, and some of the essays will be familiar to regular readers of Pearl-McPhee's blog, Yarn Harlot, but rest assured that the book includes plenty of extremely readable and thought-provoking new material. I found myself repeatedly setting this book aside, taking short breaks so I could savor it and look forward to the next part. I also kept trying to figure out what blend of essayists I could use to describe the feel of the book – I think Elizabeth Zimmermann meets Aldo Leopold, with a dash of Bill Bryson is probably the best I can do! (Even more vampire free than A Curious Affair!)
Knit Two: A Friday Night Knitting Club Novel by Kate Jacobs. I received this as an advance copy from the publisher – according to Amazon.com, it'll be available November 25. So yes, you get more of a review for this book, too. This is set five years after The Friday Night Knitting Club. I didn't enjoy the first several chapters, which seemed chaotic, what with reintroducing the characters and updating us on the intervening five years. I had a related complaint about the beginning of Jacobs' novel Comfort Food and its similar chaotic flurry at the beginning. But, as with Comfort Food, once I got past the somewhat rough start, the story quickly drew me in and immersed me. At times, the narrative style felt choppy and seemed to interfere with the flow. And I found myself annoyed with various characters off and on. I also thought I had the ending all figured out… and I didn't. If you enjoyed The Friday Night Knitting Club, you'll definitely want to read the sequel. (No vampires in this one, either!)
---
For those of you who were curious about what
yesterday's tissue paper snack
might've been wrapped around, it was a
wrist strap from splityarn for my camera
.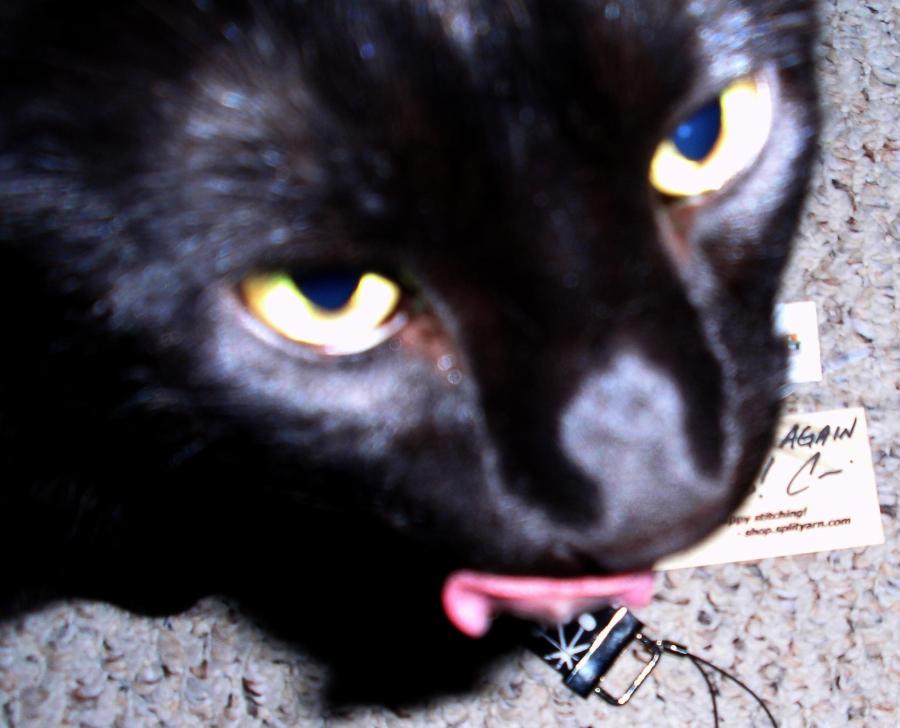 "Wasn't that strap thingy wrapped in more tissue paper? No?! Hmph. Too bad – it was tasty stuff." -Chaos