Many thanks to Chris Quinton, RJ Scott, and Sue Brown for donating their forthcoming m/m romance trilogy, The Fitzwarren Inheritance, for a lucky commenter to win!
"I curse you and your children's children, that you shall all live out your allotted years, and that those years shall be filled with grief and loss and betrayal, even as you have betrayed and bereaved me."

Four hundred years ago in rural England, a mob burned two men to death, but not before one of the victims, Jonathan Curtess, hurled a dreadful curse at the mob's leader, Sir Belvedere Fitzwarren. The curse has followed the family through the centuries, bringing grief and loss to each generation.
---
The Psychic's Tale by Chris Quinton – June 4
Mark  Renfrew is a closeted psychic and openly gay. When his grandmother discovers a family link to a 17th century feud and a still-potent curse, she insists he investigate and do his best to end it. He travels to the village of Steeple Westford, and meets and falls for Jack Faulkner, an archaeologist. He also meets the Fitzwarrens, who are facing yet another tragedy.

Then Mark learns that the man who cursed them had twisted the knife by leaving three cryptic conditions that would lift the curse, and he knows he has to try to break the curse his ancestor had set.
---
The Soldier's Tale by RJ Scott – June 11
Corporal Daniel Francis has returned to his childhood home in England to heal; the only one of his unit that survived a roadside bomb.

His reasons for skipping medication are based on a stubborn refusal to become an addict, and he is overwhelmed with survivor's guilt

Doctor Sean Lester has joined his father's surgery and when he is held at knife point by a patient high on drugs it is Daniel that leaps to his rescue – much to his horror.

When Sean nearly runs Daniel down in the dark he finds a man who needs help, and resolves to be the person to show Daniel that it is possible to live through guilt and find happiness.

Set against the backdrop of the Fitzwarren family curse, The Soldier's Tale is a story of one man's fight to find his place in a new world outside of the Army.

Will Daniel and Sean fill the second of three cryptic conditions that can lift the curse?
---
The Lord's Tale by Sue Brown – July 2
Surrounded by the tragedy of his family's history, the last thing Phil expects is to be  picked up by a gorgeous guy twenty feet up a climbing wall. What scares him even more is the way Lee fits into his life, the final piece to break the Fitzwarren curse.
---
Contest Rules
To enter, leave a comment stating that you are entering the contest. Contest closes 7 pm CDT, Wednesday, June 15.
By entering the contest, you're confirming that you are at least 18 years old.
If you haven't commented before, your comment will not be visible until after I moderate it. Please do not leave a second comment because your first doesn't show up! The blog gnomes will decide your comments are spam and then only ritual dust bunny sacrifice will salvage your entry…
If your comment is actually an advertisement or if your CommentLuv link turns it into an advertisement, your comment will be deleted. (Most of you do not need to worry – this refers to some pretty clever comment spam.)
Winners will be selected by random number.
You must leave a valid email address in the "Email" portion of the comment form.
Please make sure that your spam filter allows email from stumblingoverchaos.com!
If a winner doesn't respond to my congratulations email within 48 hours, I will select another winner.
If you win, please respect the authors' intellectual property and don't make copies of the ebooks for anyone else.
This contest is open worldwide!
---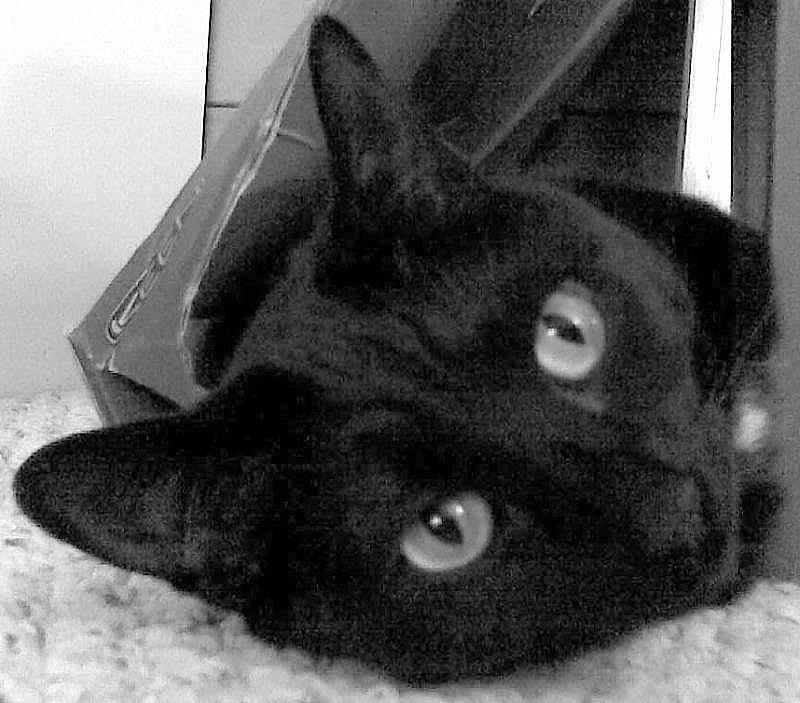 "No, there isn't room for anyone else in my A-frame box cave! It's all mine." -Mayhem
---
Congrats to Otter, who won Shades of the Past (EMS Heat #9) by Stephani Hecht! Shades of the Past is being released by eXtasy Books today.