Congrats to NancyL, who won The Naughty Ones by Shawn Lane!
Congrats to Lucy, who very impatient and so bought I'll Run Away for the Holidays by Stephani Hecht before she won it. Instead, she'll be getting A Shifter Christmas (The Lost Shifters, Book 8 ) (thanks, Stephani!) and Teresa will get I'll Run Away for the Holidays! Whew.
---
Many thanks to LB Gregg for donating an ebook copy of her forthcoming m/m romantic suspense, Trust Me If You Dare (Romano & Albright, Book 2), for a lucky commenter to win! Trust Me If You Dare will be released by Samhain Publishing on December 21.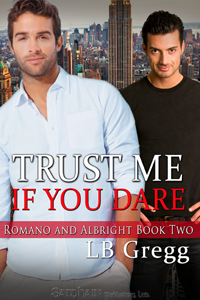 Feisty New Yorker Caesar Romano has a knack for getting into a jam, and this week is no exception. When his pregnancy-hormone-buzzed business partner sweet talks him into working a solo gig for his famous ex, Caesar attracts the worst kind of attention.

It's only the beginning. Hit on by a lusty German, stalked by the paparazzi, victim of an unexpected airbag attack – and desperate for some part-time help – Ce's running out of time, staff and patience. But what's really got him poised to run? A looming brunch with his sexy lover's esteemed family.

PI Dan Albright is a man of many gifts: investigation, security, sex talk and driving Caesar nuts in and out of the bedroom. Hired to protect an outrageous soap star from a deranged personal assistant, Dan's got his hands full refereeing rival actors, locating one four-foot-eleven woman…and convincing Ce that he's playing for keeps.

Hey, nobody ever said taking a relationship to the next level was a waltz in the park.

Warning: This book includes bad driving, a naughty German, dirty words, heated glances, mutual masturbation, oral sex, an evil scout, a memorable ride, and a fabulously affordable tuxedo. May cause unexpected bursts of laughter.
Other Books
About LB Gregg
LB Gregg (Lisabea) spends her days plotting and planning and her evenings with her family – three (well above average) teenagers, a smoking hot hubbie, a fat-ass beagle, and a smelly old dachshund. For fun, LB is passionate about skiing, hiking, travel, pedicures, fine wine, good music, and playing cards. She's been known to read a bit too much.

For more info on LB, because surely one can never get too much of a good thing, you can find her at her blog, Nose in a Book, or at her website.
Contest Rules
To enter, leave a comment stating that you are entering the contest. Contest closes 7 pm CST, Monday, December 20.
If you haven't commented before, your comment will not be visible until after I moderate it. Please do not leave a second comment because your first doesn't show up! The blog gnomes will decide your comments are spam and then only ritual dust bunny sacrifice will salvage your entry…
If your comment is actually an advertisement or if your CommentLuv link turns it into an advertisement, your comment will be deleted. (Most of you do not need to worry – this refers to some pretty clever comment spam.)
Winners will be selected by random number.
You must leave a valid email address in the "Email" portion of the comment form.
Please make sure that your spam filter allows email from stumblingoverchaos.com!
If a winner doesn't respond to my congratulations email within 48 hours, I will select another winner.
If you win, please respect the author's intellectual property and don't make copies of the ebook for anyone else.
This contest is open worldwide!
---
"Why are you calling me a purrito, Mom?" -Mayhem