Admit it – every knitter makes 'em, right?? So why not share those knitting judgment errors for the edification amusement of all, eh?
Item: The "Gimme 5" vest, which was the cover pattern for the Fall 2002 edition of Knitters magazine.
When: September 2002. Knitting with big yarn on size 17 needles, it took only five days to complete.
Judgment Errors: Knitting a vest in the first place, since I don't ever wear vests. Additionally, while I did fall in love with Jacquetta's fun handspun yarn in the skein, neither the colorway nor the thick'n'thin yarn were really me. Plus – what was I thinking with the whole dropstitch thing?!
Fate: To be dropped off at the thrift store this week, after lurking around unworn for six years.
"What are you doing, big kitty?" -Mayhem
"What does it look like I'm doing, May?" -Chaos
"It looks like you've lost your furry little mind, big kitty. Are you ok?" -Mayhem
"I am… luring you in!" *attacks* -Chaos
"Hee hee – you're such a sucker, May." -Chaos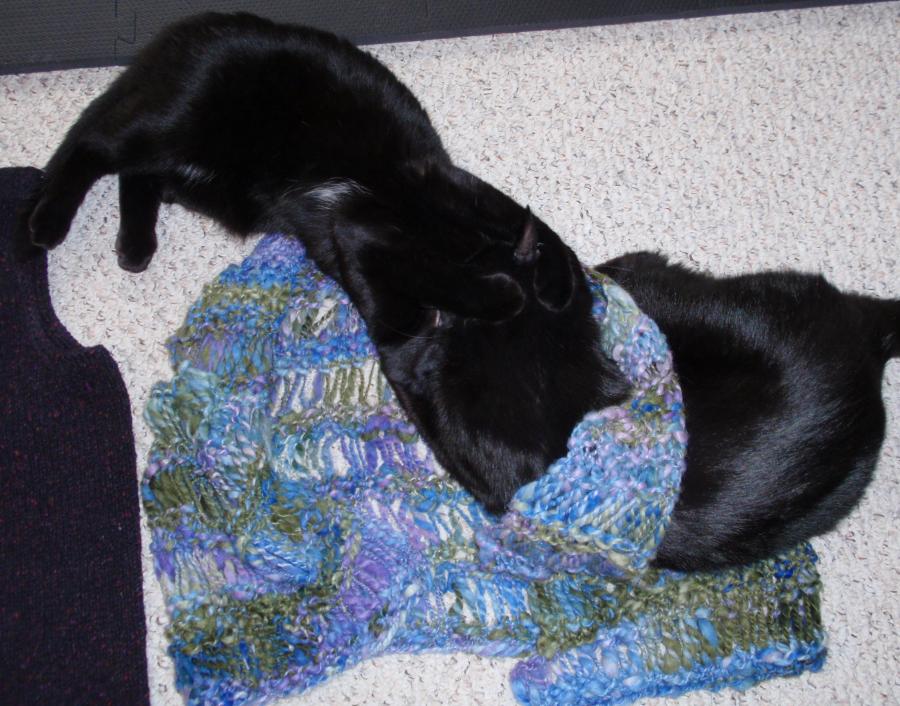 "Eeeeep!" -Mayhem
Before everyone starts clamoring for the vest to become a kitty bed, the drop stitches proved too tempting for Mayhem. I did rescue the vest before she gnawed any holes in it.