Many thanks to author Julia Rachel Barrett for donating an ebook copy of her forthcoming romantic suspense, My Everything, which comes out on February 12.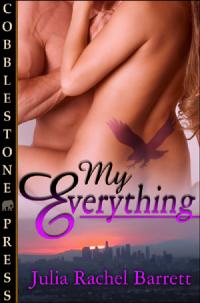 Security consultant Ben McCall is alone. His wife and unborn child are dead, victims of an assassination attempt meant for someone else. Grieving, he disappears. When his best friend is in danger, Ben resurfaces only to find his friend isn't the target of a murderer, he is, along with his sister Angel. On the night of his return, Ben unexpectedly comes face to face with a woman from his past. She needs his help. He learns that he needs hers even more.

Grace Adams is one of the walking wounded. Her husband died two years ago. One night she is incapacitated. A man comes to her aid. He's the man she fell in love with years before, Ben McCall. As the passion between them reignites, Grace too becomes a target of the madman who stalks Ben. She, Angel and Ben must use their wits to stay alive as they fight a man desperate for revenge.
Here's a bit about Julie in her own words:
Who and what am I?  I kind of like to be or not to be, that is the question, better. Talking about myself is harder than writing a book!

I've done so many things in my life that sometimes it's tough to keep memories in order… I've been pretty much supporting myself since the age of thirteen when I forged a work permit and began waitressing at a coffee shop below a motel that catered to prostitutes. Whew, managed to spit that out in one breath!

I've done stints as a bartender, a fry cook, a legal secretary, and worked as an editor in the English Department at the university I attended. I've spent early morning hours working as a pastry chef, been a personal chef and event planner, owned a catering company and a restaurant. I've roamed across this country with nothing more than a backpack and hitched my way around some parts of the Middle East – amazing and scary! Nearly got my ass stoned a couple times! Walked all over London, Rome and Paris because the best way to see those cities is to stay in cheap hotels and walk from one end to the other. Climbed mountains in Scotland and hiked across Costa Rica.

After a climbing accident sidelined me for an entire year, I returned to my first love, writing. I'm also a registered nurse so when you see the world from Grace's point of view in My Everything, you'll know she knows what she's talking about. Grace is an RN, a pain-management specialist.

Twenty-five incredible years ago, I married the boy I fell in love with when I was fourteen. We have three pretty amazing children and a stable full of four-legged creatures – a couple two-leggeds (birds) and one lucky Koi. My Everything is my second release this year. Captured, a sci fi romance, came out with Siren on January 6th.

I love to hear from readers. You can reach me at Julia@JuliaRachelBarrett.net and please visit my website.
Thanks for stopping by and good luck!  julia
And as a little test to see how many people actually read through this, Julia's holding a contest (announced in the comments of this post) in which you can win a copy of Mia Watts' latest scorcher, FU. (Don't despair – Mia will be giving away a copy of FU here next week.)
Contest Rules
To enter, leave a comment below stating that you are entering the contest. Leave your comments by 7 pm CST, Thursday, February 11.
If you haven't commented before, your comment will not be visible until after I moderate it. Please do not leave a second comment because your first doesn't show up! The blog gnomes will decide your comments are spam and then only luck and counterintuitive espionage will salvage your entry…
If your comment is actually an advertisement or if your CommentLuv link turns it into an advertisement, your comment will be deleted. (Most of you do not need to worry – this just refers to some pretty clever comment spam.)
Winner will be selected by random number.
You must leave a valid email address in the "Email" portion of the comment form.
Please make sure that your spam filter allows email from stumblingoverchaos.com!
If a winner doesn't respond to my congratulations email within 48 hours, I will select another winner.
This contest is open worldwide!
---
*sniff sniff sniff* "Huh. I wonder where the big kitty is? I don't see his big butt sticking out anywhere." -Mayhem
"Target acquired… Ready… Aim…" -Chaos