Don't forget to leave a comment on the contest post before 7 pm CDT, Monday, August 24, for your chance to win a copy of Rita Herron's paranormal romance, Dark Hunger!
I've notified the five winners of the So Into You contest – as soon as I hear back from all of them, I'll post the winners. Thanks to everyone who participated!
Lea's giving away an ebook copy of Dirty Love by Lacey Savage – leave a comment by August 21 if you'd like the chance to win what looks to be a scorching hot read.
Amy's giving away an autographed copy of the mystery Fatal Encryption. For your your chance to win, leave a comment about what job you'd choose if you could choose any job.
---
Ok, things are going to be really, really crazy through the end of the month in workland.
Good thing I escaped to the cabin last week!
Yes, the cabin was a lot of fun. Thanks for asking. 😉 We saw a bald eagle. We fished. We lounged about on the deck drinking beer. We puttered around the lake on the boat. We rejoiced that there weren't any bugs other than a random horsefly or two.
Jeanne, clever one that she has, has suggested that perhaps knitting wouldn't be so painful if the two projects I've been not working on were wool instead of cotton blends. *lightbulb moment* Now I just have to find the energy to wind yarn some evening!
Why is the wind always against me when I go biking? You'd think I'd be used to the wind, having grown up near Rochester, Minnesota, which is apparently one of the windiest cities in the US.
I wonder if I'll get caught up on my blogs in Google Reader before September? I still love all of you, but I'm a bit behind…
LOL! Mayhem was napping in her toy basket (handily included in the background of the picture below) and just fell out. Now she's lying on the floor, looking at her toy basket with much suspicion. ("I'm sure it's out to get me, Mom.")
---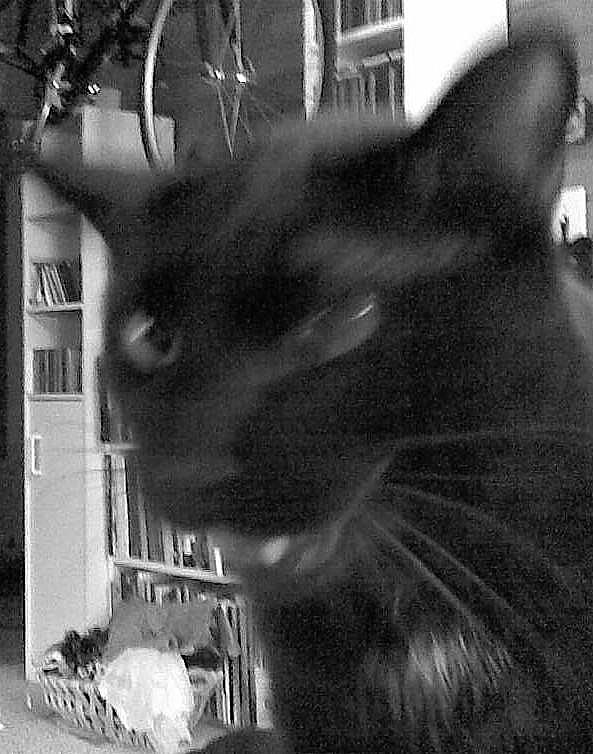 "Arrrrgh! I'm a pirate, hi ho, hi ho. Avast there, Mom, and prepare to hand over the kitty treats!" -Chaos