---
---
Congrats to Kim W, who won the entire College Fun & Gays series by Erica Pike!
---
---
Many thanks to the authors of Pink Squirrel Press for donating an ebook copy of their freshly released Summer Lovin' m/m romance anthology!
Summer is here, and the loving is easy! Slake your thirst for romance with Summer Lovin' – an anthology for lazy days and summer sunshine.

The stories are all m/m contemporary romances with a smattering of smut, but there's a real range of locations and atmospheres here. Travel from Venice Beach in LA, via Lake Michigan, to the traditional British resort of Brighton, a remote holy island, and a small lake in deepest, darkest Somerset. Go skinny-dipping in a disused quarry. Hang out with the boys in the band. Meet a bad boy made good, and one with a shy smile that hides a dark secret. Or maybe get your heart pillaged by a Viking re-enactor.

With gentle humour, hot sauce and a hefty scoop of romance, enjoy a quintet of sultry stories of men loving men from Clare London, Chrissy Munder, JL Merrow, Josephine Myles, and Lou Harper.

The mercury's not the only thing that's rising!

Summer Hire by Chrissy Munder
It's a scene right out of Jim's porn-fuelled fantasies: the tool-strewn workshop and the hunky, tattooed mechanic with his coveralls unzipped to the waist. But Aaron's not just Jim's dream guy – he-s his new employer.

In the sweltering Michigan heat, Jim struggles to control his libido in the face of endless provocation. But Aaron's determined not to be Jim's summer fling. This bad boy made good isn't looking for a short-lived romance.

If he wants Aaron to take him on as more than an employee, Jim's going to have to do what doesn't come naturally – and think seriously about his future.

Lost & Found on Lindisfarne by JL Merrow
It was a hot summer's day on the Holy Island of Lindisfarne. The lanes were dusty underfoot, the languid breeze was heavy with the scent of the North Sea, and a Viking had just offered to buy my daughter…

When single father Chris meets a Viking re-enactor on Lindisfarne, he thinks it's the perfect recipe for a holiday fling – and nothing more. Chris had a relationship with a free spirit like Ian before, and it didn't end well for him or for his daughter Kelis. But Chris hasn't reckoned with the Viking way of taking all you're willing to give – and coming back for more.

Salt 'n' Vinegar by Clare London
Brighton in the summer is a great place to be for a young gay man looking for a good time with no strings. Psychology student Joe's spending his uni vacation working in a chip shop with a succession of ever-worse punning names and picking up guys on the beach for casual hook-ups – but something makes him want to take it slow with gorgeous chip shop regular Steven.

The trouble is, Steven's shy smile hides a dark secret, and his past is about to come back to bite them both.

Werewolves of Venice Beach by Lou Harper
The naked man came out of nowhere…

Bryan's an over-achieving, self-confessed nerdy student, who's taken a summer job house-sitting in Venice Beach. He's out of his depth when it comes to a guy from the wrong side of the tracks like Slade.

Covered in tribal tattoos and with a penchant for skinny-dipping, Slade's the lead singer in a band. He's way out of Bryan's league. But he's sending out all kinds of mixed signals. And after a pot-fuelled afternoon, Bryan thinks he's found the astonishing reason why Slade's giving so little away.

By Quarry Lake by Josephine Myles
Tommy's been away from his home in rural Somerset for three years. Long enough to sort out who he is, and to get over the feelings of confusion and shame that blighted his lifelong friendship with farmer's boy Rob. He's out and proud, now – and he's coming home to claim back what he lost.

Rob's the one who stayed behind, working on the farm with little time for a social life. With Tommy coming back into his life, he could have a lot to gain – and everything to lose.

He's going to have to take a leap of faith. Straight into the ice cold waters of Quarry Lake.
Contest Rules
To enter, leave a comment stating that you are entering the contest. Contest closes 7 pm CDT, Thursday, August 29.
By entering the contest, you're confirming that you are at least 18 years old.
If you haven't commented before, your comment will not be visible until after I moderate it. Please do not leave a second comment because your first doesn't show up! The blog gnomes will decide your comments are spam and then only ritual dust bunny sacrifice will salvage your entry…
If your comment is actually an advertisement or if your CommentLuv link turns it into an advertisement, your comment will be deleted. (Most of you do not need to worry – this refers to some pretty clever comment spam.)
Winners will be selected by random number.
You must leave a valid email address in the "Email" portion of the comment form.
Please make sure that your spam filter allows email from stumblingoverchaos.com!
If a winner doesn't respond to my congratulations email within 48 hours, I will select another winner.
If you win, please respect the author's intellectual property and don't make copies of the ebook for anyone else.
This contest is open worldwide!
---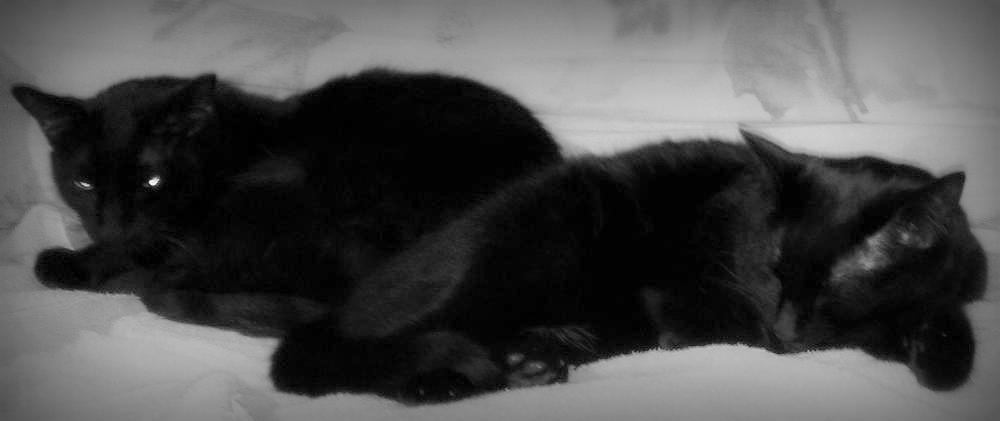 "…zzzzzzzzzzz…" -Mayhem
*glaring* -Chaos