Many thanks to Marie Sexton for donating an ebook copy of her forthcoming kinky futuristic paranormal m/m romance, Song of Oestend, for a lucky commenter to win! Song of Oestend will be released August 22 by Total-E-Bound.
Symbols have power…

Aren Montrell has heard tales of the Oestend wraiths – mysterious creatures which come in the night and kill anyone who's not indoors. Aren's never had reason to believe the stories, but when he takes a job as a bookkeeper on the BarChi, a dusty cattle ranch on the remote Oestend prairie, he soon learns that the wraiths are real. Aren suddenly finds himself living in a supposedly haunted house and depending on wards and generators to protect him from unseen things in the night. As if that's not enough, he has to deal with a crotchety old blind woman, face "cows" that look like nothing he's ever seen before, and try to ignore the fact that he's apparently the most eligible bachelor around.

Aren also finds himself the one and only confidante of Deacon, the BarChi's burly foreman. Deacon runs the BarChi with an iron fist and is obviously relieved to finally have somebody he can talk to. As their relationship grows, Aren learns there's more to Deacon and the BarChi than he'd anticipated. Deacon seems determined to deny both his Oestend heritage and any claim he may have to the BarChi ranch, but if Aren is to survive the perils of Oestend, he'll have to convince Deacon to stop running from the past and finally claim everything that's his.

Reader Advisory: This book is set in an alternate reality and contains scenes of violence, mild D/s and bondage, and a M/M/M menage scene.
Excerpt (scroll down and click to expand)
About Marie
Marie Sexton was always good at the technical aspects of writing but never had any ideas for stories. After graduating from Colorado State University, she worked for eleven years at an OB/GYN clinic. She quit the clinic at about the same time she started reading M/M romances. At some point in the ensuing months the static in her head cleared and her first story, Promises, was born.

Marie lives in Colorado. She's a fan of just about anything that involves muscular young men piling on top of each other. In particular, she loves the Denver Broncos and enjoys going to the games with her husband. Marie has one daughter, two cats, and one dog, all of whom seem bent on destroying what remains of her sanity. She loves them anyway.

You can learn more about Marie and her books at her website.
Contest Rules
To enter, leave a comment stating that you are entering the contest. Contest closes 7 pm CDT, Friday, August 19.
By entering the contest, you're confirming that you are at least 18 years old.
If you haven't commented before, your comment will not be visible until after I moderate it. Please do not leave a second comment because your first doesn't show up! The blog gnomes will decide your comments are spam and then only ritual dust bunny sacrifice will salvage your entry…
If your comment is actually an advertisement or if your CommentLuv link turns it into an advertisement, your comment will be deleted. (Most of you do not need to worry – this refers to some pretty clever comment spam.)
Winners will be selected by random number.
You must leave a valid email address in the "Email" portion of the comment form.
Please make sure that your spam filter allows email from stumblingoverchaos.com!
If a winner doesn't respond to my congratulations email within 48 hours, I will select another winner.
If you win, please respect the author's intellectual property and don't make copies of the ebook for anyone else.
This contest is open worldwide!
---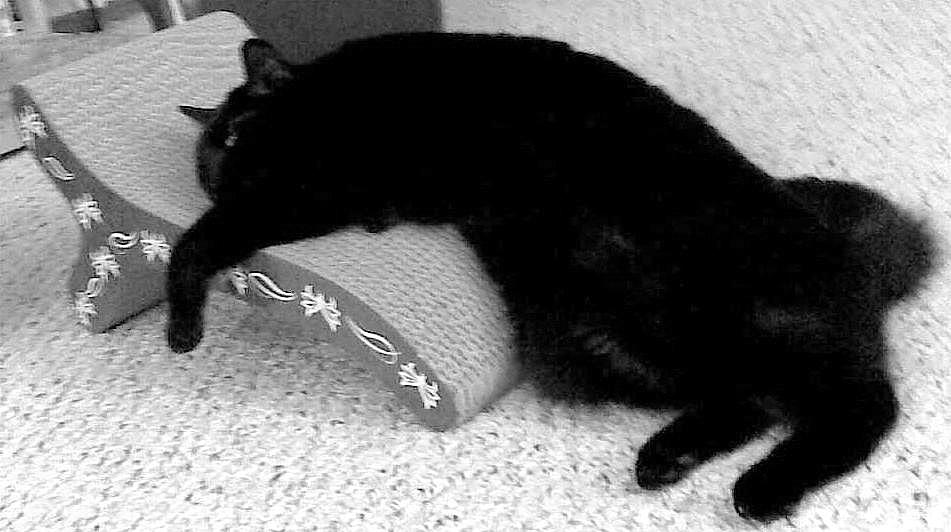 "Oh, how I lurve thee, new scratcher!" -Mayhem