Don't forget that Monday, January 14, is National Dress Up Your Pet Day! Trivially, today is National Step in a Puddle and Splash Your Friends Day; Saturday is the Feast of Fabulous Wild Men Day – how are you celebrating that one, FuriousBall?! 😉
CursingMama's giving away Body Drama, an extremely frank "facts of life" book – stop by her blog for details on how to enter the contest, which ends midnight CST, January 16.
Heidi's friend Christy recently had breast removal surgery and is about to go through chemo and radiation therapy. Heidi's having a "Bits for Tits" contest – she's collecting knitted/crocheted/sewn breasts for Christy's amusement and use. If you send Heidi a crafted breast (or a chemo hat if you can't picture yourself knitting/crocheting/sewing a breast) by February 14, you will be entered in a drawing for assorted fibery prizes!
KitKatKnit's kitty Ruby has issued a "Bunny Thumper Challenge," looking for the the kitty with the longest back feet (bunny thumpers), the daintiest back feet, and some randomly selected back feet. Contest closes midnight PST, January 17.
My, but it is very challenging to measure and photograph "bunny thumpers." I got some very nice mouth measurements.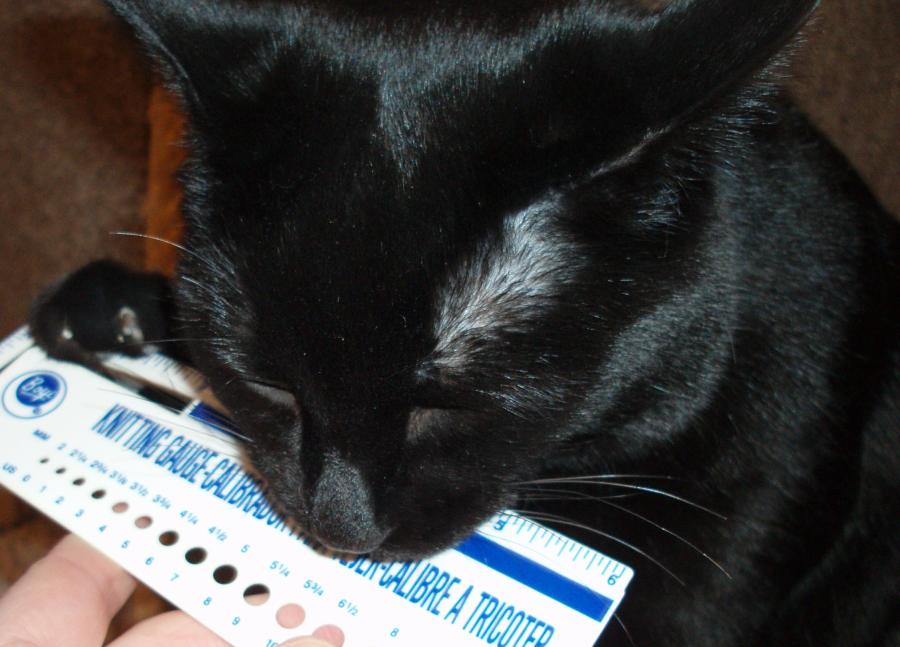 "Mwmph." -Mayhem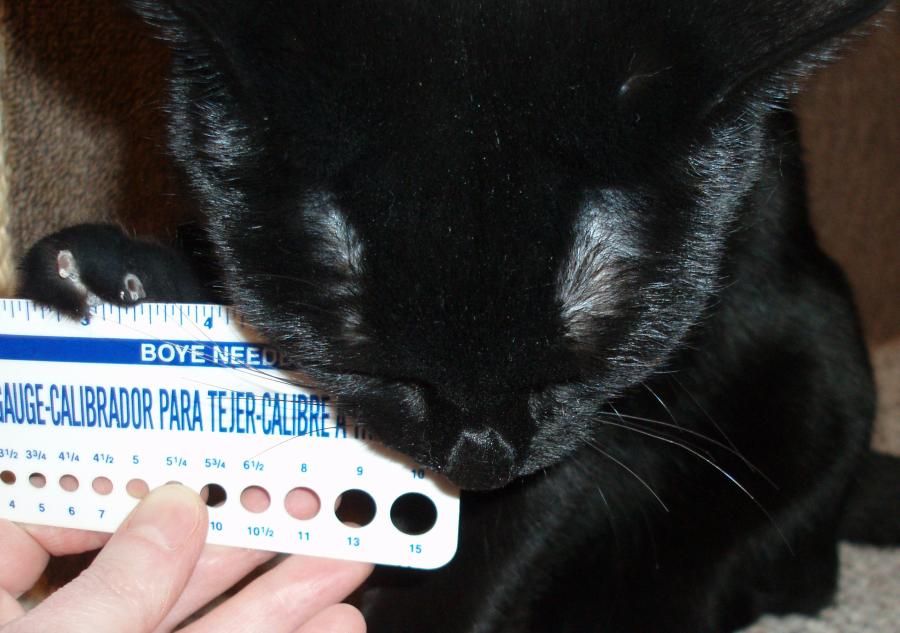 "Mwmph. Mwmph!" -Mayhem
And some shots that required a fair amount of imagination as to where the end of the bunny thumper might be.
"What do you mean, 'overhang'?! I don't have 'overhang'! Hmph." -Chaos
This overexposed and poorly corrected shot was the best I managed of Chaos. (More accurate measurement while he was napping and I wasn't hindered by a camera revealed that bit of his back leg to be 5.5″ long.)
"Sulking here! Leave me alone!" -Chaos
But finally I did get a good shot of May's little bunny thumper, which was revealed to be somewhere between 4.5″ and 4.75″ – so hard to tell with all the squirming.
"I get a treat for this, right?" -Mayhem
Whew!