Fang-tastic Books is giving away an ebook copy of Maree Anderson's steamy and enjoyable paranormal romance, Even Demons Get the Blues. Leave a comment for your chance to win.
For a chance to win a copy of the young adult paranormal Wicked Lovely by Melissa Marr, leave a comment at Book Smugglers by July 25, 11:59 pm. (Oh, and don't forget that it's Young Adult Appreciation Month at Book Smugglers!)
---
Barnes & Noble launched an ebookstore, complete with its own DRM (digital rights management) scheme. According to Dear Author, of the 700,000 books available, 500,000 are in the public domain… so B&N pretty much has the same non-public domain offerings as everyone else.
Oh, my. The Broomba?! Very Sorcerer's Apprentice…
We should've guessed it was coming after Pride and Prejudice and Zombies… Sense and Sensibility and Sea Monsters.
Learn how to load non-Amazon ebooks on your Kindle. Why would Kindle owners want to do that? Well, perhaps you heard about Amazon's latest Big Brotheresque kerfuffle, in which they removed copies of 1984 and Animal Farm from Kindles without notifying those who'd purchased the books first. (Really, could they have picked a better book than 1984 for this shenanigan?!) Yes, the books weren't legal for the US (still copyrighted here, not so in the rest of the world), but the sweeping unannounced delete was probably not Amazon's finest moment. Also, apparently there's a class action lawsuit in the works over the fragility of Kindles.
Signs that you might be reading too many romance novels… (although I can make a case for #7 and Janet Evanovich's Stephanie Plum novels!)
Too bad this reading lamp/bookstand is just a concept.
Did you hear about Book Blogger Appreciation Week? It'll run September 14 – 18.
Head over to Lurv A La Mode to vote yay or nay for mantitty on romance novel covers. (Some covers will look familiar to you from this blog.) Can you guess what I voted? 😉
---
Reading Update


Red Fire and

Red Kiss (Gods of Midnight, Books 1-2) by Deidre Knight. After how much I loved Knight's book The Butterfly Tattoo, I had high hopes for this paranormal series about immortal Spartan warriors. I'm intrigued by the characters (enough to continue following the series), but the writing seems uneven and parts of the storyline annoy the heck out of me.

Animal Instinct (Men of Alaska) by Paige Tyler. ebook. Another story about a hunky Alaskan werewolf. What's not to like? 🙂 This is the sequel to Animal Attraction.

A Fantasy Medley by Kelley Armstrong, C.E. Murphy, Robin Hobb, and Kate Elliott. Short stories, set in each author's particular world. I liked the stories by Kelley Armstrong (no familiar Otherworld characters, alas) and C. E. Murphy (Janx! And Daisano! And Baba Yaga!) the best.

Tooth and Claw by Annmarie McKenna. ebook novella. Seth's a vampire who can shift into jaguar form and faints at the sight of blood. He's met his mate… only she doesn't know it yet. Oh, and it's too bad she hates vampires… My only complaint about this one? I wanted the story to be longer!

Forever Immortal (Immortal Series, Book 4) by J.K. Coi. ebook. Ok story about a demon hunter who finds himself in love with a demon who used to be human.

Called by Blood and
Bound by Blood (The Faustin Brothers, Books 1-2) by Evie Byrne. ebooks. Very good, steamy paranormal romances about vampire brothers who live in NYC and whose mother has visions that send the brothers out to find their fated mates. I'm looking forward to the next book!


My Wicked Enemy by Carolyn Jewel. Very good paranormal romance about fiends (a type of demon) and magekind (humans who wield magic and often enslave fiends for nefarious purposes). Recommended.

Oleander House,
What Hides Inside,
Twilight, and
Closer (Bay City Paranormal Investigations, Books 1-4) by Ally Blue. ebooks. This is another series I'm really enjoying. These are sort of hard for me to categorize – they're definitely romances, although be warned that they are m/m romances. They're paranormal, in that they're about a group that investigates mysterious phenomena. Also, be warned that each book gets progressively more steamy.


Turn Left at Sanity by Nancy Warren. Delightful contemporary romance about a New Yorker who goes to Beaverton, Idaho, to see if it's a good place to locate a kitty litter factory. The eccentric residents of Beaverton aren't particularly pleased with the factory idea. Particularly notable about this book? The spectacular errors in the back of book blurb, where the town is referred to as Saunders, Idaho. Whoops.
---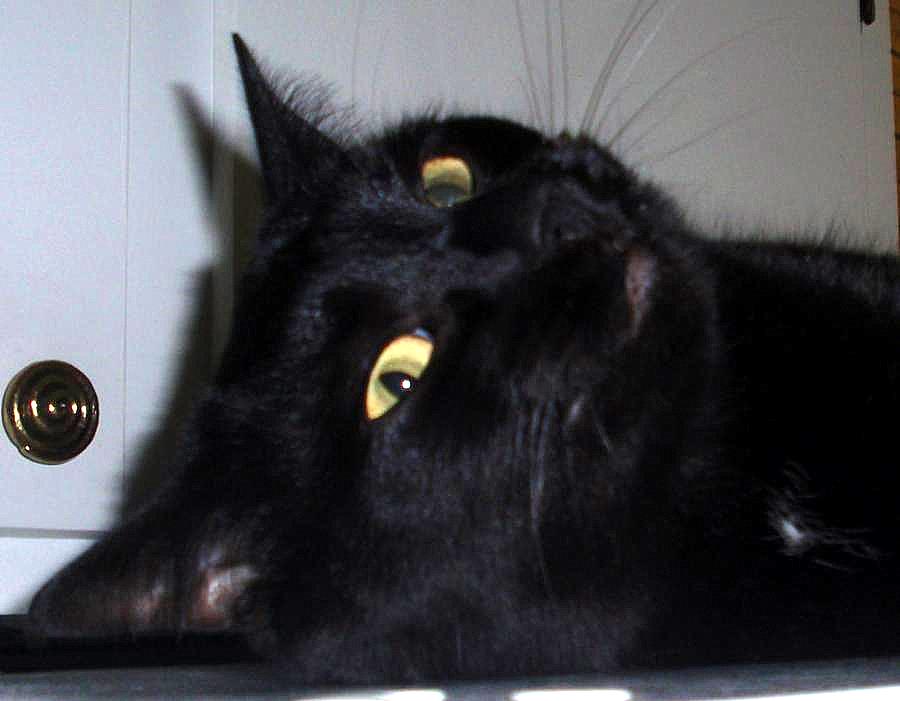 "Mom! The top of the fridge is our Secret Kitty Hideout where we plan Kitty World Domination! Go away!! Bwa-ha-ha!" -Mayhem