Congrats to the winners of my Contest of BABEL – Margy, Cindy, Chris S, Cristina N, and Kimmy L! Since I can't resist accumulating cheap and good books from the library withdrawn store and the thrift store, I'll definitely do this again sometime.
If you really wanted to win Larissa Ione's third Demonica book, Passion Unleashed, in the Contest of BABEL, head over to Morbid Romantic's blog – she's giving away five copies! Leave a comment by 11:59 pm EDT, July 5, for your chance to win.
Largehearted Boy's having a Largehearted Housecleaning and is giving away a 50 book + 50 cd prize package! Leave a comment by midnight CDT, June 26, for your chance to win (and cause your mail carrier or UPS driver to hate you forever).
---
Quite the kerfluffle over Amazon's mysterious DRM book download limits for Kindles. And an interesting take on Amazon and ebook DRM, which points out that Amazon's mp3 store is DRM-free and focused on working for any device, but not so with ebooks…
Extremely link-filled and very informative article about ebookstores, readers, and more at the Know Something Project.
Dear Author has a nice article about the components (correctness, stlye, taste) that shape a reading experience.
The July 7 Berekley Crime mystery releases are posted at Darque Reviews.
BookSeer is pretty cool – you fill in the author and title of a book you just finished reading and it suggests other titles you might like.
Twenty signs that you might be reading too much romance. This was my personal favorite: "You clip the covers off your romances and make a mantitty wallpaper collage."
---
Reading Update

Even Demons Get the Blues by Maree Anderson. ebook. This was a well-written and steamy novella. More detail at Fang-tastic Books.


Sins and Shadows: A Shadows Inquiries Novel by Lyn Benedict. Very powerful urban fantasy about a PI dealing in the supernatural. No vampires, CarrieK! 🙂 Plenty of gods (Greek, Christian), witches, and even an ancient being of riddles… My only real complaint was that it dragged a bit near the end. Well, that and that I sort of wished it was a paranormal romance, so I could get the HEA I wanted for the ending.


Pandora's Box by Natalie Stenzel. Totally reading these out of order – this is the first book in Stenzel's series about the puca brothers and associates. I'm sure I would've picked this up sooner if the cover was as, um, enticing



as those of the sequels!
What Happens in Vegas… After Dark by Jodi Lynn Copeland, Lauren Dane, Kit Tunstall, and Anya Bast. Excellent and scorching hot collection about the paranormal side of Las Vegas. *fans self* Oh, you'll have to click through to see the cover – bit too scorching! Review at Fang-tastic Books.

The Highwayman (Silhouette Nocturne: Wicked Games) by Michele Hauf. This title might sound familiar. 😉


Heart of the Dragon,

Jewel of Atlantis, and

The Nymph King (Atlantis, Books 1-3) by Gena Showalter. The Greek gods created Atlantis to house their mistakes: vampires, demons, gorgons, nymphs, harpies, humans who can turn into dragons, and more. Although the two entrances to Atlantis are protected by veils of mist, humans manage to find the mythical land and Atlanteans occasionally make brief forays into our world. This is another good series from Gena Showalter. Of the first three books, The Nymph King was definitely my least favorite (I thought it was a bit weak), although I can't fault the cover! 😉 I also read
The Amazon's Curse, which is an ebook novella that takes place after the fourth book, which I haven't read yet. Whoops. Hey, it was on my ebook reader and I'd forgotten The Nymph King at home. Be warned that The Amazon's Curse does contain spoilers for the fourth book.


Just One of the Guys by Kristan Higgins. Nicely done contemporary romance. I cried a bit. In fact, my only real issue with the book (and I'm beginning to suspect this is just part of the author's formula) is the main character's obsession with her ticking biological clock. Also, please note that the dog on the cover in no way resembles the dog in the book, other than that they're both dogs.


Too Hot To Handle by Robin Kaye. Another nicely done contemporary romance, featuring a male lead who's a bit less alpha arrogant than in many romances.
---
Of course, what would be a bookcase flash from my place without a cat in the picture?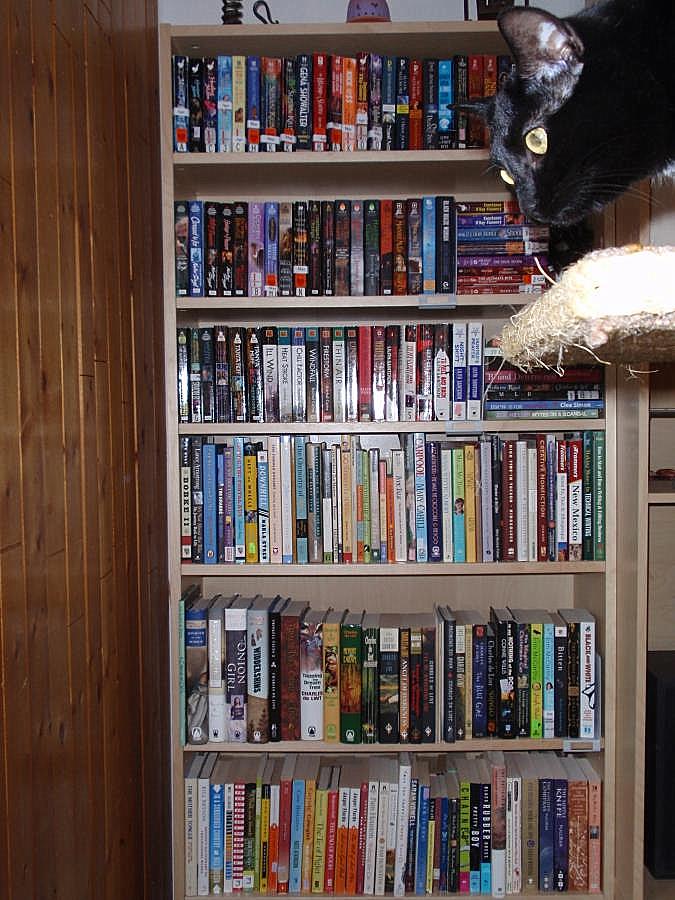 "Birds! Birds! Birds! There are birds out the window, Mom! Birds!" -Mayhem