Bookity
Do, Think, Make, Learn
Cookity
Gluten Free
Artsy Crafty
Cool
Cool or Wha…?
Wha…?
LOL
Teh Cute
Reading Update

Empire Games and
Dark State (Empire Games 1-2) by Charles Stross. The first two books of a trilogy set in the Merchant Princes' universe sustain the intrigue and suspense of the original series and contain many familiar faces. Now, here's hoping I can remember all of the details long enough for the final book to be released…

An Unkindness of Magicians by Kat Howard. Very good story about the magical families who live in New York and their challenges to choose a new leader. If there are more books about this world, I will definitely read them!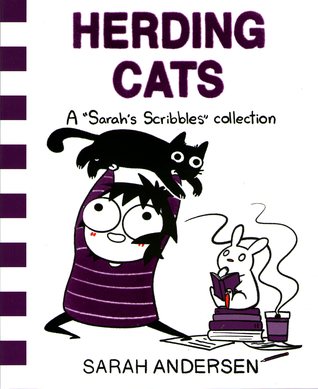 Herding Cats (Sarah's Scribbles #3) by Sarah Andersen. Funny and so very, very on point.

Mockingbird (Miriam Black #2) by Chuck Wendig. Decent dark urban fantasy about a psychic who can tell how people die if she touches them. I finished it, but I have no desire to read any more in this series.

Bloodshot and
Hellbent (Cheshire Red Reports 1-2) by Cherie Priest. Good pair of books about a vampire who works as a thief and is used to going it alone… but that is definitely changing, rather to her chagrin. This was obviously intended to be a longer series, but… the second book came out in 2011, so it seems unlikely it will be continued. The second book concludes tidily, but there's a larger story arc that's left hanging.
---
"…zzzzzzzzzz…" -Chaos
Not so easy to type with his head on my arm!