---
---
Stop by and enter the contest for Barging In by Josephine Myles! Contest closes 7 pm CDT, September 19.
---
Congrats to Cayce, who won Love is in the Title (Love #1) and Love is in the Hallways (Love #2) by RJ Scott!
Congrats to D, who won Galen and the Forest Lord by Eden Winters! Galen and the Forest Lord will be released by Torquere Press on Saturday, September 10.
---
---
Contests
Bookity
Ebookity
Think, Do, Make, Learn
Cookity
Crafty
Cool
Cool or Wha…?
Wha…?
LOL
Teh Cute
Reading Update

Lullaby for a Stolen Child (Stolen Child #2) by Anna Mayle. ebook short. Very good short m/m/m dark fantasy about a human stolen by the Fae as a child, the Redcap who took his place, and the golden Fae hunter who's been entranced by him for years.

In Darkness Bound (The Society #1) by Christine Price. ebook. Very good m/m/m paranormal romantic suspense that I had to read after reading The Usual Apocalypse. And maybe I was more forgiving of its faults than I might've been if I'd read it first, but it totally sucked me in and worked for me.

Not Knowing Jack (Regularly Scheduled Life #2) by KA Mitchell. ebook. Very good m/m romance about Jack, a chef, and Tony, Jack's younger bartender boyfriend. When Jack begins to act mysteriously, Tony realizes how very little he actually knows about Jack, even after living together for a year. This book had the potential to be a five-star read; however, I found the ending rushed and thus rather unsatisfying. ("Wait, where did the previous year go?!")

Bullied by Jeff Erno. ebook collection. Very good, if somewhat heavy-handed, collection of short stories about gay teens being bullied in school. The stories are told primarily in first person, from a variety of perspectives: the student being bullied, the bully, the parent who's been lying to herself about her open-mindedness. While the stories are painful and moving, the overall message is hopeful: things can get better, but not without help.

The Hunting Moon by Evelyn Shepherd. ebook. Good but inconsistent paranormal m/m romantic suspense about two cops, a powerful psychic and a werecoyote, on the Columbus Preternatural Task Force. As the werecoyote pursues the mutual attraction that the psychic denies, they're also trying to solve a string of murders and capture a deranged stalker from the psychic's past. Several things kept me from rating this book higher: an ongoing issue with word usage and substitution ("saddled" instead of "sidled" being the most memorable) and inconsistencies in the psychic's powers (if he could lock and unlock doors with his mind, why couldn't he get out of handcuffs?).

Ash Swan (Cob Brothers #1) by Amber Kell & Stephani Hecht. ebook. Good paranormal m/m romance loosely based on the fairytale of the Six Swans. In the first installment of this series, the crown prince, who's living on Earth for a few years before taking the throne, rescues a handsome bike courier who'd fallen into a pond while feeding ducks and geese in the park, then proceeds to get to know the courier better…

Hey, There's Fur in My Wedding Cake (Lost Shifters #12.5) by Stephani Hecht. free ebook short. Good short paranormal romance about an exiled wolf shifter who returns to the pack that exiled in order to attend a wedding reception, where he meets a very intriguing feline shifter…

Change on the Fly (Blue Line Hockey #5) by Stephani Hecht. ebook. Sweet m/m romance about an NHL player who sustains a career-ending injury and isn't doing so well until his best friend from high school shows up at his door.

Swept Away (Beach Bums #2) by Diana DeRicci. ebook. Good m/m romance about a guy who's retreated to his beach house to try sorting out his thoughts after he drunkenly kissed a guy in a bar on a dare… and enjoyed the kiss so much, his fiancee ended their engagement after he told her about it.

In From the Cold by Mercy Celeste. ebook. Ok m/m romance about a sheriff's deputy and a country singer who were each others' firsts in high school, but who've taken different and equally self-destructive paths since then… and that doesn't end when tragedy brings the singer back to their hometown. This book had a lot of unrealized potential, which was unfortunately overshadowed by somewhat choppy writing and the absolutely worst case of pronoun confusion I've ever encountered.

The Playwright (The Male Room #3) by Carolyn LeVine Topol. ebook. Ok m/m romance about a playwright whose writing partner and roommate signs him up for The Male Room online dating site, hoping to help him get over a broken heart years before. The insta-love was more insta-lovey than usual in the this one.
---
I got a new tattoo on Sunday. 🙂 This one first, so you can see where it's located: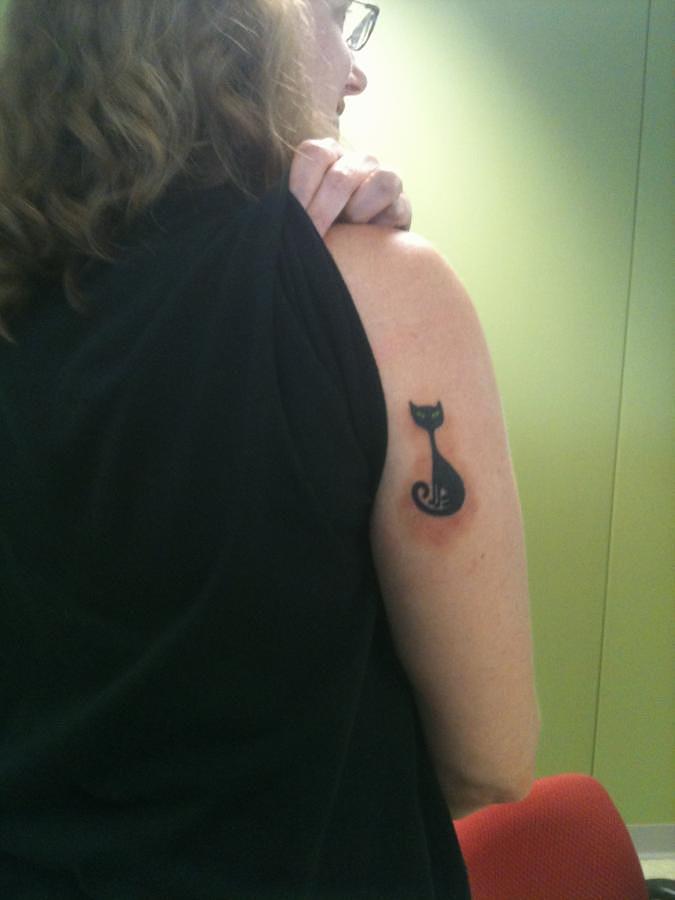 And a close-up, so you can see the bright green eyes!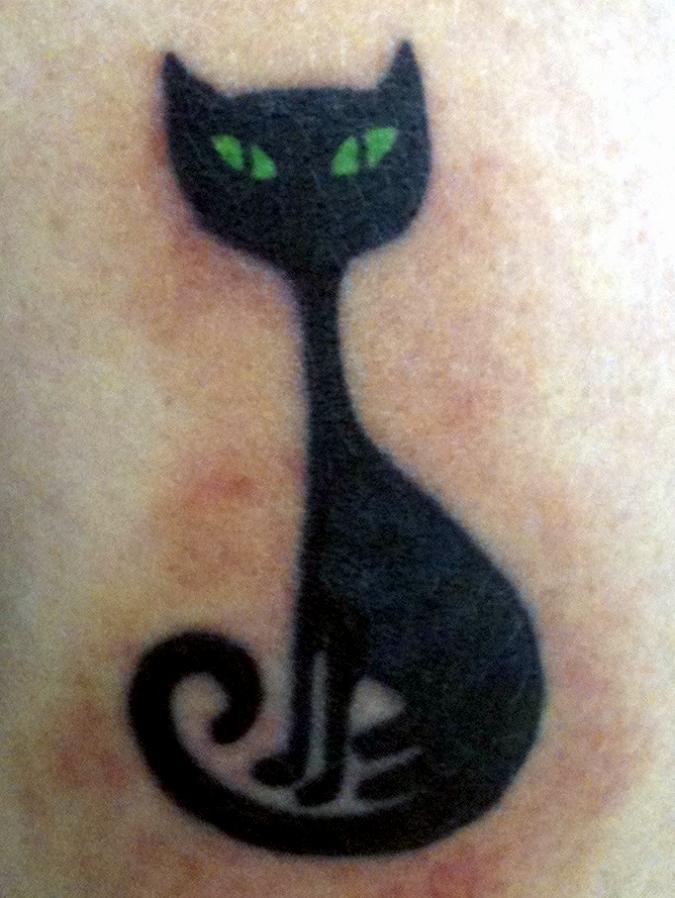 (Please ignore the bruising…)
My other tattoo is located in the same spot on the back of my left arm.
---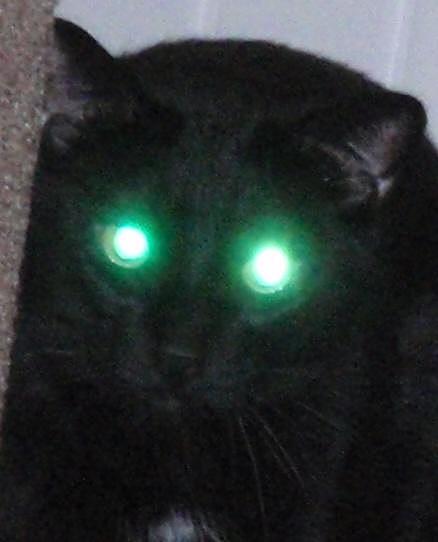 "May and I have noticed that your new tattoo doesn't look like us, but instead some freaky black cat. Any last words?" -Chaos