Many thanks to Daisy Harris for donating an ebook copy of her forthcoming m/m romance, From the Ashes (Fire and Rain #1), for a lucky commenter to win! From the Ashes will be released by Samhain Publishing on August 13.
He wanted a boyfriend. What he got was a hero.

When an accident burns down Jesse's apartment, he's left broke and homeless, with a giant dog and a college schedule he can't afford to maintain. And no family who's willing to take him in.

Lucky for him, a sexy fireman offers him a place to stay. The drawback? The fireman's big Latino family lives next door, and they don't know their son is gay.

Tomas's parents made their way in America with hard work and by accepting help when it was offered, so he won't let Jesse drop out of school just so he can afford a place to live. Besides, Jesse's the perfect roommate – funny, sweet and breathtakingly cute. He climbs into Tomas's bed and tugs at his heart. Until Jesse starts pushing for more.

Their passion enflames their bodies but threatens to crush Tomas's family. Tomas is willing to fight for Jesse, but after losing everything, Jesse isn't sure he can bear to risk his one remaining possession – his heart.

Warning: Contains an angry older brother, judgmental best friends, a slobbering bull mastiff, and enough red-hot gay loving to make a porn star blush.
Excerpt (scroll down and select tab)
About Daisy
Birkenstock-wearing glamour girl and mother of two by immaculate conception, Daisy Harris still isn't sure if she writes erotica. Her romances start out innocently enough. However, her characters behave like complete sluts. Much to Miss Harris's dismay the sex tends to get completely out of hand.
She writes about fantastical creatures and about young men getting their freak on, and she's never missed an episode of The Walking Dead.

Want to learn more about new releases, general news, and Daisy's latest inappropriate boy band crush? Sign up for her newsletter! You can also find out more about Daisy and her books on her website, blog, Facebook, Twitter, and Tumblr.
Contest Rules
To enter, leave a comment stating that you are entering the contest. Contest closes 7 pm CDT, Tuesday, August 12.
By entering the contest, you're confirming that you are at least 18 years old.
If you haven't commented before, your comment will not be visible until after I moderate it. Please do not leave a second comment because your first doesn't show up! The blog gnomes will decide your comments are spam and then only ritual dust bunny sacrifice will salvage your entry…
If your comment is actually an advertisement or if your CommentLuv link turns it into an advertisement, your comment will be deleted. (Most of you do not need to worry – this refers to some pretty clever comment spam.)
Winners will be selected by random number.
You must leave a valid email address in the "Email" portion of the comment form.
Please make sure that your spam filter allows email from stumblingoverchaos.com!
If a winner doesn't respond to my congratulations email within 48 hours, I will select another winner.
If you win, please respect the author's intellectual property and don't make copies of the ebook for anyone else.
This contest is open worldwide!
---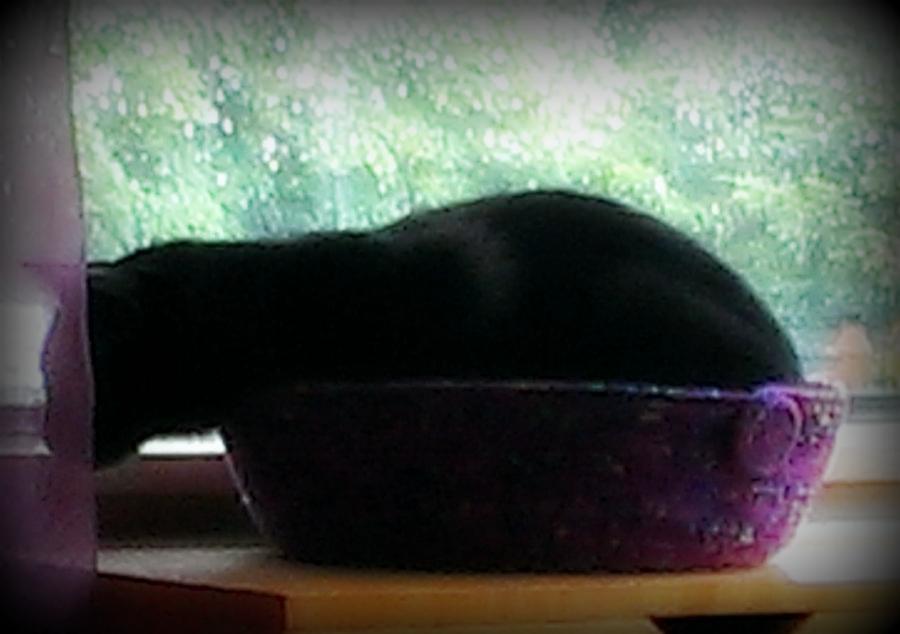 "…zzzzzzzzzzzzzzzzzzz…" -Chaos
Chaos doesn't fit into that basket quite as well as May…