Contests
Books & Reading
Learn Stuff
LOL
Teh Cute! It Burns!
Reading Update

My Fair Captain (Sci-Regency, Book 1) by J.L. Langley. ebook. Another book for Kris' m/m rut challenge. This was a scifi m/m romance, with a Regency flair to it… and I totally loved it. (I'm really glad I totally loved it, because if I hadn't? I'd be afraid, as this is a very popular book.) I was a little frustrated during the prologue and first few chapters, as I tried to pull the bits and pieces together (that world-building stuff), but after I hit the breakthrough point (where you absorb the background and it doesn't interfere with the story anymore), I was transfixed. Very steamy, yet very romantic and highly recommended read. (Kris is gloating. I can hear her.)

The Englor Affair (Sci-Regency, Book 2) by J.L. Langley. ebook. Not quite as good as My Fair Captain, but still a very good m/m scifi romance.

Friction by J.P. Bowie, Jenna Byrnes, Jude Mason, Kim Dare, Ashley Ladd, S.L. Majors, & Cassandra Gold. ebook collection. This was an enjoyable m/m romance collection. I thought of all the stories were, at the very least, decent, with one exception. And there were definitely a couple that were excellent.

Running Hot by Stephani Hecht. ebook short. Nicely done short m/m romance about a paramedic and an ER doctor.

GPS by Leigh Ellwood. ebook short. Cute m/m romance about a guy who gets a GPS for his birthday, but what the heck is up with the darn thing?! (Yes, you're right – that is Candy Cane Guy in the background.)

Sea of Sin (Creatures of Sin, Book 3? Book 2.5?) by India Harper. ebook short. Ok m/m romance short about a police commander who lives a celibate, closeted life except for the one week during which he goes on a gay cruise vacation. Based on the sort of non-ending to this story, I suspect it's part of the setup for the next book in the series.

629 Miles To Love by Fae Sutherland & Marguerite Labbe. ebook. Ok m/m romance about two former lovers on a drive, talking about what went wrong. (Lost points for lack of condoms and lack of discussion of same.)

Skin Deep by S. W. Vaughn. ebook. Quite good urban fantasy m/m romance that was a bit hard for me to read at points, due to graphic violence in a domestic abuse situation. I am glad I persevered. (No condoms here, either…)

Falling (Hawkins Ranch, Book 2) by Cameron Dane. ebook. Good paranormal m/m romance about two ranchers, one of whom happens to be a demon, which I would've enjoyed more if it had had a bit less torture. Those parts were hard for me to read and I definitely skimmed the more graphic violence.

ReneCade (Hawkins Ranch, Book 3) by Cameron Dane. ebook. Another good m/m romance (no paranormal this time) about a deeply closeted sheriff's deputy who's attracted to the sheriff's son, but very afraid of the potential consequences of that attraction. I'm glad that this was less brutal than Falling, but the angst was flowing more freely and there was cheating, so maybe it was a draw.

Do You Believe in Magic by Drew Zachary. ebook short. Very steamy short m/m romance that was a good antidote to the brutality of Skin Deep and Falling.

Slap and Tickle by Drew Zachary. ebook. So-so m/m romance about a possessive cop and the stripper he's in love with. I found the nicknames ("Big Daddy" and "Candy Pants") annoying and the sex-to-story ratio was so skewed I skimmed a lot to find the tiny bits of plot scattered amongst the nudity. Plus a plot point that was played up throughout the book wasn't resolved so much as dropped, which was odd and rather unsatisfying.
---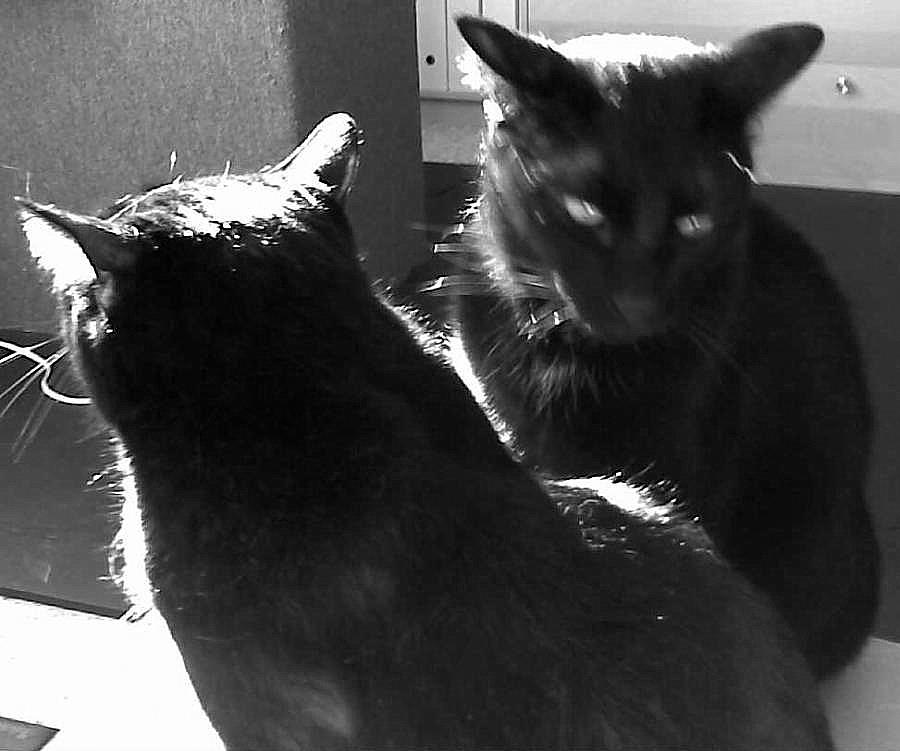 "Fine, Mayhem. Be that way. I was only trying to help. Now you will be shunned because your ears are dirty!" -Chaos
"Whatever, big kitty. I think you have OCD issues." -Mayhem