Contest is closed! Thanks to everyone who participated.
Many thanks to the Hatchette Book Group for providing five copies of Diana Holquist's contemporary romance, How to Tame a Modern Rogue, for me to give away!
Commitment-phobic Sam Carson has only dated model-gorgeous women. But one stolen kiss from a plain-Jane schoolteacher and he's hell-bent on stripping away her floral dresses and teaching her the art of being bad. If only her good-girl ways didn't make him want to be a better man…

Ally Giordano is at the end of her rope. Her beloved grandmother actually believes that she's living in her favorite romance novel in Regency England and Ally doesn't have the heart to set her straight. But now Granny Donny's last wish is for a retreat to the country and Ally can't refuse her…until she demands that Sam accompany them. And though his smiles turn her knees into jelly, Ally knows better than to trust a playboy…and she definitely knows better than to try to change one. Or does she?
Contest Rules
To enter, leave a comment below stating that you are entering the contest. Leave your comments by 7 pm CDT, Thursday, August 6.
If you haven't commented before, your comment will not be visible until after I moderate it. Please do not leave a second comment! 🙂
Winners will be selected by random number.
You must leave a valid email address in the "Email" portion of the comment form. (Please make sure that your spam filter allows email from stumblingoverchaos.com!)
If a winner doesn't respond to my congratulations email within 48 hours, I will select another winner.
Only residents of the US and Canada are eligible to win.
No PO Boxes.
Good luck!
---
Looks like Mayhem took to heart (mouth??) your suggestions that she quit worrying about the scary trucks, pick up her tiara, and remember that she's a Fearless Panther Princess.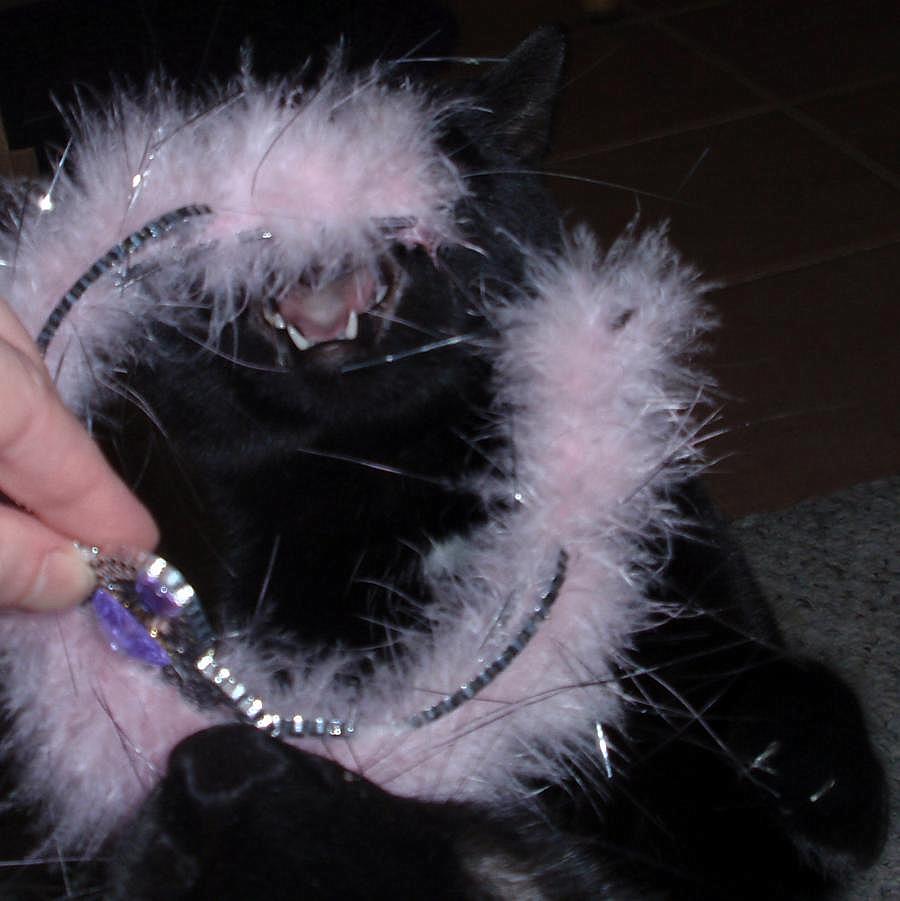 *mrmph* -Mayhem
"Man, May sure loves this tiara, doesn't she?" -Chaos