Ginger's having a contest – guess what she named the three chicks she just brought home and you could win some sock yarn. A knowledge of country music will help your guessing! Someone already guessed correctly! Now anyone who comments on the contest post by midnight April 27 will be entered in a random drawing for another prize.
Reading Update
A Share in Death by Deborah Crombie. This is the first mystery about Scotland Yard Superintendent Duncan Kincaid and his assistant, Sergeant Gemma Jones. I'll definitely be reading more in this series.
High Heels and Holidays by Kasey Michaels. The most recent book about mystery writer Maggie Kelly, whose formerly fictional characters the Viscount Saint Just and Sterling Balder materialized in her living room a few months ago… Silly but fun and occasionally steamy.
High Stakes: A Tale of Vegas Vampires by Erin McCarthy. The first book in the Vegas Vampires series isn't great literature by any means, but it was an amusing and somewhat steamy read. My big complaint is that the book ended abruptly, almost as if it had been split into two parts…
Yarnover Update
Well. I, um, might've picked up a bit more at the Yarnover market than I had anticipated… No one's going to be particularly surprised by my purchases. 🙂
I bought some skeins of purple laceweight Euroflax.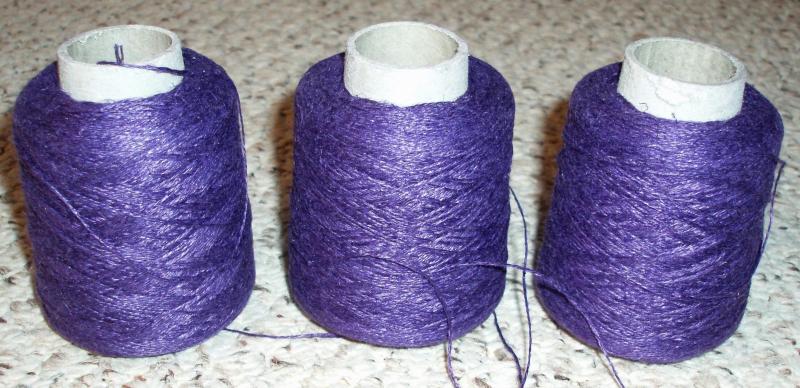 Whoops, it looks like I forgot to take a picture of the knitting mystery I purchased – Cast On, Bets Off by Jack Olesker. I hadn't heard of it before, so we'll see… I also bought a black sheep magnet and a WPI tool (I've wanted one for ages!).
"Hmm, this doesn't smell particularly sheepy to me. Plus it looks hard to pick up and steal." -M
Jeanne and I each bought enough Blue Sky Cotton to make the Eyelet Cardigan (sorry, you can't see the pattern at all in the picture). Um, yes, I bought black…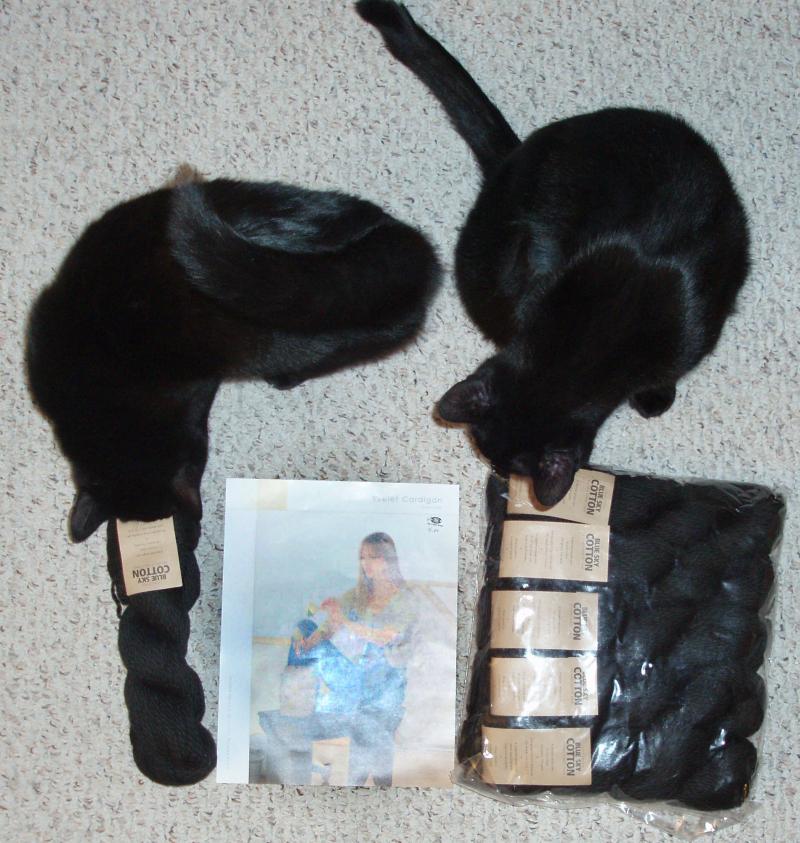 "Big kitty, I tell you, the only possible conclusion you can draw is that she's going to make more black kitties. We have to put a stop to this!" -M
"Where do you come up with this stuff, May?!" -C
And I bought some amazingly soft true black (not dyed!) alpaca, which came from an alpaca named Orphelia.
"Now this smells like something very interesting! Not a sheep… What could it be?" -M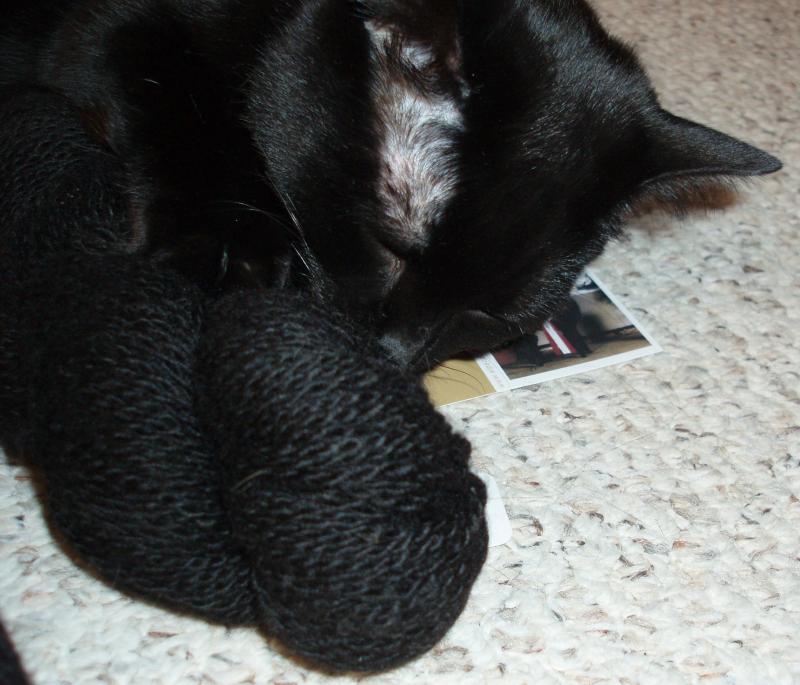 "Mmmm… Alpaca, you say? Soft. Mmmm… Mom, can we have an alpaca? I promise I won't eat it." -M
2007 04 23