If you pay attention to the very fine print in my header, you'll notice it says "Knitting, reading, bicycling, and cat parenting." "Hmm," you're all thinking. "What's this about bicycling?!"
'Tis true. Once upon a time, I was a cycling fiend. I wasn't ever into having the latest gear or the latest bike – my beat up old Specialized crossbike was always good enough for me. I would get on that bike and go go go, because cycling was the activity that totally worked for my body. Running – hatey hate hate. Walking – good, but my #@$*(!&* bunion starts to rebel after enough days of walking. Biking? I feel strong and fast and sleek.
In fact, one of my favorite vacations ever was in September 2004, when I rented a cabin in the Black Hills for a week and biked over 100 miles on the gorgeous George S. Mickelson Trail across three different days.
Until this past Saturday, I hadn't been on my bike in over two years.
Remember that pesky surgery I had last fall? For nearly two years before my surgery, riding my bike would trigger a nasty period. Can you think of a better disincentive?! Obviously, I couldn't bike for a while after my surgery. And then it was winter. And then it was spring, but I was feeling pretty blue and just couldn't seem to bring myself to pull out the bike and get it operational.
However, several weeks of regular walking have upped my energy level and mood, so on Saturday, I dragged out my bike, cleaned and oiled the chain, pumped up the tires, and hit the Greenway to reacquaint my tush with the feel of a bicycle seat. It was a short ride (only 3.75 miles), during which I added air to the rear tire four times. Hmm…
Yesterday, armed with a good reference manual and a set of tire levers, I replaced the rear tube – the first time I've ever done any significant bike maintenance on my own! 🙂 (You would not believe how unhandy I am – and how uninterested I am in becoming handy.) No reinflation was required during the subsequent 6.1 mile ride, and I feel ready to add cycling back to my exercise routine.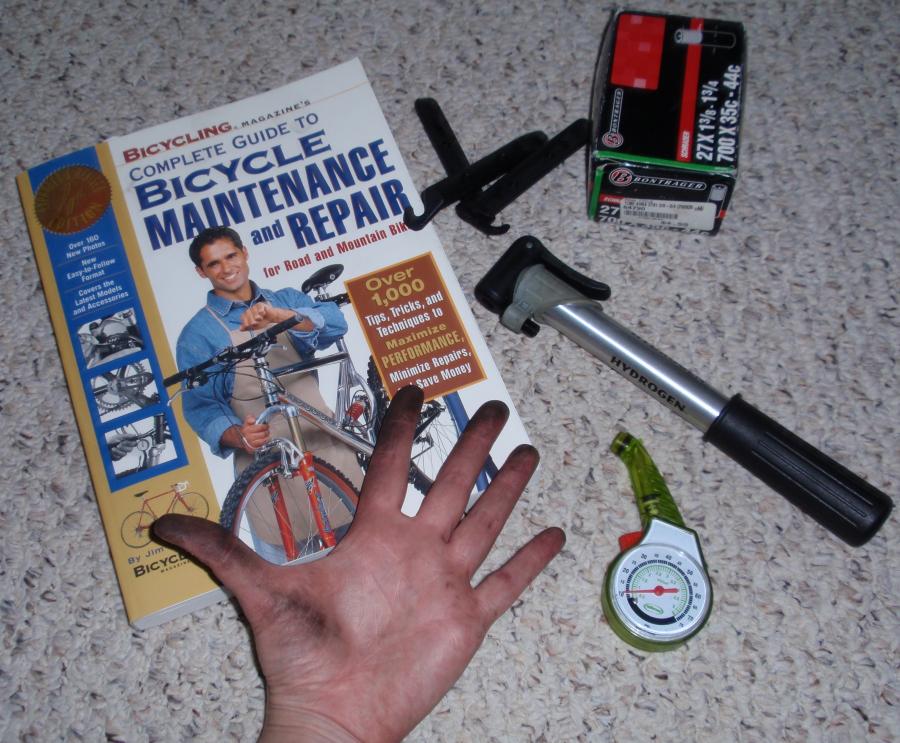 "What's going on here, Mom?!" *sniff sniff sniff* -Chaos
"Big kitty, where are the stripey socks? I'm scared." -Mayhem
2008 07 23