Ruth's hosting a Secret Santa Fiber Swap on swap-bot. Sign-ups close December 15.
Don't forget to play along in my Superpower Blogiversary Contest before 6 pm CST, Tuesday, December 4!
Reading Update
Obsession, Deceit, and Really Dark Chocolate by Kyra Davis. Mystery writer Sophie Katz and her black cat, Mr. Katz, are back in the third book in this series. I really like these, and am already looking forward to the next book!
I'm the Vampire, That's Why by Michele Bardsley. Since I'd already read the sequel (Don't Talk Back To Your Vampire) and enjoyed it, what the heck? 😉
Cupid, Inc. by Michele Bardsley. What if Eros and Psyche opened not a dating service, but a fantasy service? This is pretty much chock full of sex vignettes, loosely held together by a bit of plot.
Just One Sip by Katie McAlister, Jennifer Ashley, and Minda Webber. Three novellas by paranormal romance authors – at least one of the stories was really cheesy. McAlister's story is sort of a follow-up to her novel Sex, Lies and Vampires.
Love Overboard by Janet Evanovich. Like most of Evanovich's non-Stephanie Plum novels, this is just an ok romance, set in coastal Maine.
Rising Moon: A Nightcreature Novel, Book 6 by Lori Handeland. Blatantly inspired by the Dark-Hunter novels, this was still an acceptable read for a paranormal romance.
Anyone have theories as to what triggered this paranormal romance outbreak that started a few years ago? Do you think it was the success of the Anita Blake, Vampire Hunter novels?
Life Update
I realized as I was walking around Lake of the Isles on Sunday (sunny and nearly 50F) that I physically and mentally feel better than I have for nearly two years, even though I'm not in the sort of shape I'm used to being in. Woo-hoo, surgery! Woo-hoo, rediscovered exercise plan!
I had a really good Thanksgiving, hanging out with my SIL's family. Her parents stuffed one of the turkeys with gf cornbread stuffing, and my dad and stepmom brought me crustless pumpkin pie. Really, I got kinda sniffly about all of that. Until you have dietary restrictions and people go out of their way to include you, that may sound sort of strange to you… (I know Brigitte understands!) Anyway, "only" about 25 people showed up, out of the possible 40+… One of those people, my SIL's aunt, turned out to an intelligent and dedicated knitter who (of course) had her knitting with her, so we hung out chatting and knitting and scaring the muggles.
MrsPao and Pao sent me a fun box of birthday goodies.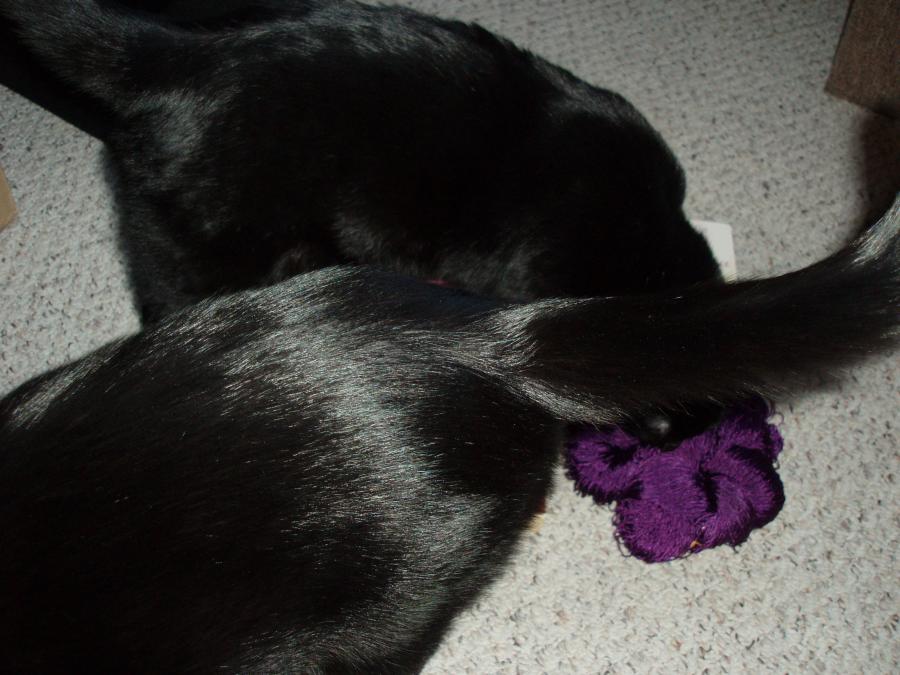 *sniff sniff sniff* -Mayhem
"Doo de doo de doo…" -Chaos
Hmm. Let's try that again, shall we?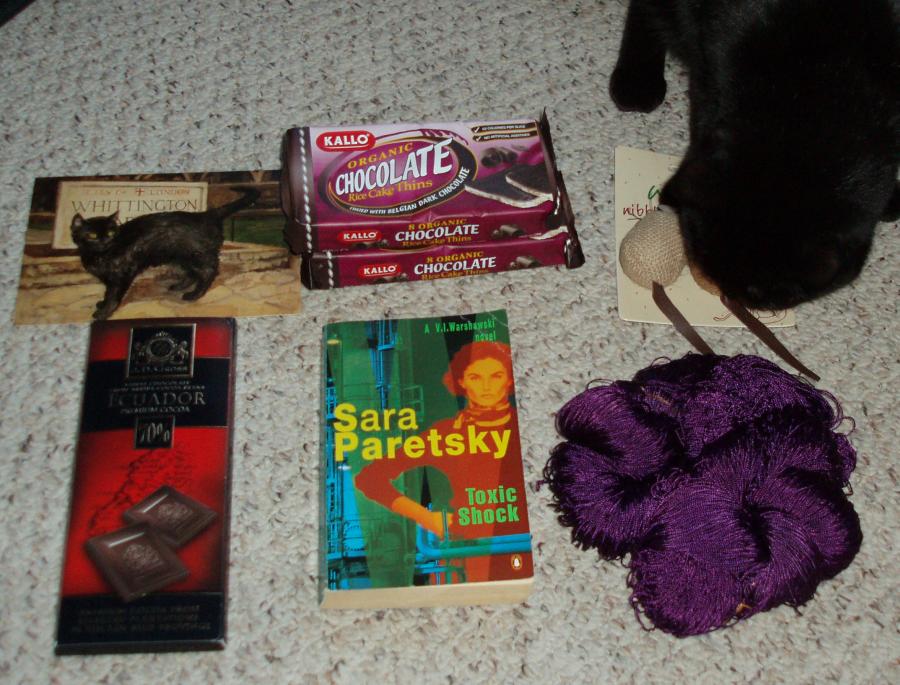 "New mice! New mice! New mice! Mom, put down the camera and free these mice for me." -Mayhem
Much better. Yummy dark chocolate, a cute black kitty card (how did they know?!), my absolute most beloved favoritest dark chocolate rice cakes (tragically unavailable in the US), the aforementioned catnip mice, some stunning purple yarn that I think is silk (shiny! purple! shiny!), and a V.I. Warshawski novel (cool British printing; known as Blood Shot in the US). Thank you two!
Ok, this isn't the greatest shot of May, but notice the ghost kitty arms as she leaps for the new mouse?? (Embiggen for best effect.) I was holding the mouse about three feet off the floor, if that helps you envision the difficulties of this photo…
"Ooof!" -Mayhem