Contests: Reading
Have you heard about the League of Reluctant Adults' Reading Challenge and Contest? Why not?!
Contests: Knitting
Reading News & Bits
Knitting
Fun & Games
Many thanks to Marta Acosta, who put together an Amazon playlist of my Vampire Mix in her sidebar! Please note that the playlist is of Amazon's song samples, which are about 30 seconds each.
Black Kitties Running Amok
Reading Update

Faith and Fidelity by Tere Michaels. ebook. Good grief. You'd think, since I was rereading this excellent m/m romance, that I wouldn't cry. You would be so, so wrong.

Love and Loyalty by Tere Michaels. ebook. Another reread. Tere Michaels can write a darn good m/m romance, even if this one didn't have as much impact on me as Faith and Fidelity (i.e., I didn't cry).

Catnip Crazy (Cat House, Book 2) by Julia Talbot. ebook short. Not Talbot's best, but sort of a cute (if a bit silly) m/m paranormal.

Jumping into Things (Thatcher Brothers, Book 1) by Julia Talbot. ebook. This book actually contains two pretty good m/m romances. The first is about pilot Jed Thatcher who falls for a prickly fire jumper. The second is about Army Airborne instructor Ross Thatcher, who hasn't ever been attracted to another guy before.

Open Sesame (A Not Quite Wicked Tale) by Mia Watts. ebook short. Fun and very steamy m/m romance based on Ali Baba and the 40 Thieves, updated with insider trading and many fewer thieves.

A Wolf in Men's Clothing (A Not Quite Wicked Tale) by Dakota Rebel. ebook short. Very enjoyable m/m paranormal romance based on Little Red Riding Hood and the Big Bad Wolf, with Red now being a guy in a red hoodie and the Wolf now being a werewolf.

One of Those Days by Zathyn Priest. free ebook short. Nicely done short m/m romance about a chiropractor who discovers the jock who bullied him in high school is his next patient.

Entanglements by Fae Sutherland and Marguerite Labbe. ebook. Decent m/m romance about whether it's worth risking everything to maybe have it all.

With This Ring (Tabloid Star, Book 1.5) by T. A. Chase. ebook short. Ok m/m romance about the guys from Tabloid Star tying the knot. I fear it exceeded my syrupy sugary quotient…

Leftovers by Treva Harte. ebook. Good m/m romance about two guys who only see each other once a year, at Thanksgiving. After eight years, that isn't enough for either of them anymore.

Loving the Rain by Drew Zachary. ebook short. Decent m/m romance (set in Ottawa) about an environmentalist and an artist who uses recycled materials who meet while they're waiting out a cloudburst in a coffee shop.

The Painted House by Drew Zachary. ebook. Nice, non-angsty m/m romance about a location scout who meets an artist while looking for a location in Nova Scotia.

Once Upon a Veterinarian by Drew Zachary. ebook. A cop and a veterinarian meet when the cop starts investigating a string of pet poisonings in this m/m romance.

Summer Fever by Catt Ford. ebook. Pretty good m/m romance about a guy staying at a lake cabin and the cop he asked for directions on the way there.

Feeding Dragons by Misa Izanaki. ebook short. Ok m/m paranormal romance about a dragon shapeshifter who takes a liking to a young Japanese cook. (For those of you who really enjoy descriptions of food in your reading, this might be of particular interest.)

In the Heat of the Moment by Kim Dare. ebook. Steamy and kinky m/m tale in which a dominant works to convince a submissive that there's nothing shameful in being submissive.

All's Fair in Love and Advertising by Lenore Black. ebook. I really enjoyed this m/m romance about a hyper advertising exec who knows better than to get involved with a prospective client… usually.

Broomsticks and Stones by Jane Davitt. ebook short. Cute paranormal m/m romance short about two wizards.

Change of Heart by Kiernan Kelly. So-so paranormal m/m romance about a vet (who's a werewolf) who hasn't been doing a very good job getting over his evil ex.

Feeling Safe by Sonja Spencer. ebook. A cop rescues a guy from an in-progress burglary, then takes the guy home. My biggest complaint was the sometimes dizzying point-of-view changes – every paragraph for a while… including the cat.
---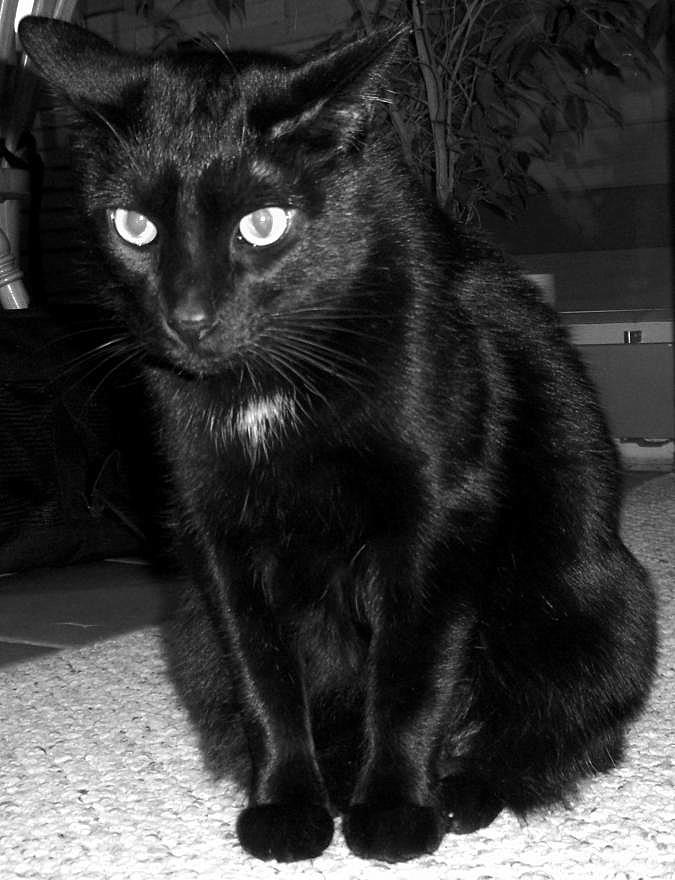 "I think that more books should include the cat's point of view. That's what everyone's interested in anyway." -Chaos