Congrats to Eden Winters, who won Counterpoint (Song of the Fallen, Book 1) by Rachel Haimowitz. Also, Guiltless Pleasure Publishing is offering 10% off on Counterpoint through October 16 to Stumbling Over Chaos readers who use coupon code CHAOSCOUNTER. Thanks, GPP!
---
---
Contests
Bookity
Ebookity
Learn, Make, Do, Think
Knitting
Cool
Huh
LOL
Teh Cute
Reading Update

Lime Green: Margarita Mondays by T.C. Blue. ebook. Very good m/m romance about an interior designer with trust issues who has friends over every Monday. After a noise complaint and confusion literally bring security guards crashing through his door one Monday night, he finds himself unwillingly attracted to one of the security guards. (I hope that TC's going to write Riley's story very soon, although so far she seems to mostly be taunting me about it on Goodreads.)

The Beach House by Shawn Lane. ebook. Sweet, good m/m romance about a model who overdosed and was sent to rehab. Post-rehab, his agent rents him a quiet house on the beach for the summer, to get him away from bad influences and help him figure out how to have a more normal life.

Get What You Need by Janey Chapel. ebook. Very good m/m story about a cop and an ex-con who connect briefly, with unexpected depth. Be aware that this doesn't have a HEA or even necessarily a HFN ending – it's a good read anyway.

Code Blue (EMS Heat, Book 5) by Stephani Hecht. ebook. Good m/m romance about a firefighter/EMT who's hostile and deeply suspicious of motives when a friend's ex-boyfriend shows up unexpectedly.
Temptation by Kim Dare. free ebook short. Sweet short m/m romance about an initiate, about to be consecrated to the goddess Artemis, who wanders away from the group on the way to the temple.

Ellery's Duty (Thrown to the Lions, Book 3) by Kim Dare. ebook. Very good kinky paranormal m/m romance about a human dominant who allows himself to be "thrown to the lions" because he wants to make sure that the subs who go through the process are treated well. He certainly doesn't expect to meet the innocent and atypical werelion Kefir…

Gayish (G-A-Y, Book 12) by Kim Dare. ebook short. Very good short kinky m/m romance about a dominant who spots a young man huddling in the rain at the bus stop across from a gay pride rally and goes over to talk to him… (I'm sad that this is the last book in this series!)

The Jitters by Fabian Black. ebook. Two cute short stories about Trevor and Luke, who have just purchased a house and moved in together. Alas, things aren't going so smoothly…

Backwoods by Cara McKennea. ebook. Very good, gritty m/m story about a straight bar owner who auditions a musician and is completely unprepared for (and not so happy about) his attraction to the man. Be aware that this doesn't have an HEA or even HFN ending.

After Anna (Book 1) by Theda Black. ebook. So-so m/m story about a police detective who's not doing so well after his girlfriend dies and he learns she was a junkie. His partner and best friend is always there for him… and things get complicated. The style made this more oblique and confusing then it needed to be, but I was drawn into the story anyway. Be aware that there's no HEA or even HFN.

Touch Like Breathing (After Anna, Book 2) by Theda Black. ebook. Ok m/m romance continuing the story of two police detectives who aren't doing so well with their attraction to each other. While there was an awful lot of back and forth, on again, off again (to the extent that it seemed excessive), I still got drawn in and had to find out how things turned out. (Yes, you're right, that's Candy Cane Guy on both covers!)

Island of Temptation by Claire Thompson. ebook. Ok m/m romance about two guys, one bi, one straight, who end up stranded on a desert island after their cruise ship sinks. I definitely like Claire Thompson's newer stuff better than the older… and yet I can't stop myself from reading the older stuff. Make of that what you will!

His Dirty Little Secret (Sammy & Friends, Book 3) by Stormy Glenn. ebook. Meh m/m romance about a black police detective who sets up a fuck buddy relationship with a white nurse in their extended group of (gay) friends, under the condition that no one can find out about it. This was more spectacularly trainwrecky than the usual SG – it seemed as if the plot holes and character inconsistencies exceeded all previous levels.

Dreggers Deep by J. Rocci. ebook short. Ok short m/m story that probably would've been more interesting to me if I were following the Dregs series by J. Rocci.
---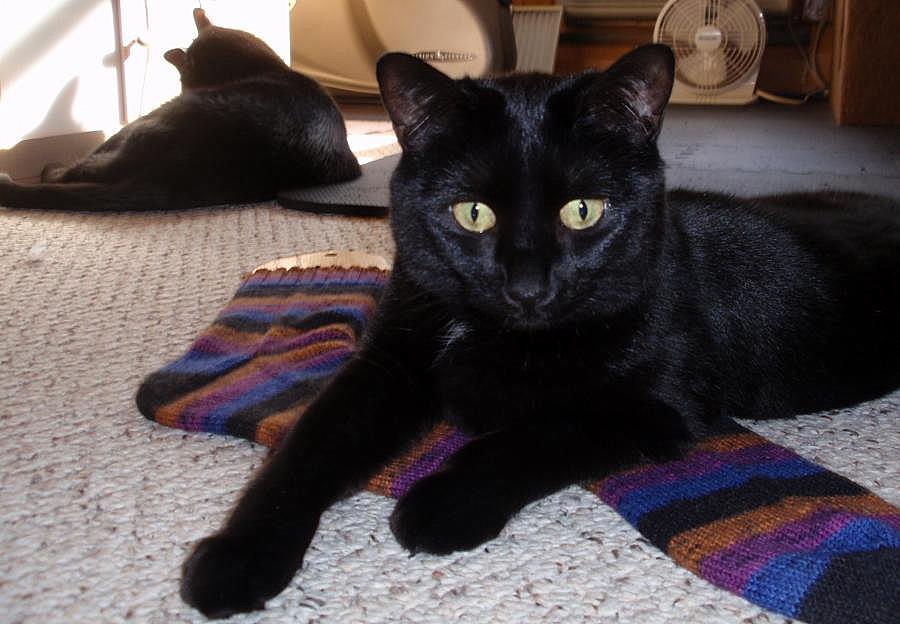 "I can't believe the big kitty said that stripey socks aren't what life's all about. He's just jealous that he doesn't have any stripey socks." -Mayhem