Congrats to Amie, who won Enslaved by Blood (Drone Vampires, Book 10) by Stephani Hecht! Enslaved by Blood will be released by eXtasy Books on August 15.
Congrats to Paula, who won A Game of Skills (The Farmingdale Gentleman's Club, Book 2) by TC Blue! A Game of Skills will be released by Total-E-Bound on August 16. (And go read this interview with TC Blue!)
---
If you read m/m romance, you should definitely join the M/M Romance Group on GoodReads. It's a great source for reading recommendations, discussions, eye candy, author news, giveaways, and more.
---
Contests
Bookity
Ebookity
Learn, Make, Do, Think
Linkity Peeps
Cool
Huh
LOL
Teh Cute
Reading Update
This week's short reading list is due to my small part in the M/M Romance Group's celebration, plus I'm in the midst of reading a very long book. I'm sure I'll finish it by next Friday. 🙂

Duck! by Kim Dare. ebook. Very good kinky paranormal m/m romance/fairy tale about an avian shifter who was raised in the human foster system and only recently discovered that he wasn't human. Since it's believed he'll be a low-status duck shifter, he's being treated very, very poorly until a high-ranking hawk shifter decides to take him home as a servant/submissive. Um, I might've gotten sniffly while reading this one…

Strawberries for Dessert by Marie Sexton. ebook. Very good m/m romance about an accountant who works all the time, always chasing his next promotion, and a guy who doesn't need to work but travels incessantly, unable to stay too long in one place. I got sniffly while reading this one, too!

A Game of Skills (The Farmingdale Gentleman's Club, Book 2) by T.C. Blue. ebook. Very good m/m romantic suspense about a guy who's been on the run for a long time, protecting his dead best friend's child, who has special abilities. Along the way, they rescue a member of the Farmingdale Gentleman's Club… but will coming to the Club's attention help them, or further endanger them?


Boys of Pleasure by Heidi Cullinan. illustrated short ebook. Very good short m/m romance about a librarian who's out at a bar to clear his head after a fight with his boyfriend and becomes fascinated by the guitarist onstage.

Valley of Shadows by Phoenix Emrys. ebook. Good paranormal m/m romance about a famous historical romance author who has a big secret: he can see and speak with ghosts. Ghosts who want him to pass on messages to their loved ones so that they can rest in peace. He does so anonymously… until one fateful day. This story took a somewhat odd and unexpected turn about 2/3 through… and I still haven't decided what I think about it.

Changing Perspective (Lusting Wild) by Marilu Mann. free ebook short. So-so free short paranormal m/m romance about a bar owner who is unexpectedly attracted to the guy applying to be a bouncer. (The cover's a bit amusing for an m/m romance, isn't it?)

Heart Song by Jambrea Jo Jones. ebook short. Sweet short m/m romance about a guy whose older, emotionally distant lover has just died. (And talk about a cover bonanza! Candy Cane Guy and Torso Guy!)
---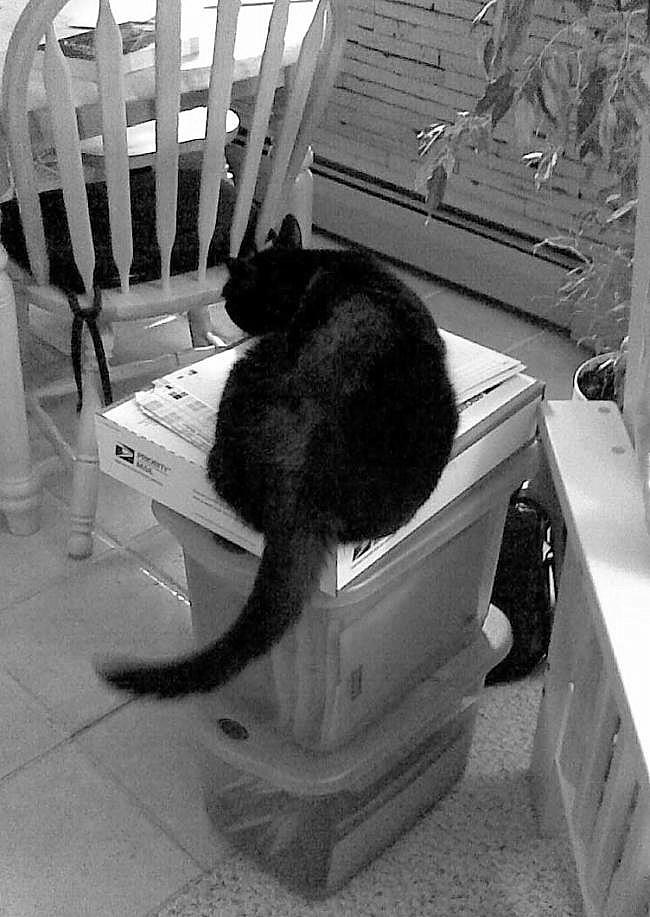 "Tough luck, Mom. I'm staying right here, so you can just forget about mailing all this stuff out to those M/M Romance Group people." -Mayhem