Congrats to Lily, who won the copy of Strawberries for Dessert by Marie Sexton! Strawberries for Dessert is now available from Dreamspinner Press. (To promote Strawberries for Dessert, Heidi Cullinan posted a free short featuring Randy and Sam from Special Delivery and Double Blind.)
---
Contests
Bookity
Ebookity
Make, Learn, Do, Think
Huh
Cool
Linkity Peeps
LOL
Teh Cute
Reading Update
See what happens when I read long books instead of shorts?! I have a very short Reading Update. 🙂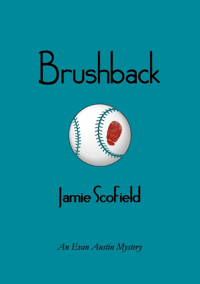 Brushback (Evan Austin Mysteries, Book 1) by Jamie Scofield. ebook. Excellent m/m mystery about a Seattle private investigator hired to find an about-to-be heir by the mother who abandoned the boy and his father years ago. However, things aren't quite as straightforward as that. 🙂 So… are there going to be any other books in the series?! This seems to be the only book from the press and the only book by this author… and no updates since the June 2009 release.

Double Blind (Special Delivery, Book 2) by Heidi Cullinan. ebook. Excellent m/m romance about a gambler who picks up and inadvertently saves a guy who just lost his last five dollars at roulette and isn't sure what he has left to live for.

Loving Edits by Mickie B. Ashling. ebook. Very good m/m romance about a rich and prestigious editor, the writer/lover he dumped years ago, and the writer's beloved and devoted boyfriend. The beginning might be tough to get through, because none of the three are shown in a particularly good light, but the payout is more than worth it (probably because of it)! I'm always hesitant to read menage, because so few authors have convinced me that it would work emotionally for everyone involved, but I can definitely add Mickie B. Ashling to my list of authors who can make it work.

Priority One by Stephani Hecht. ebook short. Good short m/m romance about a new paramedic, young and inexperienced in more ways than one, who's living with his overprotective brother while trying to recover from a traumatic incident.

Tinsel and Frost by Eden Winters. ebook short. Sweet short holiday m/m romance about a former ballet dancer who's now a stripper after a career-ending accident.

The Distance Between Us by L.A. Witt. ebook. Decent m/m romance that, unfortunately, drove me completely nuts more than once or twice, or I would've rated it higher. It's about two guys who have been together for ten years and finally broke up recently. However, they're still living together because of the housing market – they can't afford to sell their house and they can't afford to pay rent somewhere else and pay the mortgage on the house. They get a very hot roommate and then both get sexually involved with him. I wanted to slap the two main characters. Many, many times.The sex-to-story ratio was seriously skewed. And this wasn't one of the menage books that worked for me. All of this is a shame, because I really like L.A. Witt's writing.

So Much More Than Naked (Books 1 & 2) by D.J. Manly. ebooks. Um. These m/m romances were codependent trainwrecks of pseudo-bdsm, the two main characters were both TSTL, and I only kept reading out of sick fascination for how bad it could get.
---
"Well, ok, I am less bored now that Mom finally opened the windows again." -Mayhem