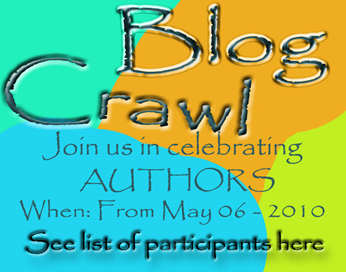 Welcome to the May 29th stop in the Author Fan Letter Blog Crawl that Kassa organized to celebrate the authors who have been important to us! And make sure you visit Kris'n'Good Books tomorrow so you can read her author letter.
---
Dear Charles de Lint,
Back in the mid-90s, I discovered your short story collection Dreams Underfoot, which was my introduction not only to your writing and to the fantastical, fictional Canadian city of Newford that you created, but also to the world of urban fantasy. I was both enchanted and transported by the stories in that book, and I picked up everything you'd written that I could get my hands on.
You've written many more books since then, but the Newford books remain my favorites. I love that the city is as much a character as any other, making this some of the most truly urban fantasy I've read. I love how you skillfully weave European and Native American mythology together, so effectively that when I've finished reading one of your books, I'm more than half-convinced I can see hints of the magical out of the corner of my eye. I love how real your characters feel, and how effortlessly you have me caring and worrying about them. I love that the main characters from one book will show up as background characters in other books. I love that you see both the darkness and the light in people, yet your books leave me hopeful.
Often, when I read your books, I find myself jotting down sentences that particularly move me. Here are just a few that I've saved over the years:
Look inside yourself for the answers – you're the only one who knows what's best for you. Everybody else is only guessing. – Trader
Magic's never what you expect it to be, but it's often what you need. – Moonlight and Vines
Tattoos…are the stories in your heart, written on your skin. – The Mystery of Grace
"Well, I may not be so good at interacting with the world at large," Suzi said, "but I'm sure about this much: It doesn't matter where any of us come from, or even what we look like. The only thing that matters is who we are now."

"That's pretty good," [Christiana] said finally, looking back at Suzi. "It puts the onus on yourself, instead of on where you came from. It suits what I like to think of as my independent temperament with the added bonus of making good sense. How can your genetic history or even your past ever begin to compete with who you are today?"

Suzi took that as a rhetorical question, so she didn't worry about an answer. – Spirits in the Wires
Thank you for introducing me to urban fantasy – your books helped me discover that I wasn't completely burned out on reading fantasy; I was just burned out on reading the traditional stuff. I hope that I can always hold on to the sense of wonder and hope you helped me rediscover.
P.S. And, um, I really wish I was one of the Crow Girls. 🙂
---
If you found my letter intriguing and are curious about Charles de Lint's books, you have a chance to win a (somewhat battered) paperback copy of one my favorites, Someplace To Be Flying. (Yes, the Crow Girls are in it!) CONTEST IS CLOSED.
Lily is a photojournalist in search of the "animal people" who supposedly haunt the city's darkest slums. Hank is a slumdweller who knows the bad streets all too well. One night, in a brutal incident, their two lives collide–uptown Lily and downtown Hank, each with a quest and a role to play in the secret drama of the city's oldest inhabitants.

For the animal people walk among us. Native Americans call them the First People, but they have never left, and they claim the city for their own.

Not only have Hank and Lily stumbled onto a secret, they've stumbled into a war. And in this battle for the city's soul, nothing is quite as it appears.
Contest Rules
To enter, leave a comment stating that you are entering the contest. CONTEST IS CLOSED.
If you haven't commented before, your comment will not be visible until after I moderate it. Please do not leave a second comment because your first doesn't show up! The blog gnomes will decide your comments are spam and then only ritual dust bunny sacrifice will salvage your entry…
If your comment is actually an advertisement or if your CommentLuv link turns it into an advertisement, your comment will be deleted. (Most of you do not need to worry – this refers to some pretty clever comment spam.)
Winners will be selected by random number.
You must leave a valid email address in the "Email" portion of the comment form.
Please make sure that your spam filter allows email from stumblingoverchaos.com!
If a winner doesn't respond to my congratulations email within 48 hours, I will select another winner.
This contest is open worldwide!