Karen's celebrating her birthday with a haiku contest (it must be haiku contest week, eh?) – leave her a birthday haiku comment by midnight CDT, May 30, and you could win some yarn TBD.
Julie's celebrating her quitting smoking anniversary with a contest. Leave her a comment by June 2 about something you've accomplished that you didn't think you could, and you might win some Socks That Rock or Spunky Eclectic yarn!
Go vote for Pam's dress over at Kaboodle and let her know that you did so – you could win a $20 WoolGirl gift certificate!
Kerry needs help naming her new pair of parakeets. The contest runs until the parakeets are named. The prize itself is also unnamed, but Kerry promises it will be good.
Please send good vibes to Not An Artist's kitty Guinness, who is not doing well right now.
Reading Update
Bitten, Stolen, and Dime Store Magic (Women of the Otherworld, Books 1-3) by Kelley Armstrong. This is an extremely well-written and involving series. The first two books are told from the perspective of werewolf Elena and the third book is told by witch Paige.
Many Bloody Returns: Tales of Birthdays with Bite edited by Charlaine Harris and Toni L. P. Kelner. If you're a fan of Jim Butcher, Charlaine Harris, Kelley Armstrong, P. N. Elrod, Rachel Caine, Tanya Huff, or Tate Hallaway, you'll find a new short story you'll enjoy!
If Angels Burn: A Novel of the Darkyn by Lynn Viehl. Huh. Not quite sure what I think about Viehl's stuff. I'll get back to you on it.
Under Cover by MaryJanice Davidson. Steamy fluff set in the Twin Cities. The book is broken into three sections, each featuring a different main character, but all spun off of the same main event.
Hot Stuff by Janet Evanovich and Leanne Banks. As usual, Evanovich's non-Stephanie Plum stuff is merely mediocre.
The Kitchen Witch and My Favorite Witch (The Accidental Witch, Books 1-2) by Annette Blair.These are sweetly enjoyable romances, light on the paranormal.
Romancing the Dead (Garnet Lacey, Book 3) by Tate Hallaway. Madison witch Garnet's vampire fiance is missing…
Good Timing Update
Last Monday when I finally got home from work, I found a prize package from Cathy-Cate in the mail! Talk about good timing. (However, good timing for receiving a package does not necessarily translate to good timing for taking pictures; that's my story for why these are exceptionally crappy photos and I'm sticking to it.) I now own a gorgeous skein of Wollmeise (I didn't have any!), along with some tasty treats, a handy stained glass style notebook, a great black kitten card, a knitaholic magnet,and some shea butter lotion. Oh yeah, and something that Chaos obviously loved and obscured.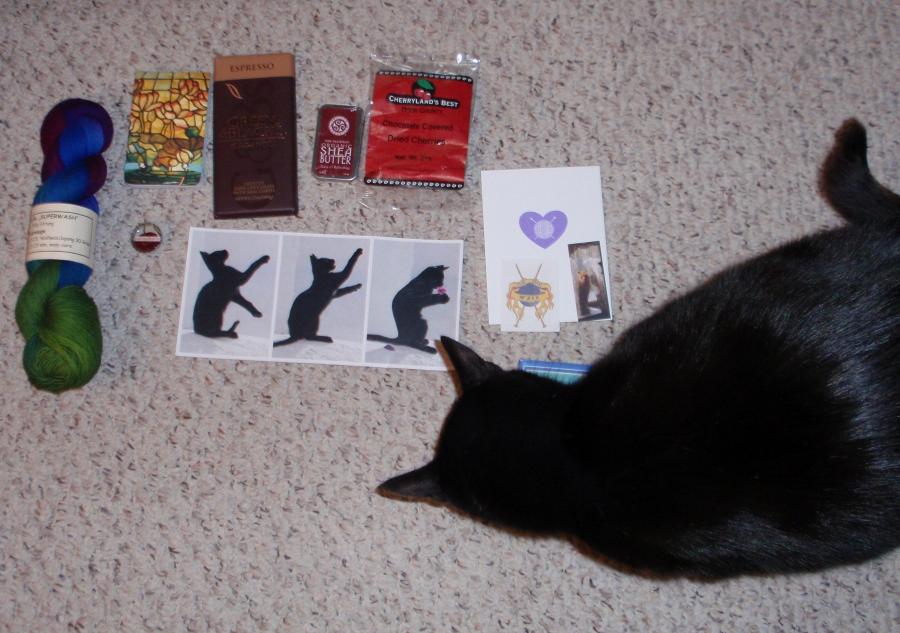 *nom nom nom nom nom* -Chaos
Yes, 'tis sad but true – Chaos cannot control himself around soaps containing natural oils and slowly licks such soaps into oblivion. This leads to some rather complicated soap storage strategies.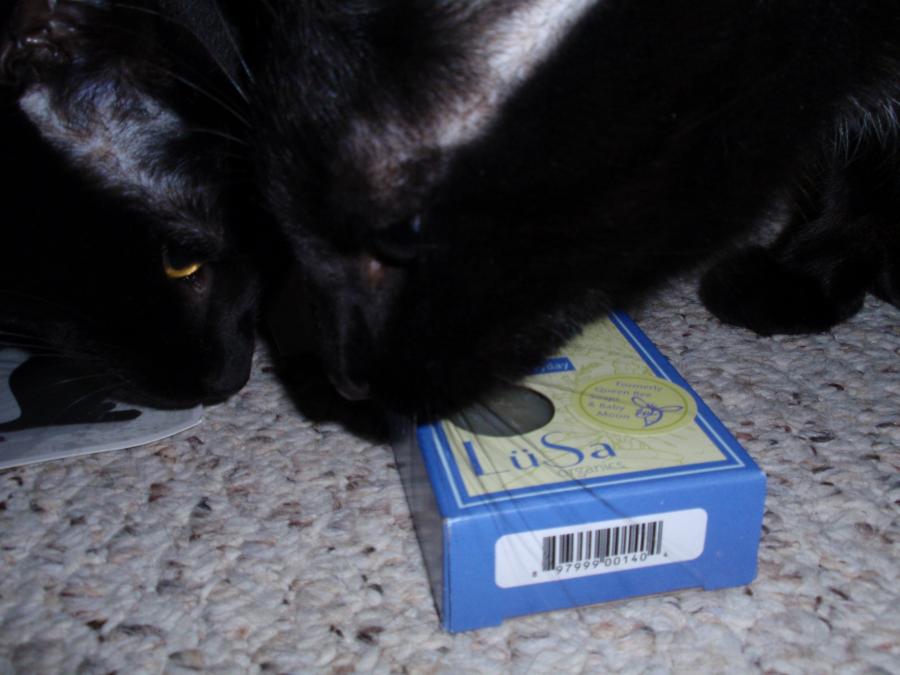 "What sort of delectable kitty treat do you have there, big kitty?" -Mayhem
"Back off, May. No soap for you!" -Chaos
No soap for you, either, Chaos!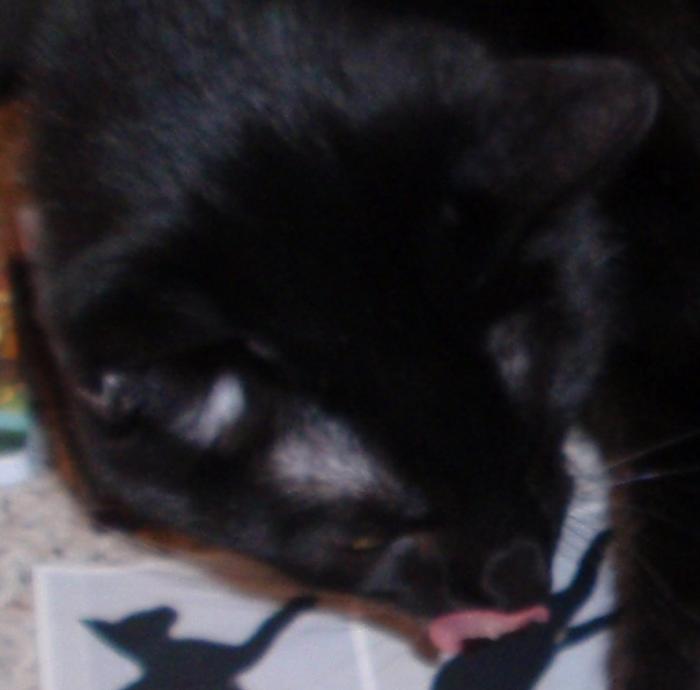 "Alas. That was some darn tasty soap!" -Chaos
When thwarted re: the soap, May made off with the yarnaholic magnet and the photoshoot came to a screeching halt.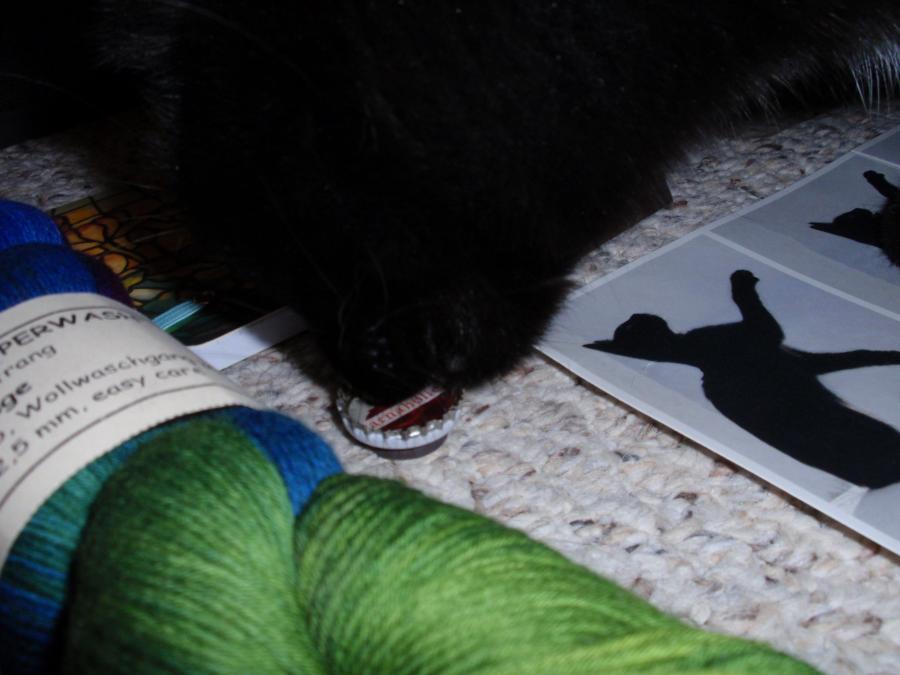 "Refrigerator magnet! Mine mine mine mine mine." -Mayhem