Many thanks to Stephani Hecht for donating an ebook copy of her forthcoming paranormal m/m romance, Carnal Intentions (The Lost Shifters Series, Book 4)! (This book will be released on May 15.)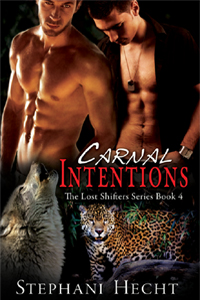 During one fateful night of death and loss, twenty years ago, Mitchell lost almost everything he held dear. Not only were his parents murdered, but his younger brothers were kidnapped and thought lost forever. Since then, Mitchell has not only had to lead the felines in rebuilding their society, but he's had to protect them from future attacks. This leaves little time for his own wants and needs.

Being the second born, wolf shifter Dean, has always lived to serve others. He's never disobeyed orders, even when one of them dictated that he had to give up a man he loved. Broken and alone, Dean vowed never to open his heart to another. Then both of their lives are turned upside down when it's discovered that a rogue wolf from Dean's pack is holding one of Mitchell's lost brothers captive.

The men find they have no choice but to work together to save him. That's easier said than done since wolves and felines have never gotten along. That doesn't stop Dean and Mitchell for falling for each other and after one night of passion, things change between them forever. But will duty and honor keep them from their happily ever after? If so, will either man be able to recover from the loss?
About Stephani
Stephani Hecht is a happily married mother of two. Born and raised in Michigan, she loves all things about the state, from the frigid winters to the Detroit Red Wings hockey team. Go Wings! You can usually find her snuggled up to her laptop, creating her next book or gorging on caffeine at her favorite coffee shop.

When she's not running around like crazy, trying to get her kids to their various activities, she's currently working on numerous projects. In the coming months, she has several books coming out with eXtasy Books in both The Lost Shifter Series and Drone Vampire Chronicles, plus a few additional projects that are still in the development stages. (Plus a contemporary m/m romance, Out of Balance, that was released on May 1!)
Contest Rules
To enter, leave a comment stating that you are entering the contest. Contest closes 7 pm CDT, Friday, May 14.
If you haven't commented before, your comment will not be visible until after I moderate it. Please do not leave a second comment because your first doesn't show up! The blog gnomes will decide your comments are spam and then only ritual dust bunny sacrifice will salvage your entry…
If your comment is actually an advertisement or if your CommentLuv link turns it into an advertisement, your comment will be deleted. (Most of you do not need to worry – this refers to some pretty clever comment spam.)
Winners will be selected by random number.
You must leave a valid email address in the "Email" portion of the comment form.
Please make sure that your spam filter allows email from stumblingoverchaos.com!
If a winner doesn't respond to my congratulations email within 48 hours, I will select another winner.
If you win, please respect the author's intellectual property and don't make copies of the ebook for anyone else.
This contest is open worldwide!
---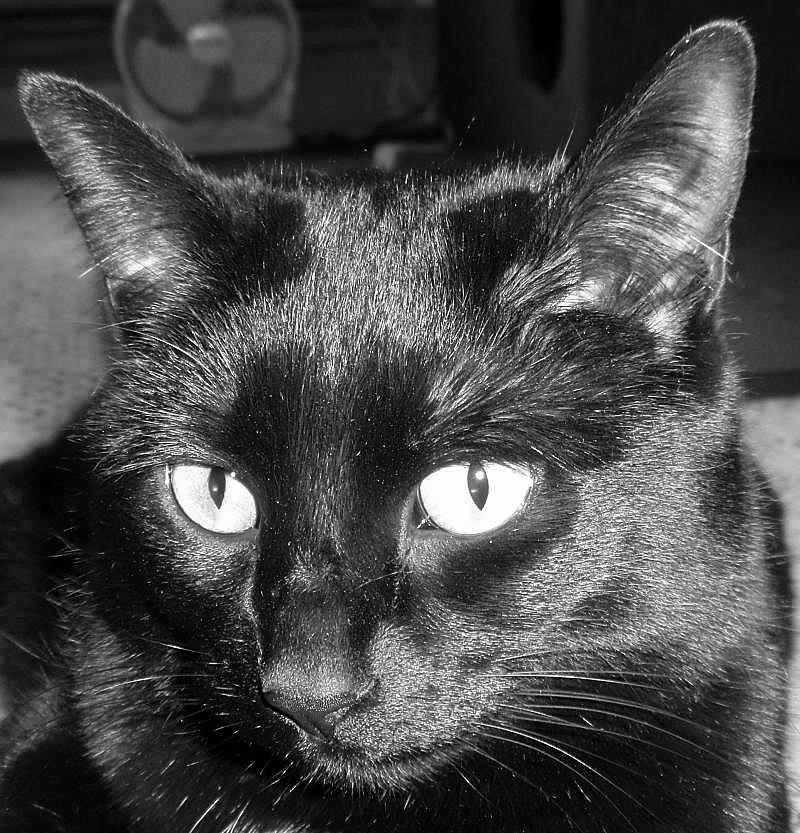 "Um, Mom? Yeah, I see the kitty. But he's a spotty kitty, not a black kitty! He doesn't count. Where are the black kitties?!" -Mayhem