Yes, my project on my other notebook computer continues. I got an official backup (a very unimpressive 22 hours to backup 125 gb – ack!) and am in the process of doing some simple "copy all of the good stuff on to the portable hard drive for redundancy and simplicity." Theoretically simple, at least. At one point, Vista 64 informed me that it would take 38,000 days to copy 50 gb. *blink blink* Um… Iz hatez Vista. And if there were drivers for virtually any other OS for that notebook, I'd probably be test driving a new OS right now. Anyway. Wish me luck, since I'll soon (hopefully) be reinstalling Vista 64 to see if that improves things. I've seen the BSOD more times in the past month than in my life prior to using Vista 64.
---
Onward! Here's one of my gluten-free recipes that I haven't posted before. Mmmm… snickerdoodles…
Snickerdoodles
1 c butter
2 1/2 tsp baking powder
1 1/2 c sugar
2 tsp cream of tartar
2 eggs
1 tsp baking soda
1 1/2 tsp xanthan gum
1/2 tsp salt
2 3/4 c GF flour mix (I used 1/4 c tapioca flour, 1 1/4 c sweet rice flour, and 1 1/4 c rice flour at the time, but Bob's Red Mill GF Flour Blend would probably work well)
Beat together butter, sugar, and eggs. Stir dry ingredients together and slowly add to butter mixture. Chill dough. Roll into walnut-sized balls, then roll in a mixture of 2 T sugar and 2 tsp cinnamon. Place 2″ apart on parchment-lined cookie sheet. Bake at 350°F until barely browned but still soft, approximately 10-12 minutes.
---
Let's see what I have in my uploaded but not used photo folder. *sound of rummaging* How about some scenery pictures from mid-October?
Ah, a lovely guardian fruit basket, protecting the inhabitants from… scurvy?
I'm fond of this house and its boulder scaping. Personally, I think they should just have eliminated the grass entirely and gone with a boulder field.
Whoops – some Halloween decoration pictures I forgot to post…
Here's a detail from the house above. Embiggen for full effect!
*more rummaging* Aw, look at Mayhem enjoying the sun back in… September 2007.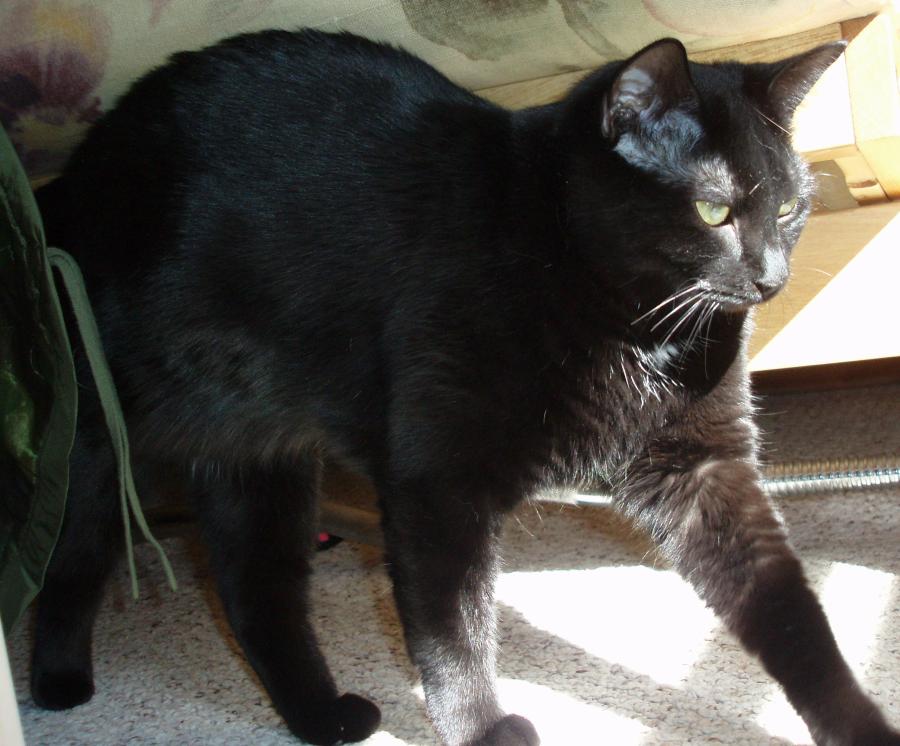 "Sunshine on my toes makes me happy! Sunshine in my eyes makes me blink!" -Mayhem