Fricknits is holding a fundraiser for a new Ravelry server. Every $10 you donate to the "Ravelraiser" between now and April 25 is an entry into the prize drawing – and some pretty cool prizes have already been donated.
Becka's having a "Knit-Tit-Along" – check out the details on her blog. She'll randomly select participants in the along to receive prizes on May 4.
Reading Update
A Quick Bite, Love Bites, Single White Vampire, A Bite to Remember, Bite Me if You Can, The Accidental Vampire, and Vampire, Interrupted by Lynsay Sands. Um, in one week I read seven of the nine Argeneau Vampires books… They're somewhat predictable paranormal romances with the occasional massive internal logic breakdown, but I obviously enjoyed them, eh?
Knitting Bones by Monica Ferris. Really, the only reason I read the Betsy Devonshire Needlecraft Mysteries is that they're set in Excelsior, Minnesota, and occasionally have amusing in-jokes.
Wife for Hire by Janet Evanovich. This is a totally silly romance that Evanovich wrote 18 years ago. A very light, fast read.
Signs of Spring
Saturday was mostly sunny and in the mid-60s and the snow but a memory. I awoke Sunday morning with "Must. Change out. Flannel. Sheets. Now." flashing through my brain. So, after the usual 3 or 4 hours it takes to do that task around here, I'm sleeping happy in my spring/fall "transitional" jersey sheets. Ahhhh. Now, if only something green would grow outside…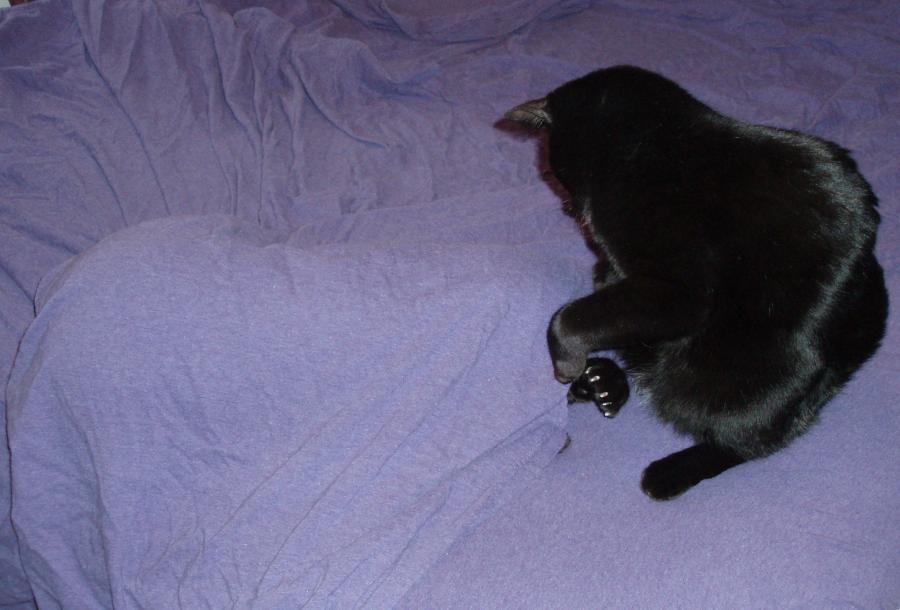 "I have you trapped, big kitty! Bwa-ha-ha!" -Mayhem
"Curses. Why did Mom decide to trim my claws this weekend?!" -Chaos