Recently, I won a contest over at knit'n lit and Jenn sent me a fun purple prize pack: a type of Opal I haven't tried before and some KnitPicks alpaca that has "scarf" written all over it. Thanks, Jenn! How ever did you guess that I like purple? 😉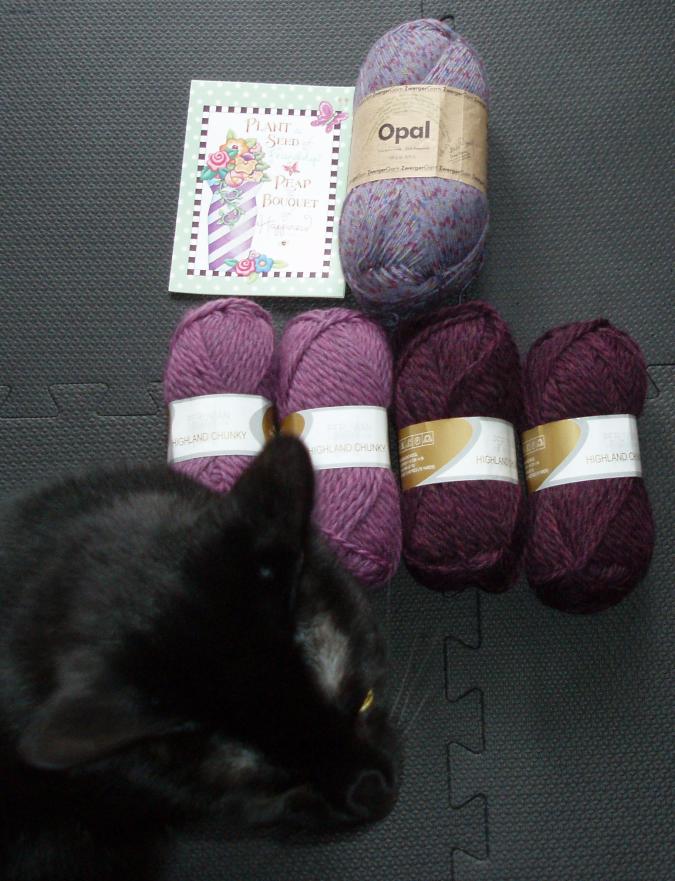 "May! May! You're missing the yarn!" -Chaos
To celebrate his 2000th post, FuriousBall sent a cd of his very own music to each interested commentor. Thanks, FB – it was very soothing to listen to while I did my taxes the other night…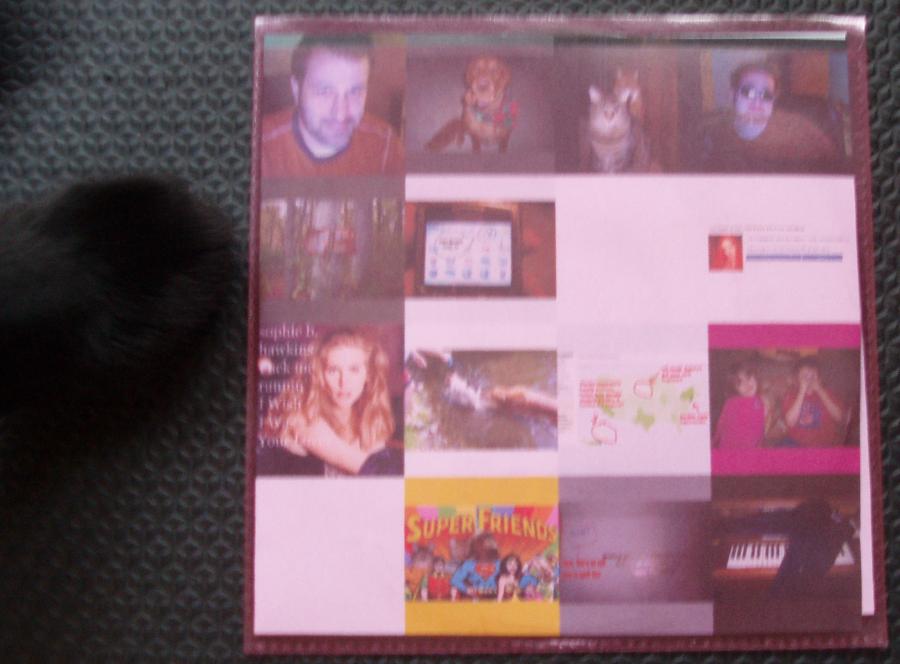 "May! May! You're missing the cd!" -Chaos
And Elspeth sent me some goodies just because. Aw, thanks, E!! Hidden by Chaos's head is a mix cd. Clockwise from there is a cute "meow" card, a scissors with a sheep on it, a very cool sheepy tote bag, a gorgeous skein of yarn (more on that in a minute), two black cat notebooks (the one on the right says "Black cat with cool face, but actually goofy" and the one on the left says "Stella's story: Her name is Stella. She is very popular with the boys, though very stylish and selfish"), two sheepy chip clips, some flavored coffee, a tiny ram notebook, and some cards with which Chaos is trying abscond.
"May! May! You're missing the lots of stuff! Hmm. I don't know where that Mayhem's gotten herself off to, but at least I don't have to share this nifty ribbon." -Chaos
"Mmm… ribbon, let me lick you…" -Chaos
"What did I miss?! What did I miss?! Ewwww, big kitty, get a room!" -Mayhem
A more detailed shot of the yarn label – can you see the misspelling? E noted that cat hair isn't intentionally spun into this yarn, but apparently is just natively in the spinning environment. Hee hee – maybe I should get "guaranteed cat hair" labels for everything I knit!
Have a great weekend, everyone! (And rest assured that I took the ribbon away from Chaos before things got too out of hand…)