Jen's having a contest to help her friend choose kitchen cabinet hardware. Weigh in with your opinion by 8 am EST, February 29, and you could win some kitchen cotton.
Reading Update
Housekeeping vs. the Dirt by Nick Hornby. Really, I can't believe how much I've enjoyed Hornby's books about reading. Hornby is very, very funny and most of his insights are spot on. This was a particular favorite: "But please, if you're reading a book that's killing you, put it down and read something else, just as you would reach for the remote if you weren't enjoying a TV program."
Unshapely Things and Unquiet Dreams by Mark del Franco. A promising new urban fantasy/mystery series set in Boston about Connor Grey, a druid who lost most of his powers in an accident.
Three in Death by J.D. Robb. This book contains three Eve Dallas/Roarke novellas that have been published elsewhere: "Interlude in Death," "Midnight in Death," and "Haunted in Death."
---
Recently, I won a contest over at Chappysmom. Deb sent me some gorgeous purple Zephyr and one of her cute Chappy cards – thank you, Deb!
"That Chappy kitty has a very long nose and ears! What do you mean, he's not a kitty? What else is there?!!" -Mayhem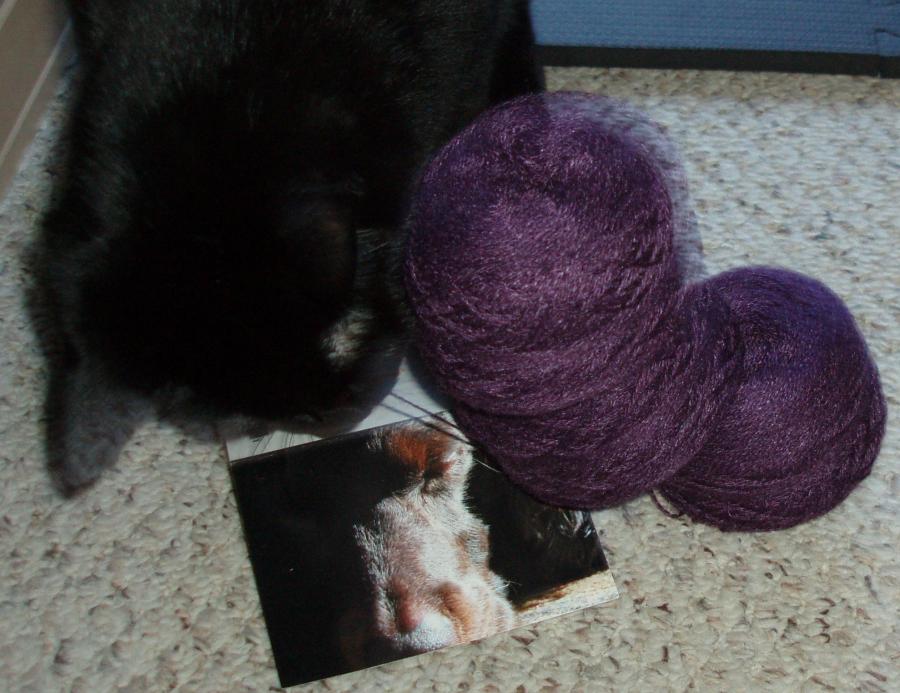 "Oh! Laceweight yarn! My favorite!" -Mayhem
"I'm sure Mom won't even notice if I steal a ball or two of this. It's not like she's knitted any lace that I can remember." -Mayhem