Sarah-Hope is celebrating her blogiversary by holding the First Annual What If Knits Save-the-Cats (and Other Animals) Blogiversary Raffle – by donating to any one of an assortment of animal rescue organizations by February 14, you'll be entered in a prize raffle. First prize is a gorgeous Swallowtail Shawl!
Reading Update
My Big Fat Supernatural Honeymoon edited by P.N. Elrod. I didn't enjoy this collection as much as My Big Fat Supernatural Wedding, but there is nice Harry Dresden story by Jim Butcher.
Long Hot Summoning (The Keeper's Chronicles #3) by Tanya Huff. Much better than the second book, plus it has a completely fabulous fifth line on page 161.
The Book of Old Houses by Sarah Graves. The latest in the Home Repair is Homicide series, this book continues a thread started in the previous book (Trap Door). I've loved the rest of the series, but the last two books have only been "meh."
Viewing Update
Harry Potter and the Order of Phoenix. Whoa. Talk about breakneck speed – if you haven't read/listened to the books, you won't have any clue what's going on!
Grosse Pointe Blank. Black comedy starring John Cusack as hitman Marty Blank, back in town for his high school reunion. I can't believe I don't already own the soundtrack for this one.
High Fidelity. What can I say? I was in a John Cusack mood this weekend. 🙂 Another good soundtrack, although very different than that of Grosse Pointe Blank.
---
'Tis true, 'tis true… although I spent all day Saturday in my PJs, I actually got dressed and left the house on
Super International Pajama Day
! What can I say? It was sunny and warmer than it's been and I just needed to get out and go for a walk. I did get back into PJs as soon as I got home.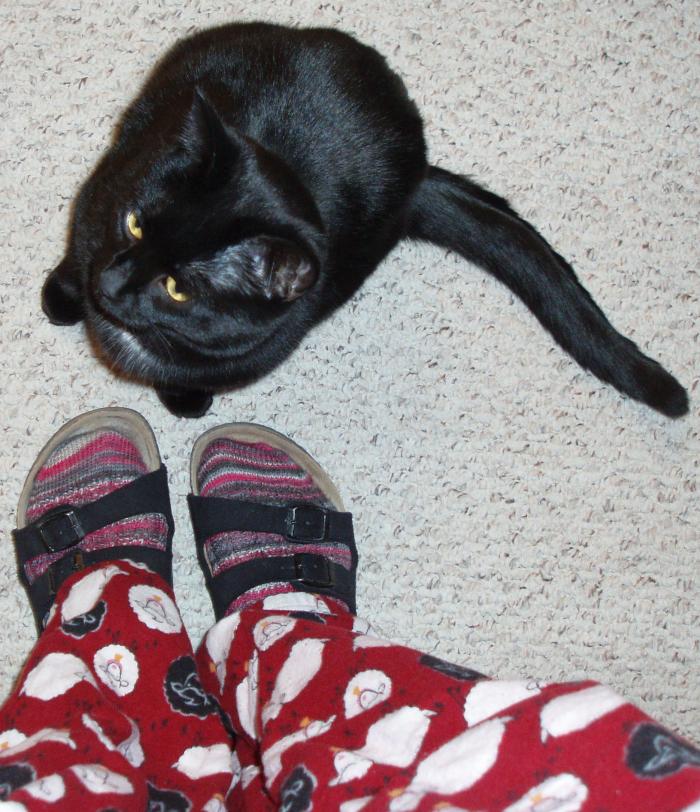 "For shame, Mom! I spent all day in my pajamas. What, you've never heard of the cat's pajamas?" – Mayhem