KathyMarie is having a contest to celebrate her birthday. Leave her a comment with your favorite birthday memory and you could win some prizes. Contest closes midnight CST, January 31.
Shelly's fluffy black kitty Bailey recently celebrated his birthday, and Shelly's having Bailey's Birthday Challenge in his honor. Check out the details on her blog – you have until February 29 to complete the challenge.
Heh – really, Chaos and May shouldn't complain… Kmkat's poor black kitty Hannibal had to model eight different preemie hats in one modeling session!
Don't forget that Super International Pajama Day is this Sunday! Celia's provided some helpful tips for making your SIPD a success.
Many, many thanks to all of you who've nominated this blog as being excellent, or as one that makes your day!! 🙂
---
Last week, Chaos developed a very odd fixation. Yup, you're seeing that right. He became fixated on the Nora Roberts novel
Key of Light
, which
Jeanne
had just returned. She swears she didn't soak it in nip or cat pheromones…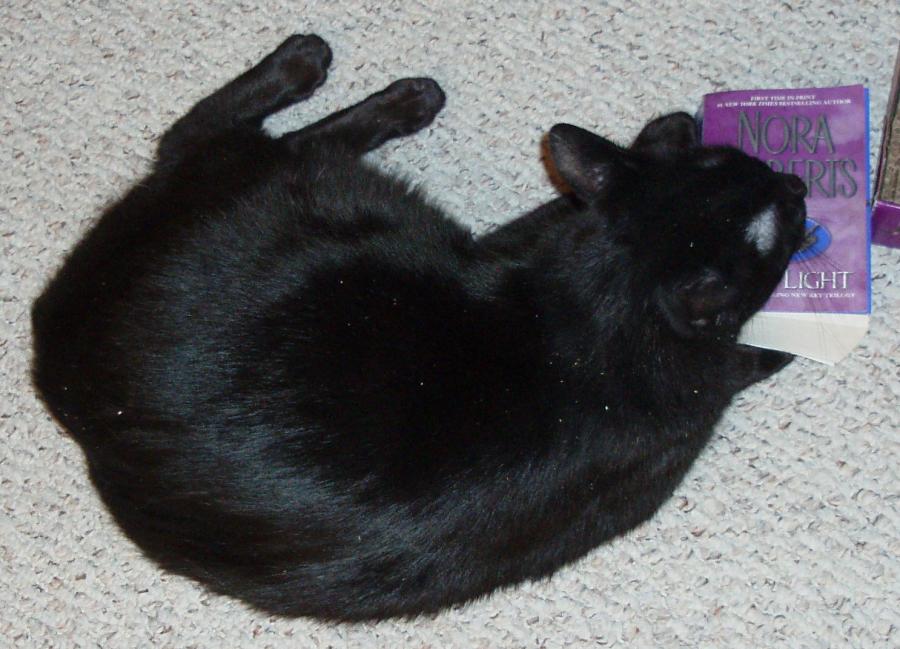 "I have no idea what you're talking about, Mom. What book?" -Chaos
He spent two days lying on that book, holding that book, rubbing that book on his face… and all I got were these two lousy pictures. D'oh!
"Really, I don't see a book. Have you been hitting the nip?" -Chaos
Can anyone spot Chaos's bellybutton in the picture above?