'Tis the season for destashing! Wanda's having a multipart yarn stash sale. Mouse is also starting a multipart stash sale – yesterday was fiber and novelty yarns.
It must also be the season for contests! Brace yourselves…
To celebrate her birthday, the Knit Witch is collecting embarassing stories – share your embarassing story with her by midnight EST, January 23, and you could win yarn or a yarn bowl.
Guess how many baby socks Diane knitted in the first 20 days of January and you could win some sock yarn! Contest closes at noon EST, January 25.
Ambermoggie's having a contest to brighten up the dark winter days and to thank everyone for their good thoughts during Mr. Mogs's cancer woes. Leave a comment about why you're looking forward to spring and you could win some goodies (orange yarn, stitch markers, and an elemental figure). Contest closes January 26.
Phyl's having a pet foot contest (The Central Park Footie) – send her a picture of your pet's foot by 6 pm EST, January 27, and you could be eligible for sock yarn.
Whew!
Knitting Update
I know, I know – probably poor Marina's fallen over in shock. 😉 I finally finished my plain old socks! The yarn is Wisdom Yarns, Marathon Socks – Boston (color 212), knit on 2mm needles. I love this colorway! Stripey blue, purple, and black – life is good.
"What? What do you mean, I'm not the subject of this photo?!" -Mayhem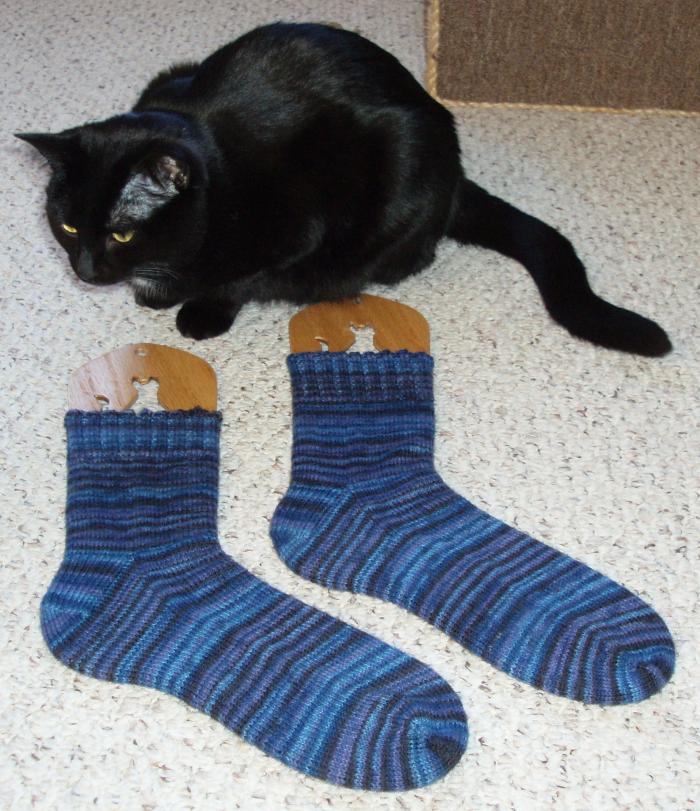 "Fine, be that way. But I'm sure everyone will like the other photo better!" -Mayhem