Wendy's having a contest – before 4 pm EST, January 22, send her an email guessing how the pictured sock was knit, and you could win a skein of Wollmeise.
Nikki is having a contest to celebrate her blogiversary, 200th post, and new WordPress blog! Simply leave her a comment by January 24 and you could win a fibery prize.
Dotty and Gladys are celebrating their blogiversary with a contest, too. To participate, leave them a comment with a link to a rectangular stole pattern by midnight PST, January 31.
Reading Update
Kitty and the Silver Bullet by Carrie Vaughn. Radio personality and werewolf Kitty returns for another solid installment in this series.
Crime Seen: A Pyschic Eye Mystery by Victoria Laurie. Psychic Abby Cooper is back in another light'n'fluffy mystery.
Back to the Bedroom by Janet Evanovich. These old, reissued romances from Evanovich are trite and boring and not recommended (even though there are four black kittens at the end of the book).
Cybermancy by Kelly McCullough. This is the sequel to Webmage, which I recently read and enjoyed. Decent writing and a heck of a premise that mixes cyberpunk with Greek mythology make this a series I'll continue reading. I think McCullough's influences include Jim Butcher's series about wizard Harry Dresden and Roger Zelazney's Amber series (particularly Corwin).
Wolf Moon by Charles de Lint. This is an old one (1988) and definitely not as skillful or involving as more recent works. It isn't Lint's trademark urban fantasy, but it does put a nice twist on some some fantasy archetypes.
Promises To Keep by Charles de Lint. This Jilly Coppercorn story seemed awfully familiar to me – maybe just because it's described as a prequel to Widdershins?
Old Man Crow by Charles de Lint. Is Joey Creel "a man dreaming he's a crow, or crow dreaming he's a man"?
Paste Magazine #39. Many thanks to Margene for turning me on to this magazine! Each issue comes with a sampler cd – what's not to love about that?
Mayhem (literally) Update
Mayhem had a busy weekend. Saturday she extricated the FM antenna from its supposedly safe perch, then gnawed about six inches off of it (I don't think she ingested any, fortunately). Sunday I woke up to the sound of her tipping over a heavy oak kitchen chair onto the tile floor and cracking the floor… Maybe she really does have cabin fever!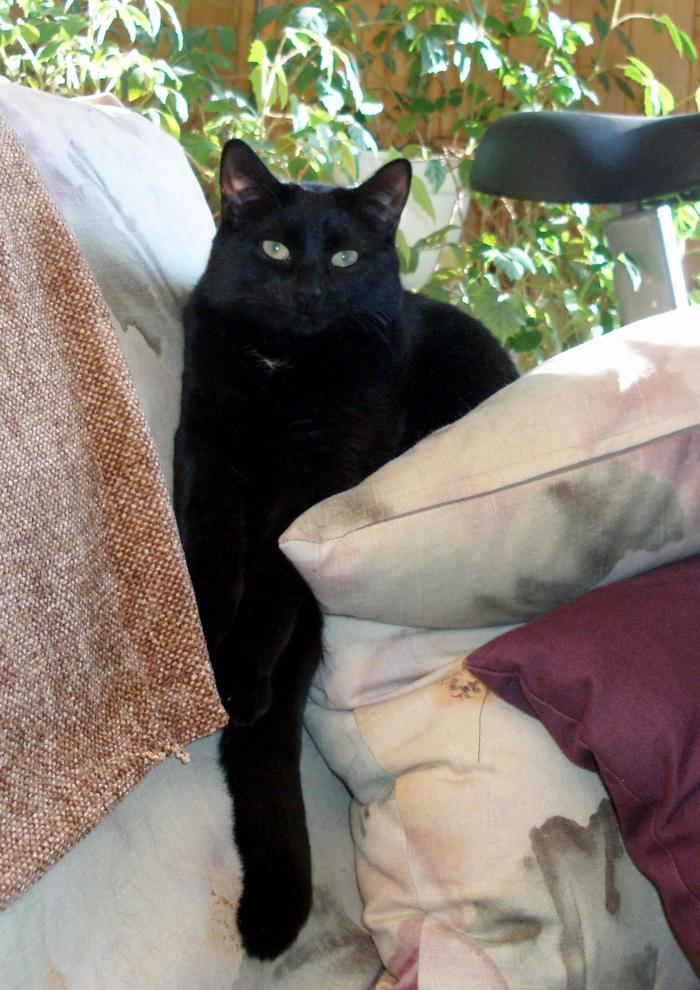 "Quit telling tales, Mom!" -Mayhem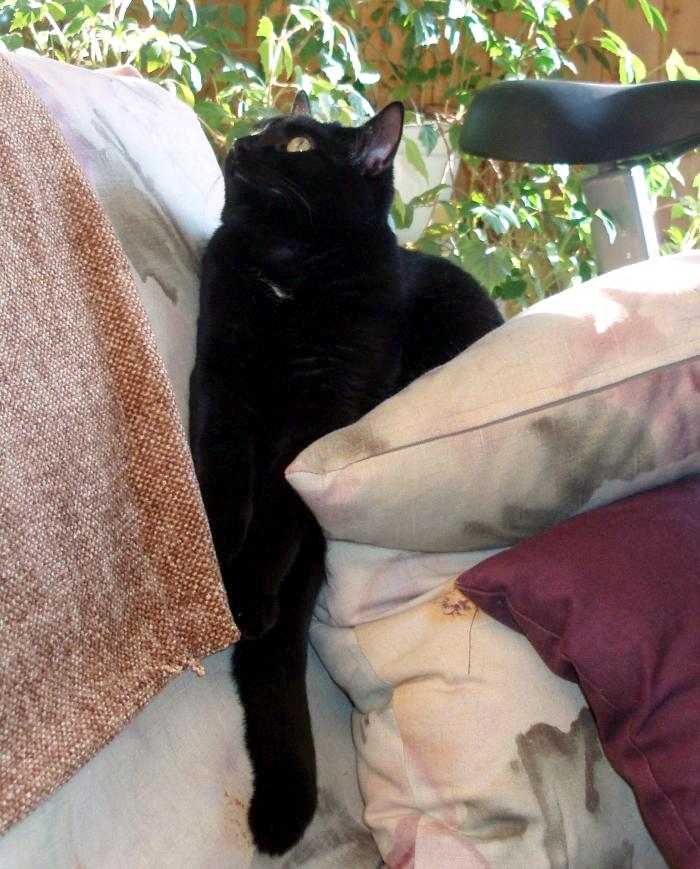 "I can't believe you'd fib about me like that. I can't even look at you." -Mayhem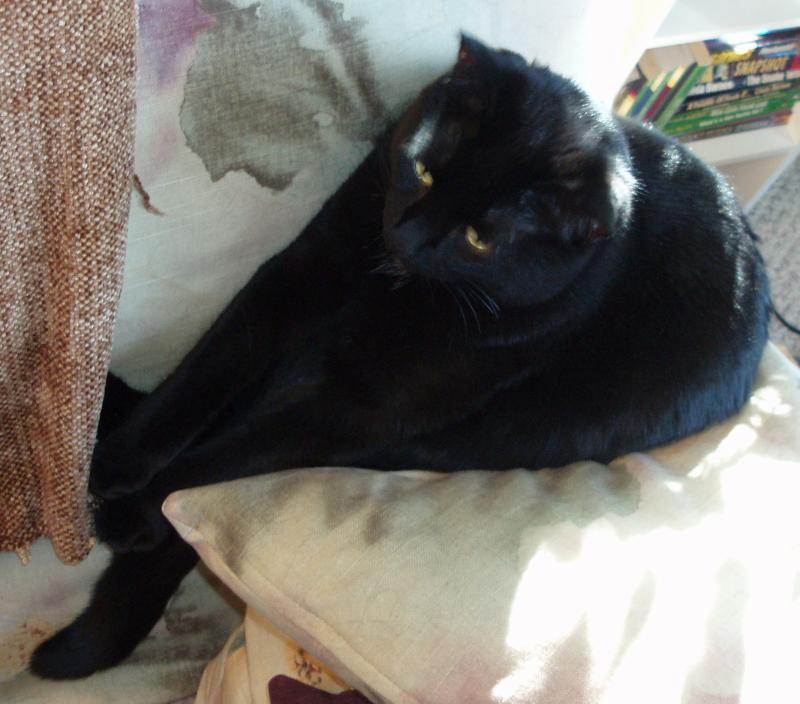 "I am so disappointed in you. Obviously, if such things had even happened, the big kitty would've done them!" -Mayhem