Debby has a really nice post about how you can help out animal shelters and rescue organizations in your city.
Hopefully the City of Minneapolis has finally plowed our alley so I can make it to work this morning. It's a good thing I took yesterday off, because I couldn't have made it in to work! I spent a quiet and relaxing day recuperating from the festivities (Christmas Eve at my brother and SIL's, then Christmas Day at Jeanne and Michael's) and looking forward to this weekend's festivities.
Reading Update
Karma Girl by Jennifer Estep. The book before Hot Mama – amusing chick lit about superheroes.
The Wednesday Night Witches by Lee Nichols. Three friends on a Maine island discover that they have witchy powers.
Morrigan's Cross: Book One of the Circle Trilogy by Nora Roberts. This is a well-written sword'n'sorcery'n'vampire novel, set in twelth-century and modern day Ireland. I'm already waiting for the rest of the trilogy to be available at my library. I liked this much better than Divine Evil.
Killer Insight: A Psychic Eye Mystery by Victoria Laurie. I continue to be surprised by the whole "niche mystery" phenomenon!
A Bite to Remember: Argeneau Vampires, Book 5 by Lynsay Sands. Romance/mystery/vampires – this book has it all and is actually a decent read. Unsurprisingly, I haven't read the previous four books yet.
Territory by Emma Bull. Besides making boisterous Celtic music as part of The Flash Girls, Emma Bull writes some damned good urban fantasy – her novel War for the Oaks is one of my favorites (and not just because parts of it takes place in my neighborhood!). In Territory, Bull heads back to Tombstone, Arizona, in the days of the Earps and Doc Holliday and adds a bit of sorcery to liven things up.
Holiday Cuteness
WendyG sent me the cutest knitting S'Mores ornament! Thanks, Wendy!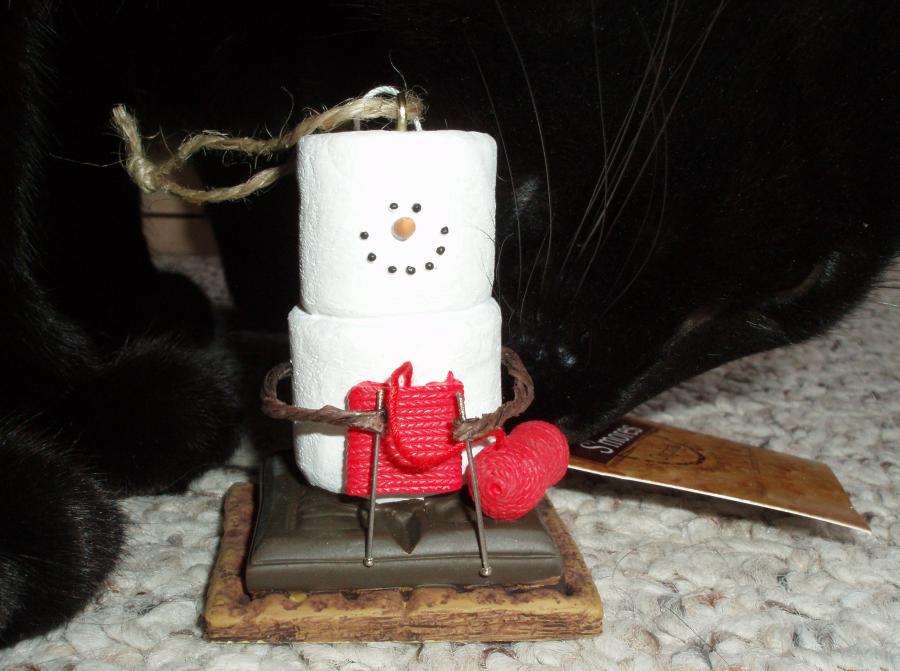 *sniff sniff sniff* -Chaos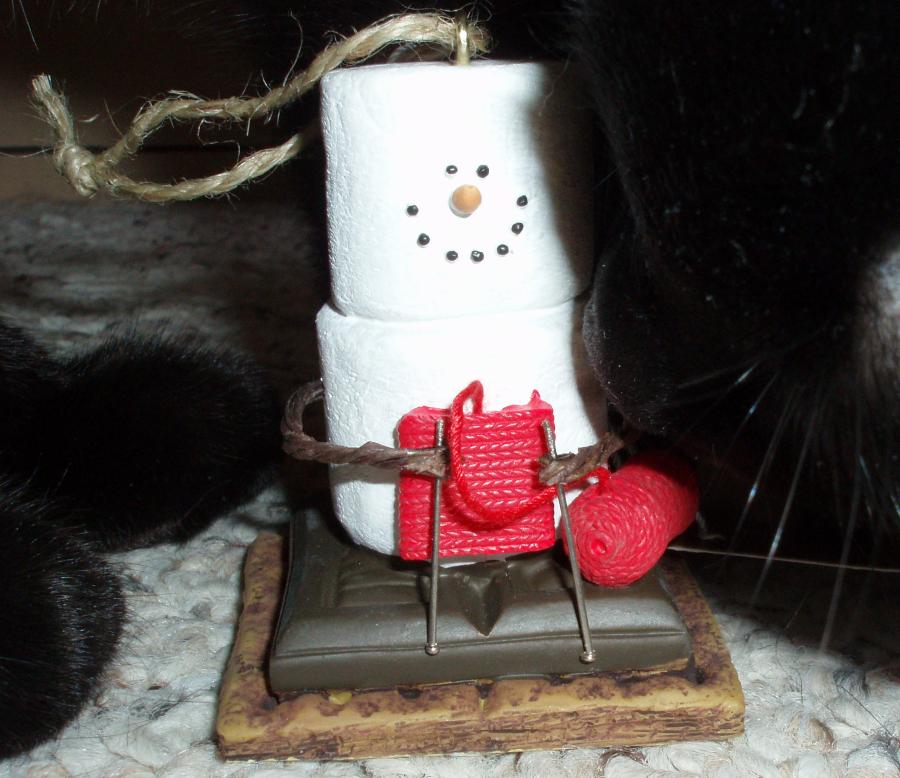 *sniff sniff sniff* -Mayhem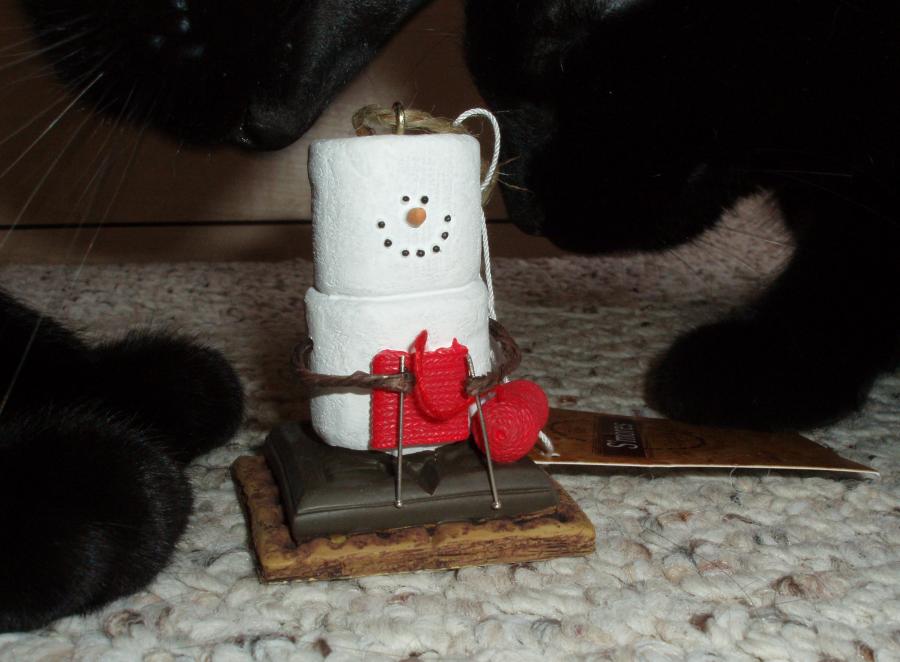 "Well, big kitty – what do you think?" -Mayhem
"This is a tricky one, May. It looks like food, but it sure doesn't smell like food." -Chaos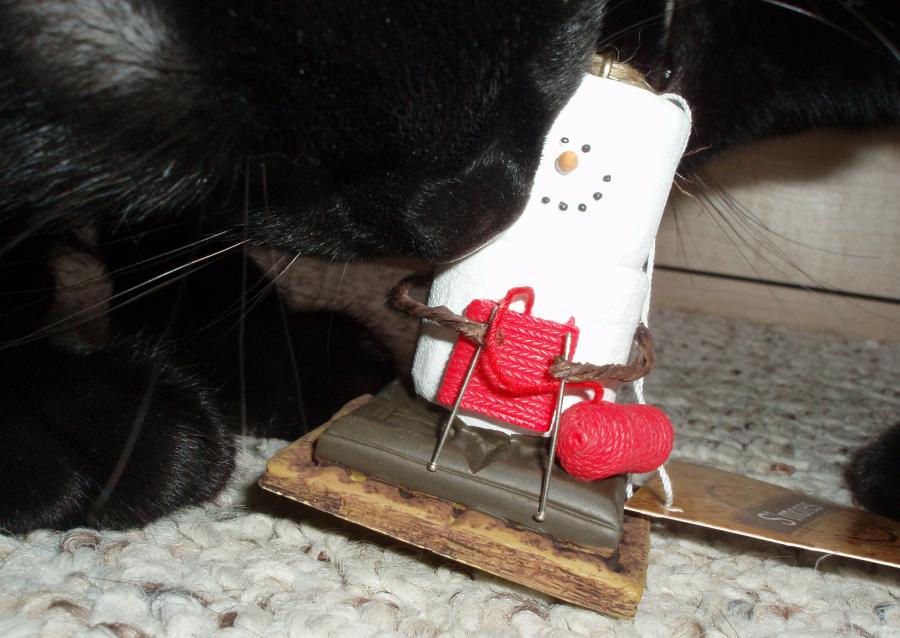 "May, why don't you take a little taste, just to see what's up?" -Chaos
"Are you sure I won't break a fang on this very unyarny yarn?!" -Mayhem
"Help! Help!" -Marshmallow Snowman
The ornament was quickly rescued!