Happy birthday to my "little" brother today! 🙂
Well, I've apparently been gnawty as I've experimented with a WordPress plugin to stick a copyright notice at the beginning of my feeds in bloglines. Any change to the pesky thing would send a bunch of updates to bloglines, plus my feed kept getting scraped anyway. So that's one plugin I'm not using anymore! Sorry for any annoyance all those fake updates might have caused anyone.
But MrsPao and Pao must not have thought me too gnawty, since they sent a holiday package! (Shhhh… I might've opened it early.) (But I had a really good excuse reason. The box contained gifts for Jeanne, too, and since she and her husband Michael were over Sunday night, it made sense for us to open our gifts together, right?) (Why were they over? Sheesh! Full of questions, aren't you? We were on our way out for some tasty Thai at Chiang Mai. Then we walked over to the Lagoon Cinema to see Blade Runner: The Final Cut. I found some parts of that Vangelis score a bit distracting due to their obvious 1980s electronica sound – in previous cuts, the narration covers a lot of the overdone parts of the score. I think I like the 1992 Director's Cut best.) (Bit of me trivia – I saw Blade Runner in the theater during its original 1982 release.)
Anyway! The Paos sent some P.D. James mysteries, my beloved dark chocolate-covered rice cakes (mmmmmm), a chocolate bunny, some divine purple angora/cashmere/wool yarn, a Furry Feathery Wand Toy (FFWT) for Mayhem, and Sparkly Red Fabric Mice (SRFM) for Chaos! Thank you!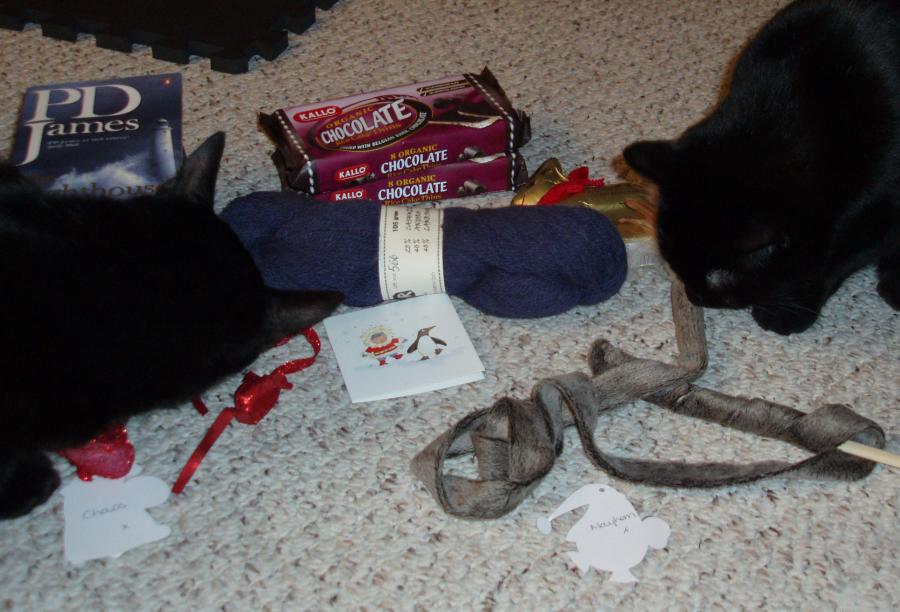 *sniff sniff sniff sniff sniff sniff* -Chaos & Mayhem
Chaos seemed to enjoy the SRFMs.
"I'll get you, my pretty!" -Chaos
And I think Mayhem might like the FFWT… What do you think?! (None of her paws are touching the ground in this picture, as Chaos lurks in the background…)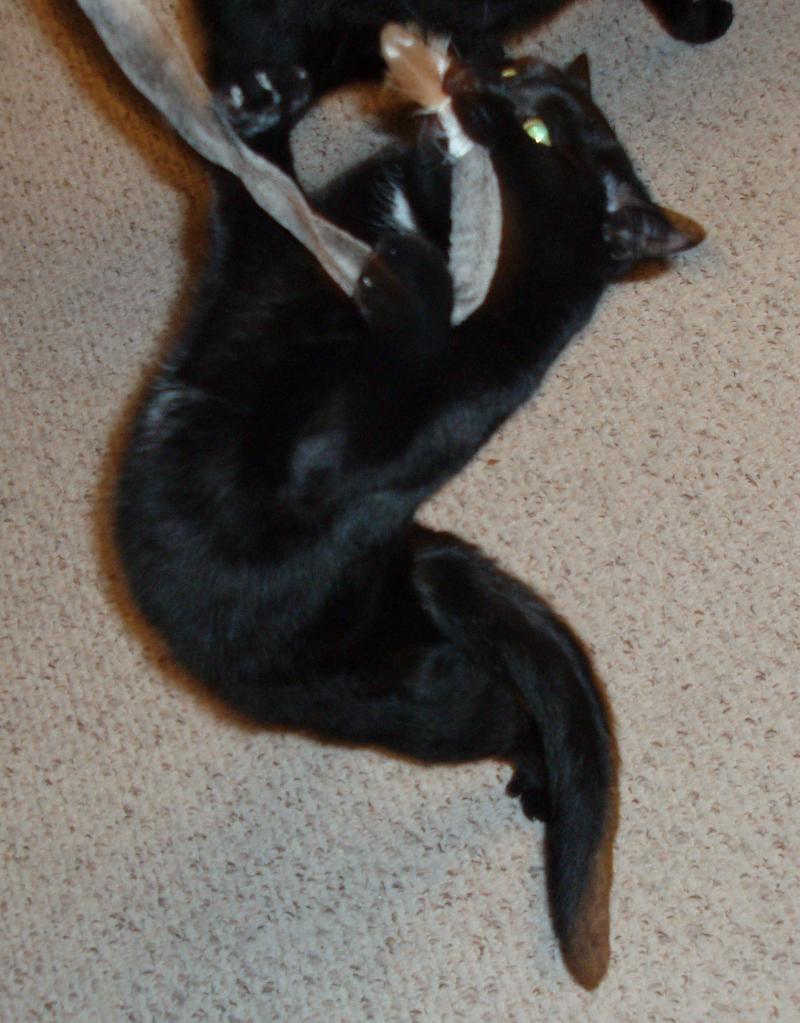 *mwmph* -Mayhem