Congrats to Shanna, who won Code Blue by Stephani Hecht! Code Blue was released by eXtasy Books Friday.
Congrats to Susmita, who won Gayish (G-A-Y, Book 12) by Kim Dare! Gayish is being released by Total-E-Bound today.
---
---
Welcome to another edition of the Misadventures in Stock Photography! Today we'll be meeting Slave Boy. Here he is in Las Vegas, captured in the wild by Jordan Castillo Price, just for me. Thanks, Jordan!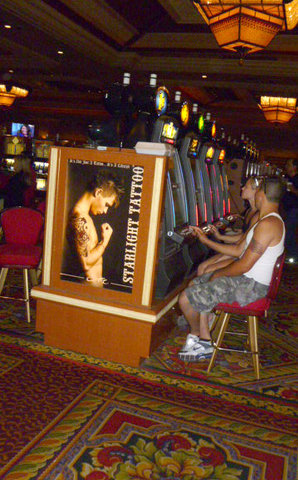 It's a bit odd that a tattoo parlor is advertising using a photoshopped tattoo, isn't it? Onward!
Once upon a time, a simple
was living a quiet life in
, until he was kidnapped by
, marked with
, taken to
, and sold as a
. He was quite the
at the slave auction, where he was purchased by a burly mistress… he thought. It was only later, when he and his new "mistress" were
that he realized
and that
is not always what you get… or what gets you.
---
"Naughty boys? What naughty boys? I don't see any naughty boys. Lalalalalalala." -Mayhem