Maylin is having two contests. For the first, suggest a use for a particular set of needles, and you could win those needles and other goodies. For the second, guess the total weight of yarn in her sock yarn basket and you could win something from that basket. Both contests at midnight (midnight in France) on Halloween.
Did you see these kitty Halloween costumes at Cute Overload? Chaos and Mayhem have nothing to complain about. 🙂
Reading Update
Singer of Souls by Adam Stemple. This book starts out only a few blocks from where I live! 🙂 This was a fabulous urban fantasy novel and I'm looking forward to reading more from Stemple (who has also been in the local bands Cats Laughing, Boiled in Lead, and the Tim Malloys).
My Big Fat Supernatural Wedding, edited by P.N. Elrod. I got this primarily to read "A Hard Day's Night-Searcher" by Sherrilyn Kenyon (yes, yes, a Dark-Hunter short story) and "Something Borrowed" by Jim Butcher (a Harry Dresden short story). There's a good short story by Charlaine Harris, but it isn't part of her Sookie stories.
Three Bags Full: A Sheep Detective Story by Leonie Swann. This was such a fun read! A flock of sheep discovers its beloved shepherd dead with a spade through his body. Led by Miss Maple (hee!) and black sheep Othello, the sheep work to discover the culprit.
Kiss of the Night by Sherrilyn Kenyon. Dark-Hunter. Moving right along…
Stroke of Midnight – "Winter Born" by Sherrilyn Kenyon. A Were-Hunter short story featuring Ash and the Simi. What's not to like?
Talk Nerdy To Me by Vicki Lewis Thompson. I've maybe overdosed on the Nerd Series…
Knitting Update
I finished a second pair of Sockamania Elegance socks… This pair is for another holiday present and was knit from Socks That Rock in the Monsoon colorway on 2.25 mm needles, 60 stitches. This was a sock club color that I bartered Jeanne for. What looks like grey in the pictures is actually supposed to be a plum color (and thus look less like camo), but you can only discern the plumish tinge under very specific lighting conditions.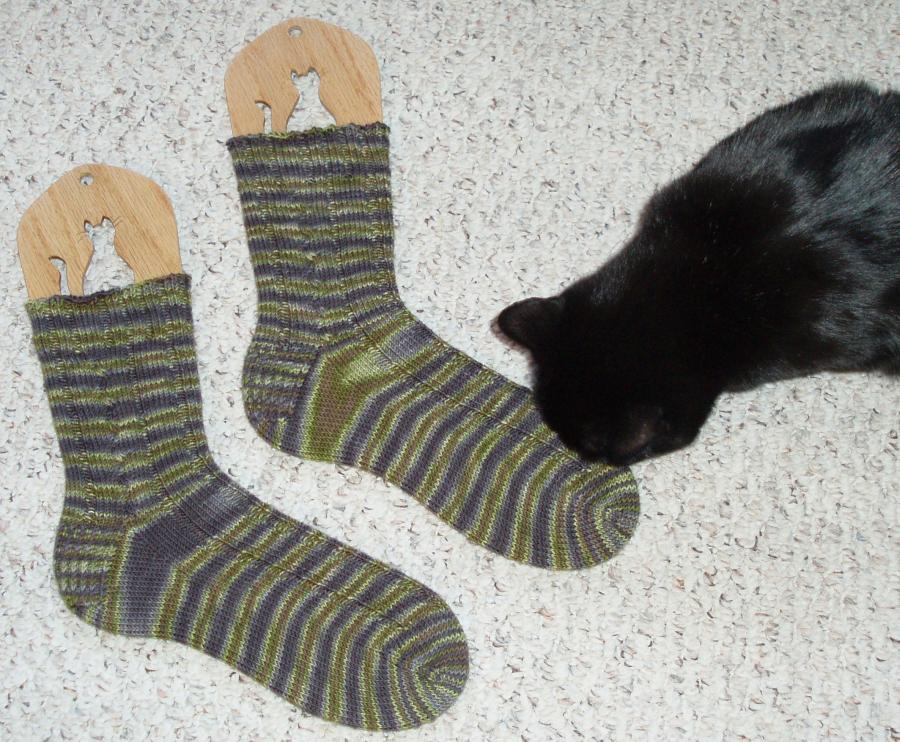 "A camo kitty bed? So no one's going to be able to see me when I'm on it, right? Cool!" -Mayhem
"Finally, I'll be able to have some privacy and take a good bath, since no one can see me." -Mayhem
*mrmph* "Boy, that's a tough snarl there between my toes…" -Mayhem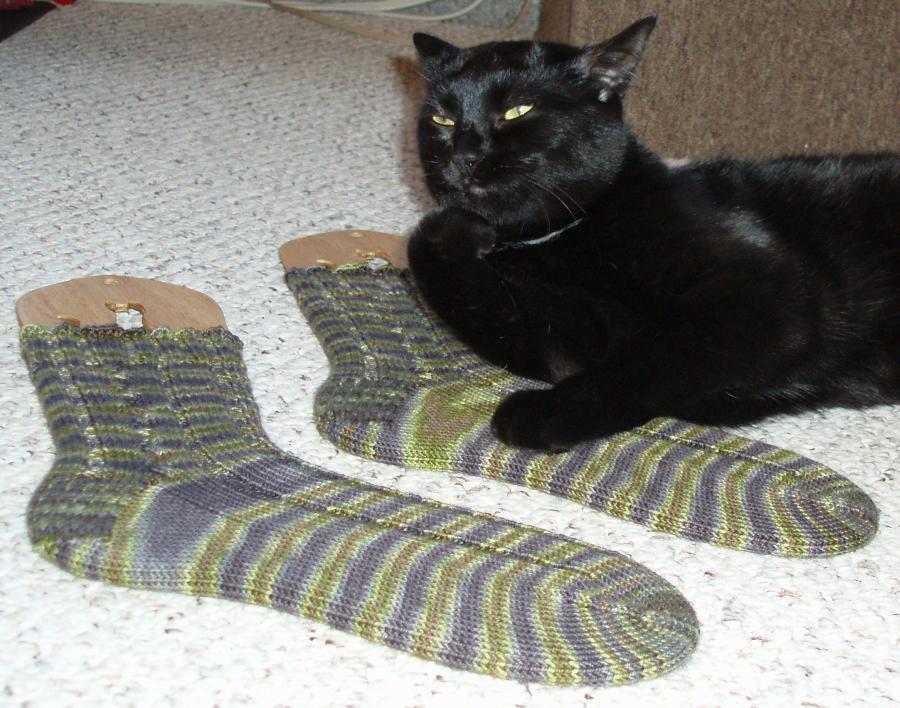 "Hey, wait a minute… you're all staring at me… this camo kitty bed sucks! It doesn't work! Hmph." -Mayhem