– Death Cab for Cutie, "The New Year" (No, really, I haven't used this title before. Really. See? Similar, but different.)
I realized that I was running out of time to do a 2009 in review post and not have it be utterly silly. So, allow me to present my year in reading and knitting.
Reading
In 2009, I read a lot. Really. A lot. Um, 811 books is a lot, right?! Here's the complete list, sorted by rating and then by author. You'll notice that there are some books that look as if I read them in 2010 – those are rereads that I also read in 2009. (For reference, I read 388 books in 2008.)
My now beloved ebook reader had a huge impact on my reading last year. Although I didn't get the reader until April, I read 500 ebooks last year; 445 of those were m/m titles. At this point, I would rather read ebooks than print books!
Please note that part of the reason for what looks like a crazy number of books read last year is because ebooks tend to be shorter overall than print books. While I tagged 79 books as shorts (all were ebooks), I didn't start using that tag until a few months ago.
In 2009, I completed two reading challenges by joining them after I had met the requirements: 2009 Support Your Local Library Challenge and 100+ Reading Challenge. That's apparently the secret for me and challenges – find out about them after I've completed them without knowing I've completed them. 🙂
Knitting
This was not a good year for knitting, due to neck/back pain and lack of inspiration. (And, sadly, 2010 isn't off to a great start knittingwise.) I completed a neck cozy, a baby blanket, a sweater that was mostly already knit, some bibs, and seven pairs of socks.
Neck cozy (never blogged, no photos)
---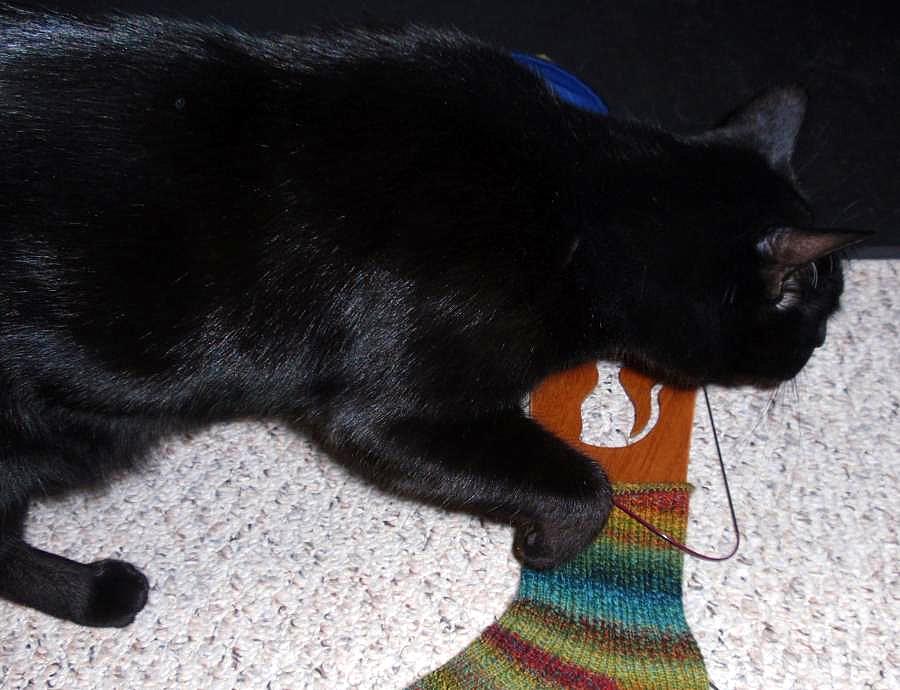 "Um, Mom? Those knitters aren't stupid. They're going to remember that you posted this same sock done to the same point already. But whatever. It's your blog, your shame. Doesn't mean I have to stick around to witness it." -Chaos