Jenn's in the midst of a kitchen makeover – before midnight PDT today, guess what color she painted her kitchen and you could win some kitchen cotton!
I had sort of a bad weekend, woman-healthwise. Waiting to call the doctor as soon as I can this morning. Not life threatening, so don't worry about that! 🙂 But distracting. So, in the name of distraction… Remember these pictures from way back in September, right after I got Mayhem?
"Ha ha! I got Mom's spot and that big kitty isn't anywhere around!" -Mayhem

"But why am I feeling so nervous? It's as if someone's watching me… -Mayhem

Here's how things looked last week – she's still nowhere near Chaos-sized (and never will be), but it's a lot closer!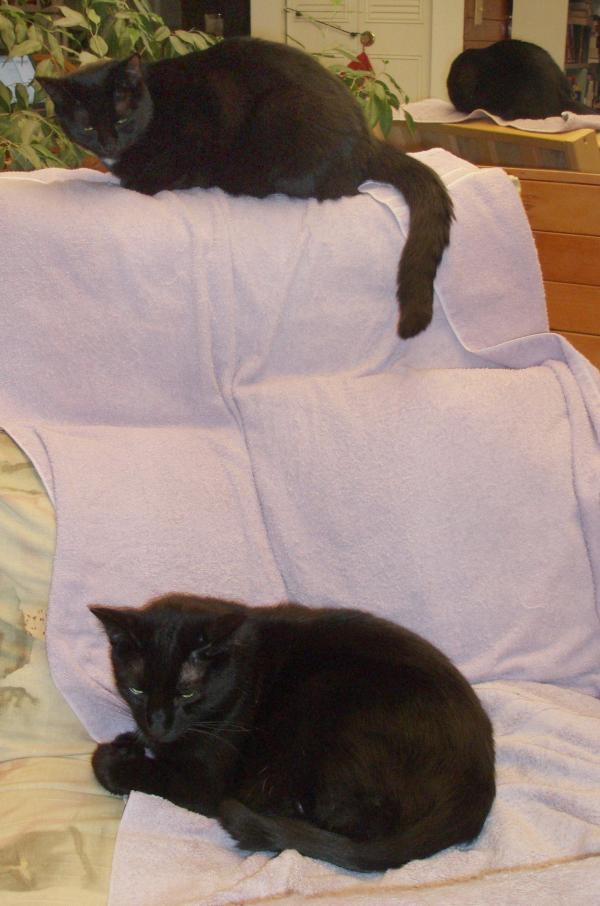 *dozing* -Chaos
"I can't tell you how tempted I am to jump on that big kitty… but he gets so crabby when I wake him up from a nap…" -Mayhem
Also, check out this amusing picture from I Can Has Cheezburger!