Congrats to Dana, Kelly B, CC, elaing, and Marjorie, who all won copies of Lisa Dale's It Happened One Night! (I'm amazed at the number of readers I have from Ontario. At least one, but usually two Ontarions have won in each of my Hatchette Book Group giveaways.)
Donna (Fantasy Dreamer) is giving away five Nancy Holder books (plus a tin of Wicked mints) – leave a comment by 8 pm CST, November 27, for your chance to win.
Donna's also got a great list of bookish giveaways – head over and check it out. Sweet Vernal Zephyr keeps up with many of the latest contests in her Contest Bar (in the sidebar).
The latest Bookworm's Carnival is up over at Literary Escapism.
Eeeek! How desperate are you for a free ebook? Desperate enough to read Shatnerquake (oh, bummer, looks like it isn't available for free anymore). Maybe it would be less painful to sign on with Fang-tastic Books as an ebook reviewer.
Beware – Fictionwise has (for an unknown amount of time) all of their er0tica ebooks on sale for 30% off… and they categorize all their m/m as er0tica. (Tangentially, I'm amused that my m/m meme post from Friday is zooming up in page views, albeit low in comments. I can hardly wait to see the search terms on that one…)
The Minneapolis Public Library's Holiday Clearance Sale runs from Wednesday, November 25, through Saturday, December 19, at the main library downtown.
Hee hee – the shortlist for the bad s3x in books award is out and includes such authors as Philip Roth, Paul Theroux, and Nick Cave.
Wow – too bad this ebook reader from Qualcomm is only an early prototype.
Interesting comic about ebook reading.
Check out the Gizmodo list of gift ideas for readers.
For you iphone people, this sounds like a fun app. Too bad you can't add your own cats.
This wedding cake caused a spit take (definition 1, people!).
Oh, how I wish I could've attended this book signing event…
Squeee!!!!
This would definitely be May's idea of paradise.
Completely how I remember it when Chaos ate a coffee bean as a kitten.
Tofurkey and gravy flavored soda. Bacon flavored envelopes. *blink blink* Please,  just say no.
If you're poking around in my archives, trying to find posts with Reading Updates, I've added a "Reviewettes" sub-category to the "Reading" category. I'm working backwards to update posts and 2009 is done.
Reading Update


So Into You by Sandra Hill. I have the sense that this is probably one of a number of related books set in the Louisiana bayous? (I haven't read any Sandra Hill before.) Anyway, this was a well-written contemporary romance and it totally sucked me in… even though I wanted to slap the main female and male characters more than once. Or twice. Or three times. 🙂 (I received this copy from the publisher for review.)

Loves Me, Loves Me Knot (Chicks with Sticks, Book 2) by Heidi Betts. This well-done contemporary totally sucked me in – I sniffled more than once while I was reading it. I definitely recommend this series to anyone who enjoys a bit of yarn'n'steam with their romance reading. (Interesting. I see that the Kindle and mass market pb versions are $6.99, but at Diesel Ebooks, the mobi version'll set you back… $12.03, after $1.97 discount. WTF?!)

To Serve and Protect by Chris Owen, C. B. Potts, Tory Temple, and Alexa Snow. ebook. Decent m/m romance collection about firefighters and cops.

Man of Mystery by Madeleine Urban. ebook. Happy father and downtrodden househusband Alan transforms into Terence, man of mystery, after an accident leaves him with amnesia. Recommended – Madeleine Urban definitely knows how to write an intense m/m romance.

Old Poison (Dangerous Ground, Book 2) by Josh Lanyon. ebook. Very intense and very well-done m/m romantic suspense from Lanyon. You definitely need to read Dangerous Ground before you read this. Both are highly recommended.

Another Dream (Dreams, Book 2) by Addison Albright. ebook. Good m/m romance. Really, my only complaint about Albright's books are the number of times the characters use each other's names in conversation. Way, way more than is normal – and enough to be annoying.

Surrendered Victory by K.C. Kendricks. ebook. Nicely done m/m romance about two guys who work for rival construction companies – one who has been afraid to admit that he might be gay, the other very comfortable being gay.

Somebody To Love by Carolina Valdez. ebook. Ok m/m romance about a helicopter pilot/firefighter who is very intrigued by the masked Chippendale dancer who wanders over to kiss him after the show (at a combined bachelor/bachelorette party in Las Vegas). (I bet this cover rates way up there on the MamaTulip Abs Approval Meter.)

Son of a Preacher Man by Jamie Craig. ebook. Ok m/m romance about a man who returns to the town where he lived briefly as a teen, hoping that another encounter with the son of a preacher man will help him sort out his confusion over his sexuality.

My Heroes Have Always Been Cowboys by Lynn Lorenz. ebook. Fun m/m romance about a New Orleans dress-up party in which attendees are told whether to attend in drag or stag.

Superstar by Rick R. Reed. ebook. A story of obsessive love unfolds through flashbacks as a man standing on Seattle's "Suicide Bridge" tries to decide whether to end things.

Through the Closet Door by Rick R. Reed. ebook. Touching story about a married man in his 20s who's struggling with coming out.

Man-Amorphosis by Rick R. Reed. ebook. Amusing, tongue-in-cheek tale of a gay man who wakes up to discover part of his body has changed its configuration, so the first thing he does is get into drag and head out to bag straight guys. Dang, Reed is definitely a versatile writer!

Mind F*cked (Faerily Imperfect, Book 1) by Mia Watts. ebook. Very nicely done and ever-so-steamy m/m paranormal romance about a stunning half-fae security expert who can read minds and a bank manager who doesn't believe in magic or that anyone so gorgeous could find him attractive. Recommended.

She's Got Balls by Mia Watts. ebook. Enjoyable m/m romance about an FBI agent and a cop who have to go undercover as a married heterosexual couple. My only complaint was that the story needed a bit more fleshing out near the end.
---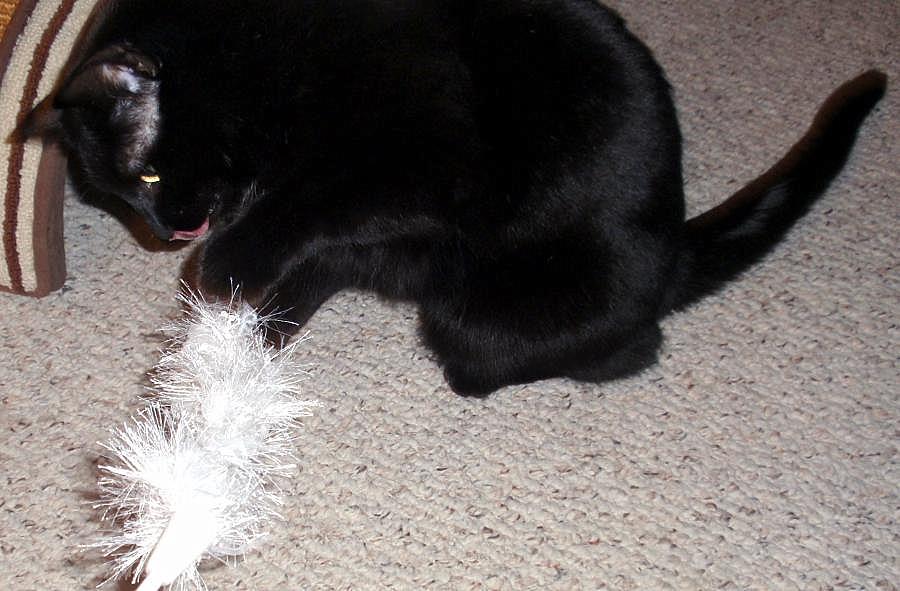 "Pretty sparkly feathery snowy toy!! Yum!!" -Mayhem