Congrats to elaing, GSM, CrystalGB, Estella, and Little Lamb Lost, who all won copies of Kate Perry's Chosen by Desire in my recent contest!
At long last I have finished notifying winners in the Completely Out-of-Control, Over-the-Top Book Giveaway (and should finally mail books on Monday). Congrats to Moonsanity, Eve S, blodeuedd, Guinifer, Anne Marie, and KitKatKnit! Amusing trivia about the winners: two winners were from Finland and one winner lived close enough that we met for coffee yesterday so I could deliver her books! *waves at Guinifer* And I even knit a few inches on my second sock (no longer a protosock!) while we had coffee and chatted. (Hey, can someone pass Jeanne some ice? Looks like she bumped her head pretty hard when she read that I was knitting.)
I'm taking today off from work to enjoy the hopefully warmish and sunnyish weather – have a great weekend, everyone!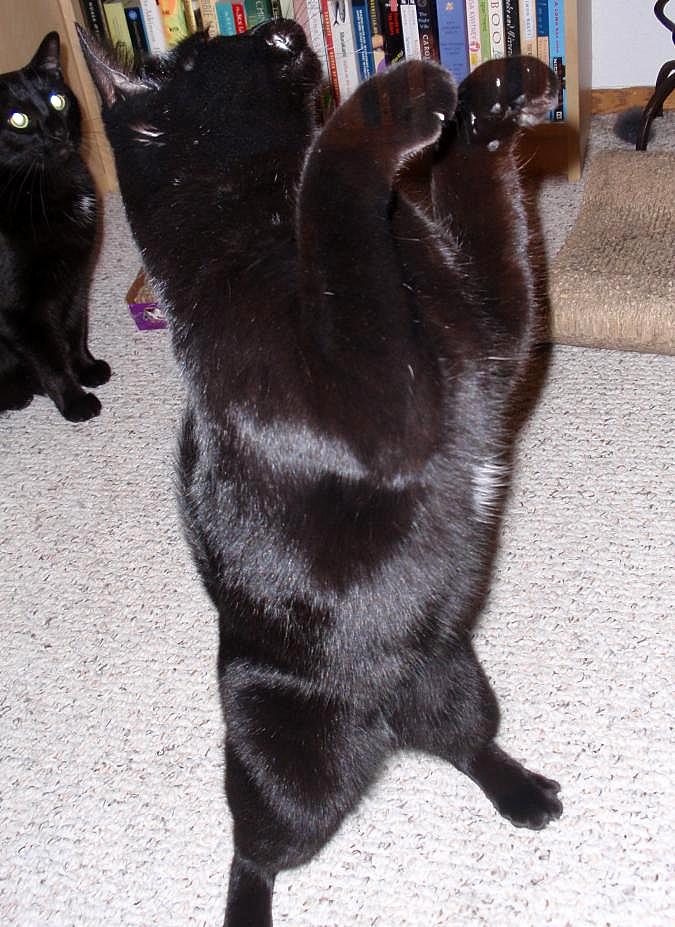 "I am a Dancing Panther Princess!" -Mayhem
"Get your ghost paws out of there, May. I'm locked and loaded – that toy is toast!" -Chaos