My, when I posted a few tummy shots, who knew that this would happen?!
KitKatKnit is having another contest! No, not an art history contest – this one is about an ongoing reference in her blog to "Unlucky." Go leave a comment speculating wildly what that whole "Unlucky" thing might be about and you could win some handspun yarn if you're the closest or make KitKatKnit laugh the hardest. Contest closes at noon PDT, June 13
Last night I was hanging out at home with the cats when we heard some pretty darn loud thuds out the front window. I went to peek out in time to watch as a woman, cheerfully talking on a cell phone, hurled a brick through the side window of a running car. Then she unlocked the car from the inside, hopped in, and drove away. I'm assuming it was her car and she'd locked the keys in while it was running. But dang, wouldn't it have been easier to wait for a locksmith?!
A bit later I walked into the bathroom to find Chaos on his hind legs rummaging through the medicine cabinet. Um, looking for something in particular there, Chaos?! Something to fluff up that tummy hair, maybe?!
Finally it was bright enough to take a few pictures of the rest of my dyed and reskeined yarn. Tangentially, we have had a lot of rain here recently – apparently, we usually get 4 inches of rain during June. By yesterday, St Cloud, MN (about an hour northwest of Minneapolis) had received 2.5 inches of rain in June. Yes, during the first three days of the month.
Anyway! Reskeined yarn.
I didn't bother to reskein this small pink and aqua skein – I just wound it into a ball.
Hmm. Perhaps there's something wrong with my camera – look at the black blob obscuring most of that shot! You can barely see the poor little ball of yarn.
Here are the other skeins – the top one is the Malabrigo and the others are sock yarn.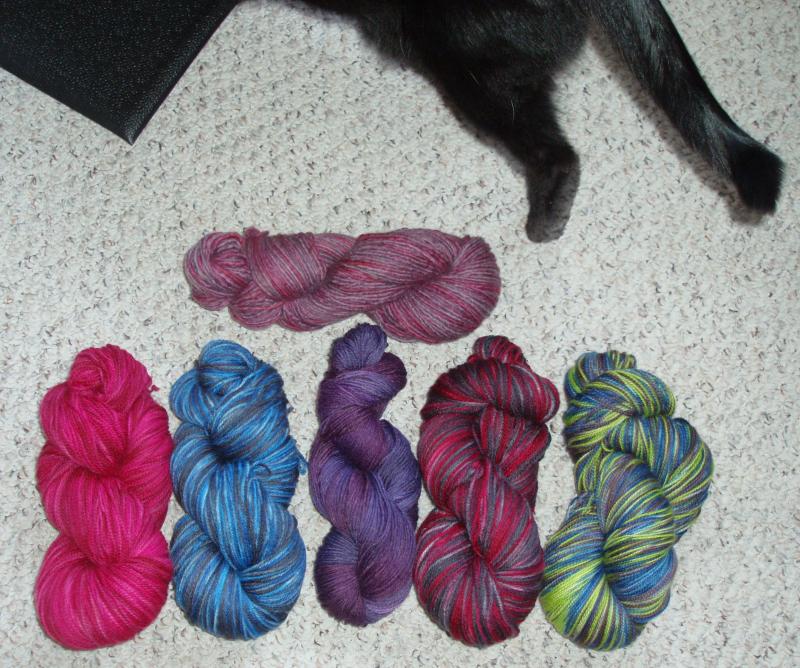 *sound of off-camera whistling* -Chaos
*sound of off-camera whistling* -Mayhem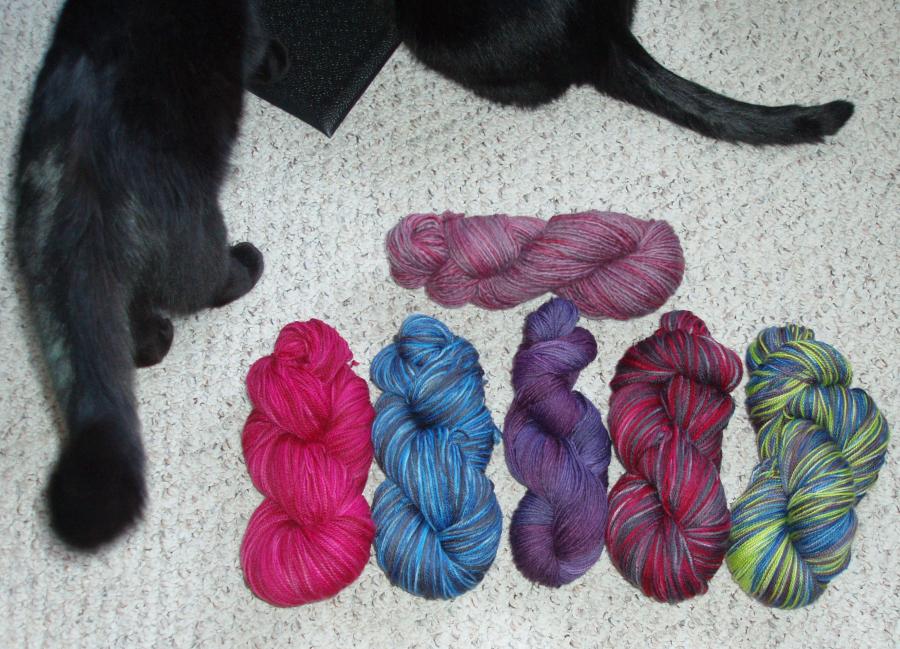 Dang, sure is a lot of traffic in this living room, isn't there?!