Deb likes to knit for babies, but there's a baby shortage in her life. Rather than creating her own baby to knit for, she's going to knit baby items to donate. But it's hard for Deb to knit baby items without a specific baby in mind… so she decided to knit for Chloe and Morris' baby and created the 24 Baby Knitting Shower. Drop by and leave her a comment if you're interested in knitting along with her!
Do you read I Can Has Cheezburger? Don't click unless you have a lot of time on your hands! (If you're at work, please recognize that you will be giggling aloud. This may or may not be problematic.) Here's one of my favorites – guess why! And here's another.
How cool is it that there's a community radio station in northern Minnesota called KAXE (pronounced K-AXE)? It's eclectic and excellent and you can even listen to it online. Saturday night from 7 – 9 pm CDT, check out Green Cheese, an extremely fun call-in trivia show. Not all callers are entirely sober, but many have Fargo-worthy accents! (And hey, you can even buy sports bras emblazoned with their logo!?!)
Reading Update
The Friday Night Knitting Club by Kate Jacobs. Quite some time ago, Sachi sent me a first chapter excerpt of this book. I read it, but wasn't that compelled to rush out and read the rest of the book. Finally picked it up from the library and decided that the first chapter doesn't really do the book justice – it gets quite a bit better after that. It's not world changing literature by a long shot and some aspects of the book are a bit predictable, but overall I enjoyed the read.
Now May You Weep by Deborah Crombie. Kincaid and James again. 🙂
Gluten-Free Update
If you have celiac disease like I do, I highly recommend subscribing to Gluten-Free Living. (Although I'm horrified at how out-of-date their webpage is.) They do a great job of actually researching celiac disease's urban legends, providing information about new research, keeping up with legislative developments, and reviewing new products. The Spring 2007 issue featured an article about gluten-free beers – I didn't know that Anheuser-Busch was making a gluten-free beer (Redbridge)! I was familiar with Lakefront Brewery's New Grist, which I actually tasted before those darn migraines convinced me to go alcohol free. (It was tasty – even my gluten-eating beer connoisseur brother agreed.) The same issue also mentions a few restaurants where it's possible to get gluten-free pizza. Woo-hoo!
Knitting Update
Does anyone even remember that I knit? 😉 The laptop bag is knitted – I just need to sew it together and felt it. And I'm working on two different socks, but it was too darn dark last night to take decent pictures. Maybe tonight it won't be stormy… although the forecast is inauspicious. Instead, shall we take another look at the lovely Mayhem and her cute 'tocks?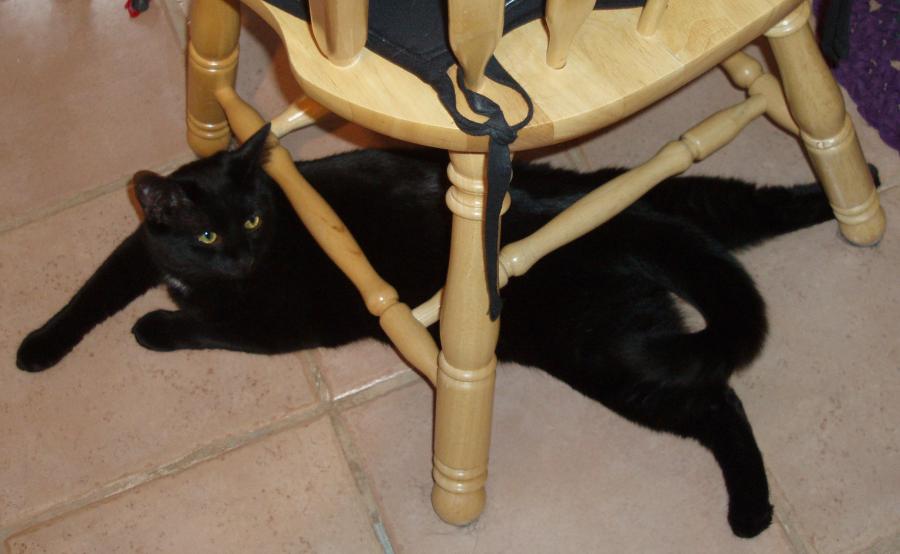 "What? Yeah, so I'm flexible. I coulda been a gymnast! Or a master yogi." -Mayhem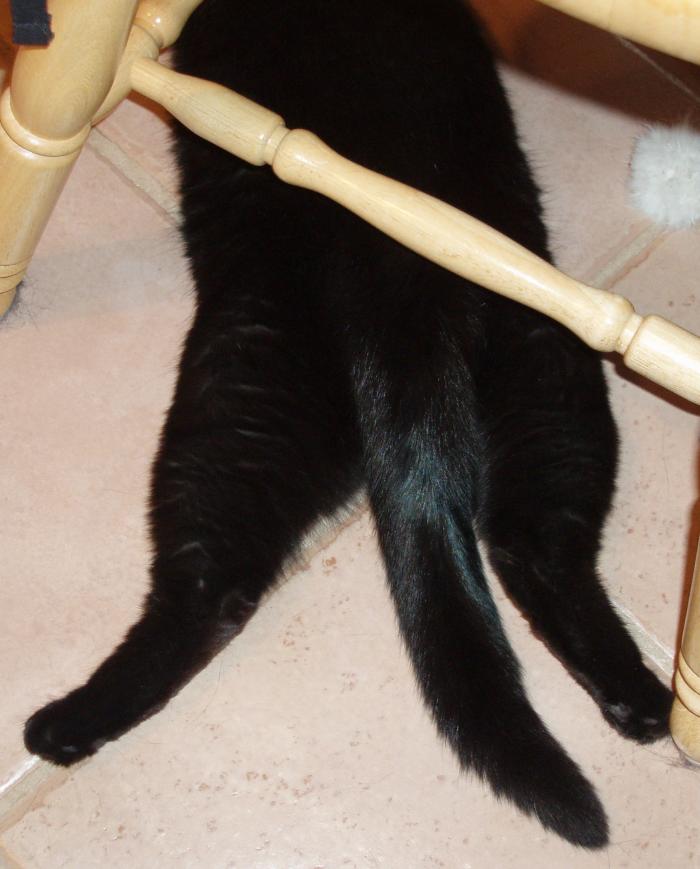 "I don't know why you think this is so interesting…" -Mayhem