Many, many thanks to everyone who sent such kind words yesterday. I hope that Mayhem responded courteously to you all! I'm feeling about the same – wiped out. Hopefully the lab work comes back soon so we know what sort of anemia (iron, B-12, folate) this is.
Trek has had a lifelong dream of reaching 145 comments on a single post. Toward that goal, leave a comment for her before June 1 with a suggestion about fun things she and her daughter can do over the summer. When lucky number 145 is reached, Trek will draw a random winner who will receive a mysterious but sure to be fabulous prize!
Brenda moved her blog and is having a contest to celebrate! Leave her a comment about what you named your blog and why. If you're blogless, leave a comment with what you would name a blog. She'll draw two winners on May 8 (also her eighth wedding anniversary) – you could win some Schaefer Anne or Cherry Tree Hill sock yarn.
KitKatKnit is trying to find the lentil soup recipe she and her college roommates used to make. Leave her a comment with the recipe by noon PDT, May 3 (when she has to shop), and you could win a hat pattern and the yarn to knit it with.
Reading Update
All Shall Be Well, Leave the Grave Green, Mourn Not Your Dead, and Dreaming of the Bones by Deborah Crombie. Continuing on with the Scotland Yard Superintendent Duncan Kincaid and Sergeant Gemma Jones mysteries. These are very well done and I will continue to read them – in order. 🙂
Knitting Update
I finished my Bird of Paradise slip stitch rib socks! These are from Sundara's yarn, colorway Bird of Paradise (from her sock club). The stitch pattern is one round of K3, P1, followed by a round of K1, slip one as if to purl, K1, P1. The slip stitch ribbing makes great vertical stripes in yarns that have two colors alternating rounds. I had to tweak the colors a bit because it was very dark when I took the pictures – however, the colors are accurate. Hence the need for sunglasses…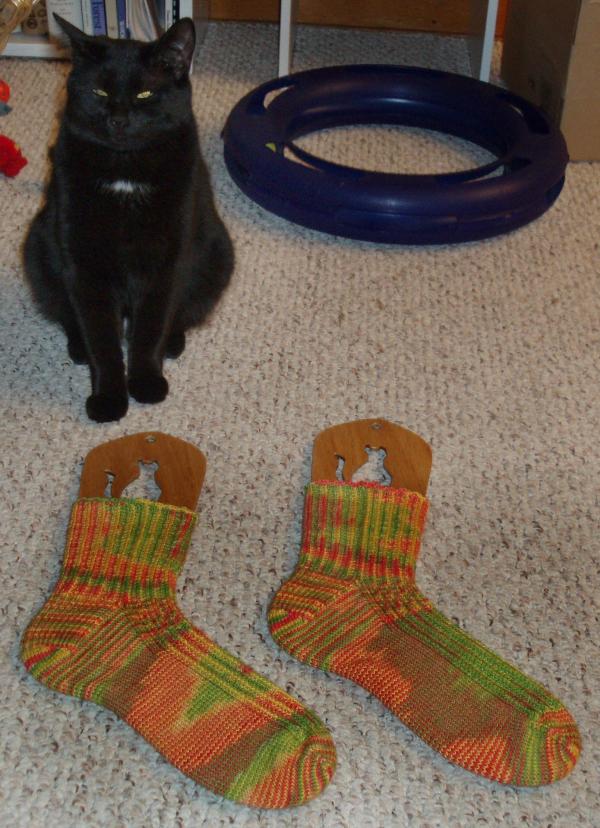 "What, you don't think I have better things to do with my time than sit here by your socks?! I have fan mail to answer, Mom!" -Mayhem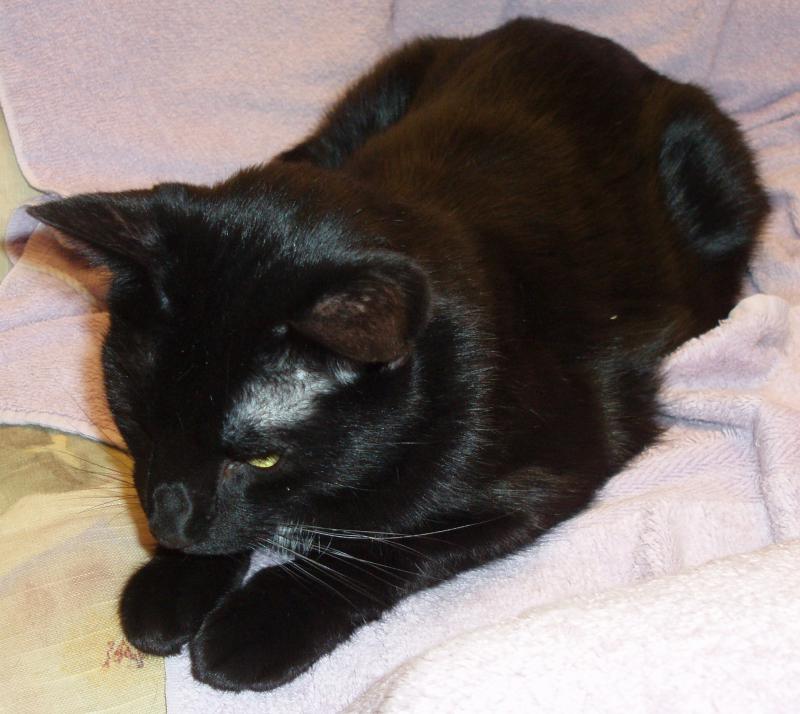 "Hee hee, May – better you than me! I'll just lurk here unobtrusively in the chair… wait, was that the flash?!" -Chaos