No, no, not a bounty on Canadians. 😉 (Did I just hear a collective sigh of relief from the north?!)
Sadly, I am not receiving all my comment emails, due to webhost issues. I have been reading them on the blog and if they ever do arrive, I shall respond to them post-haste.
Onward. I've had a number of questions about what purchases I made while in Canada, so here goes. While Lorraine had Brigitte and I out and about for our yarn store crawl, we also stopped at Blue Banana Market. I restrained myself and only got a couple things.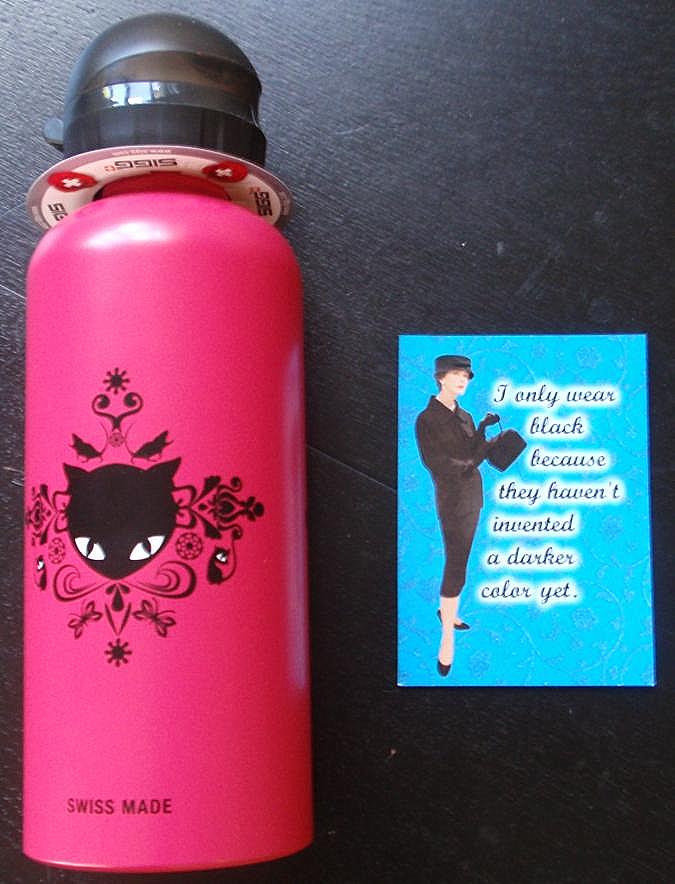 The magnet says "I only wear black because they haven't invented a darker color yet." 🙂
Here's most of what I purchased from Romni: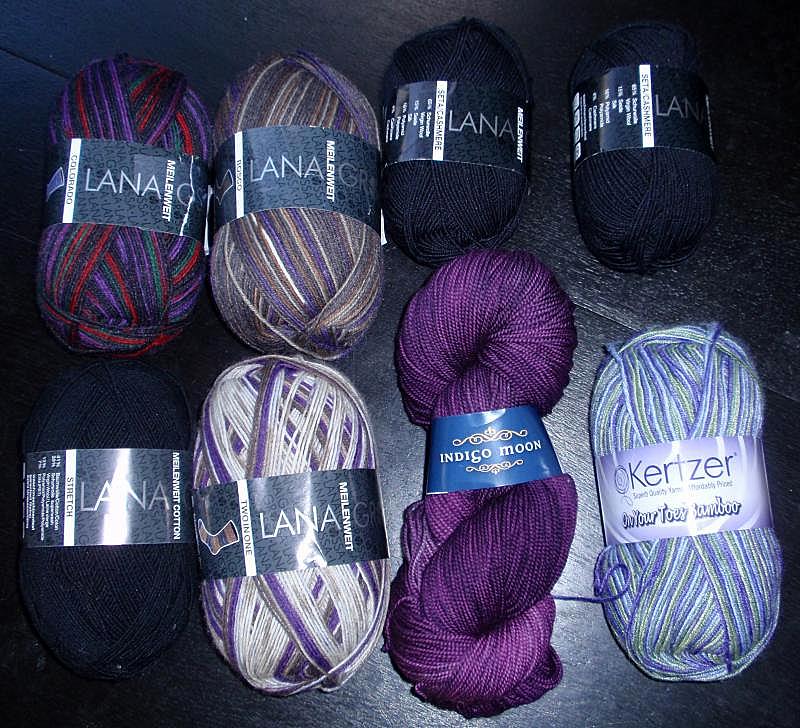 Can you tell what my favorite sock yarn is?! They had types of Meilenweit I've never seen before. Really, how could I resist?
I purchased enough yarn at the Purple Purl for a February Lady Sweater. (Look! Part of Lorraine is in the picture! I was trying to see how many clashing shades of purple I could get into a single photo without exerting undue effort.)
The yarn is Tanis Fiber Arts aran weight, Plum colorway.
Lorraine also presented me with a fabulous bag of goodies! That keychain in the lower left? The eyes light up and it meows. The magnet says "Be truthful. Does this outfit make me look TOO gay?" And isn't Socks That Rock's Rocky Horror colorway about the most perfect October/Halloween colorway ever?! Thank you so much, Lorraine!
When I met up with MamaTulip, she, too, presented me with a fabulous bag of goodies! Thanks, MamaT! (Since I photographed these at home, I had quite a bit more feline involvement than in the pictures with the black background above. Let's just say that Brigitte's kitties are much less aggressively curious than are Chaos and May.)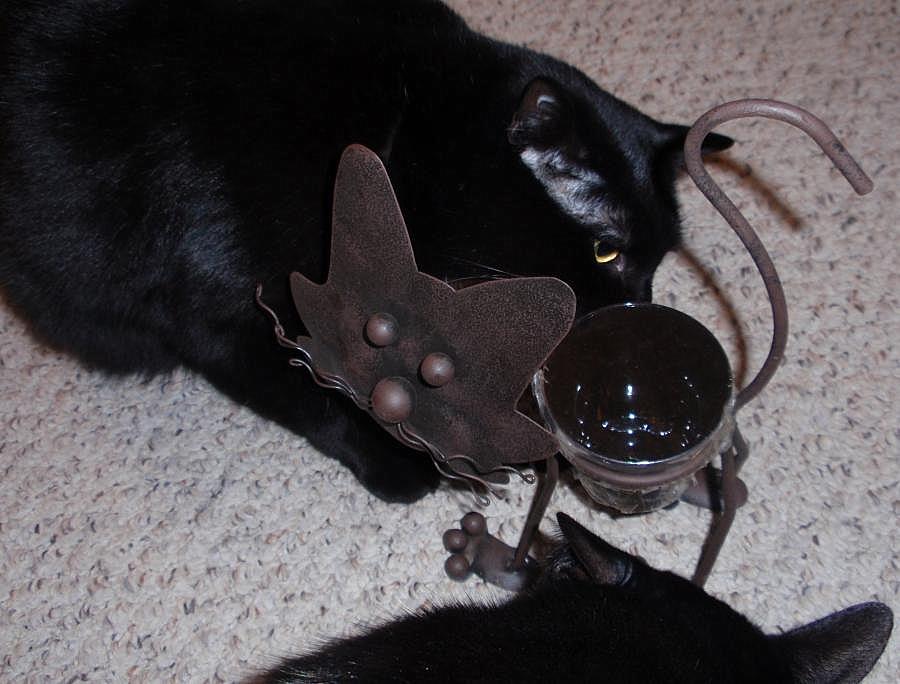 "Big kitty, what do you think this is?! It's so interesting!" -Mayhem
"I think it's a kitty who caught a horrible disease, May." -Chaos
"Oh no! Big kitty, what can we do to help?!" -Mayhem
"Don't you think you should be more concerned with avoiding its fate?" -Chaos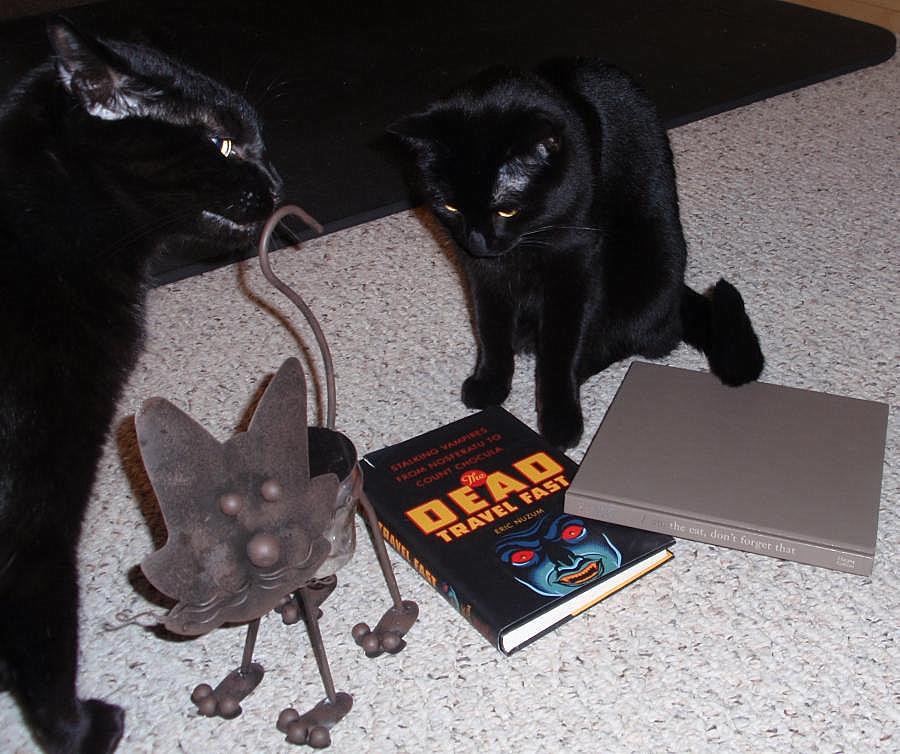 "Oh no! Is it contagious?!" -Mayhem
"You can't be too careful, May." -Chaos
"Oh! Look at its cute toes!" -Mayhem
"Darn, I really had her going. Too bad she has such a short attention span…" -Chaos