…Mayhem chasing her tail on top of me. *oooof* Today started out inauspiciously when my espresso maker gave up the ghost…
Looks like the Yarn Harlot got a not-too-bad picture of me… If you're looking for the Twin Cities "linkorama" Stephanie mentioned, here you go. Hey, our singing "O Canada" is available on You Tube! And here's a link to the Strib article about the event.
Jenifer's having a contest – guess what one-skein project she's knitting and then share what your favorite one-skein project is (not from any of the one-skein books). Submit your entries by midnight, April 14, and you could win a mysterious prize.
Reading Update
Um, I haven't apparently done a reading update for a while… Brace yourselves.
Maggie Needs an Alibi, Maggie by the Book, Maggie Without a Clue, and High Heels and Homicide by Kasey Michaels. Maggie Kelly writes mysteries set in Regency England. One day she turns around to discover that her hero, the dashingly handsome Alexandre Blake (the Viscount St. Just) and his amiable sidekick Sterling Balder have come to life and are standing in her living room… These aren't terribly well written, but they are light and amusing.
Ready or Not? by Chris Manby. Light chicklit about a British radio producer who isn't sure her fiance is right for her as the wedding approaches.
Out of this World by Jill Shalvis. More light chicklit (although significantly steamier than the previous title – *fans self*) about an LA muralist who inherits a mysterious B&B in remote Alaska.
Magic Bites by Ilona Andrews. Quite possibly inspired or at least influenced by Kim Harrison's Rachel Morgan series, this book (possibly the first in a series? It has that feel) features magical mercenary Kate Daniels in an alternate future in which tech is in decline and magic ascendent.
Whiskey Sour by J.A. Konrath. Book one in a (so far) short series about insomniac Chicago police lieutenant Jacquelyn "Jack" Daniels. Sufficiently entertaining that I'm reading the second book and have the most recent book queued up. Please note that these are pretty gory at times.
Knitting Update
I finished my Regia Crazy Colors socks yesterday for my first completed Project Spectrum April/May project. Although it was a struggle, I resisted doing the Ms. Matchy Matchy thing.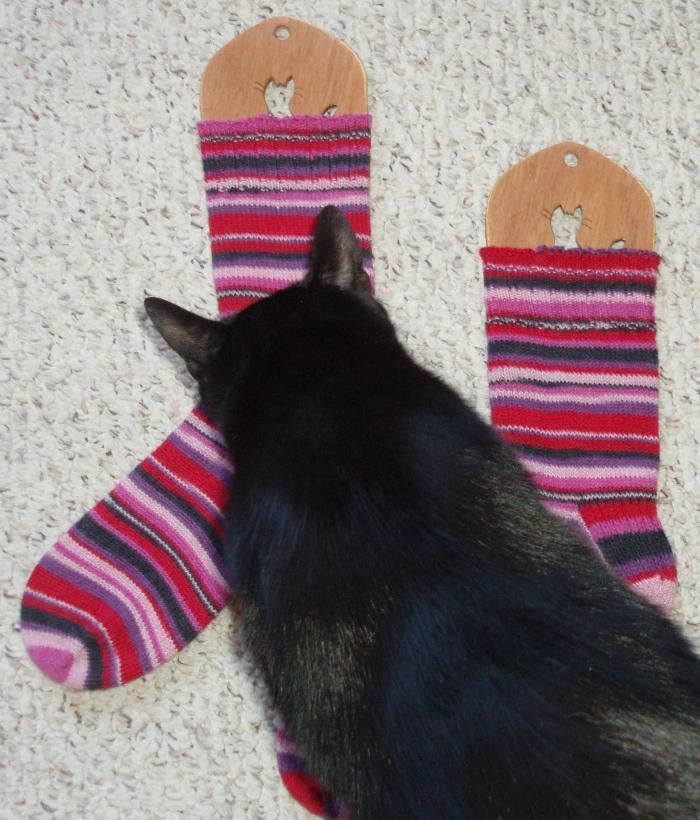 *sniff sniff sniff* -C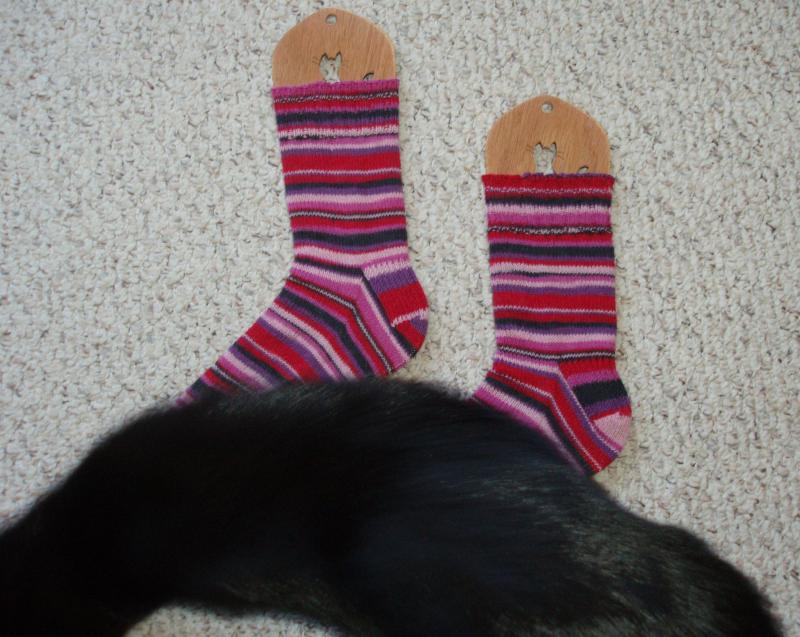 *sigh* "She's still not making the tuna and catnip socks I requested, May." -C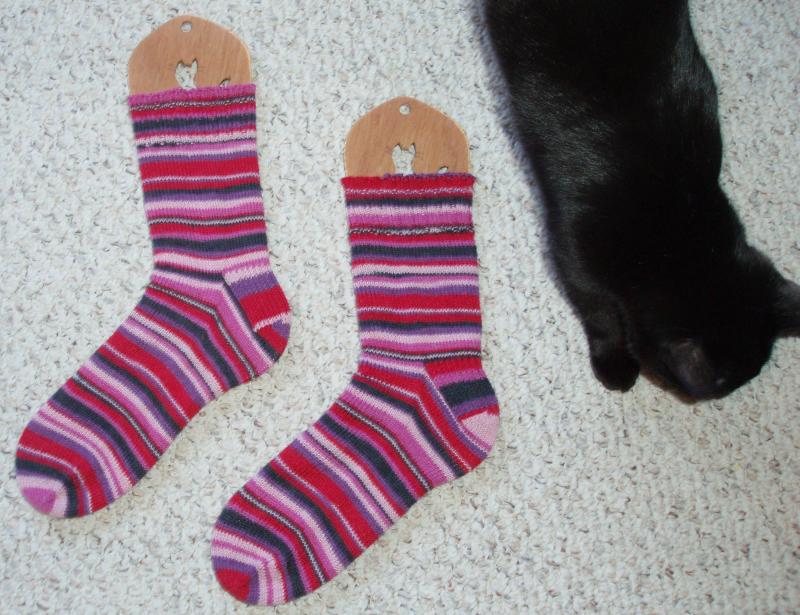 "Ok, big kitty, then I won't even bother to stop and check them out." -M