Wendy has started giving away books after she reads them – if you send her an email before noon EDT, April 1, you could be selected to receive her copy of Past Reason Hated by Peter Robinson.
Lorette is celebrating her third blogiversary! Leave a comment about your favorite knitting trick or gadget and you could win some sock yarn. Comments must be left by midnight, April 1.
Reading Update
Innocent in Death by J.D. Robb. The latest Eve Dallas/Roarke (mmm…. Roarke…) mystery is good, but pretty standard fare. I swear, didn't Born in Death just come out?!!
The Return of Jonah Gray by Heather Cochran. I was expecting this chicklit tale of Sasha, an IRS auditor, to be pretty standard fare, too. I was pleasantly surprised to discover that it had a bit more substance than I expected.
Life Update
Some things I'm looking forward to over the next few days – as part of their World Tour of the US, Peeve and Mr Peeve are coming to Minneapolis tomorrow and they're staying at Casa de Chaos y Mayhem! Now, if I can just remember to bring along my camera… 😉 Hopefully the flood watch we have going through Saturday night remains just a watch…
Also, next Wednesday, the Yarn Harlot will be speaking in St Paul and signing copies of her new book. Rumor has it that there are 400 knitters who've reserved spots, with a waiting list. Should be very crazy indeed!
I've had a rough week at work and things will continue on in that fashion at least through the early part of next week. So imagine how finding this in my mailbox yesterday afternoon cheered me up: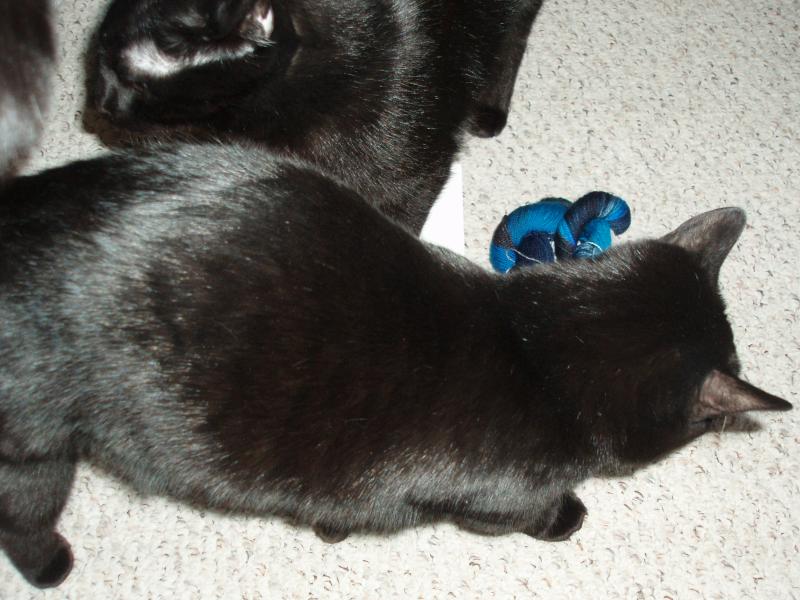 "I don't remember being in the mailbox, but I know I always cheer Mom up!" -M
*snort* "Yeah, that's what she meant, May… not." -C
Hmm. I didn't mean for you to have to imagine quite that much. Let's try again, shall we?
*sniff sniff* "I will allow you to accept this gift." -C
Gee, thanks, Chaos. Anyway, Imbrium and I exchanged mix cds – the mix she sent me arrived yesterday, along with two gorgeous skeins of Interlacements Tiny Toes sock yarn in Midnight Blues! (Yes, there's purple in there – it just didn't photograph well.) Thank you so much, Imbrium!! Hey, I can't get to your blog… 🙁
Have a great weekend, everyone!