Elspeth is having a contest for "WIP It Out" on March 31st. There will be a prize for identifying the movie quote, and another lucky participant will receive one of E's frogged WIPs.
Cindy is having a contest – leave a comment about any Greek affiliations you may have had in college (or just leave a comment if you were independent and unaffiliated). Comment by 11 pm CDT March 29 and you could win some sock yarn. Although I wasn't in a sorority, I was in Xi Sigma Pi, the National Forestry Honor Society…
Sallee the Knitnana is having a contest to celebrate a comment milestone. Leave a comment about the Meezer by midnight EDT March 30 and you could win a Nana Sadie Rose sock bag (a new design)!
So perhaps you are wondering about the post title… I think a picture will speak a thousand words.
Yes, that is the skin and skeleton of Chaos' beloved SRM. If I hadn't witnessed Chaos demolishing SRM, I would've blamed Mayhem, known to be very hard on her toys… Compare the picture above to this picture of SRM, taken in January of 2006:
When asked why he would treat his beloved toy in such a fashion, Chaos didn't have much to say for himself.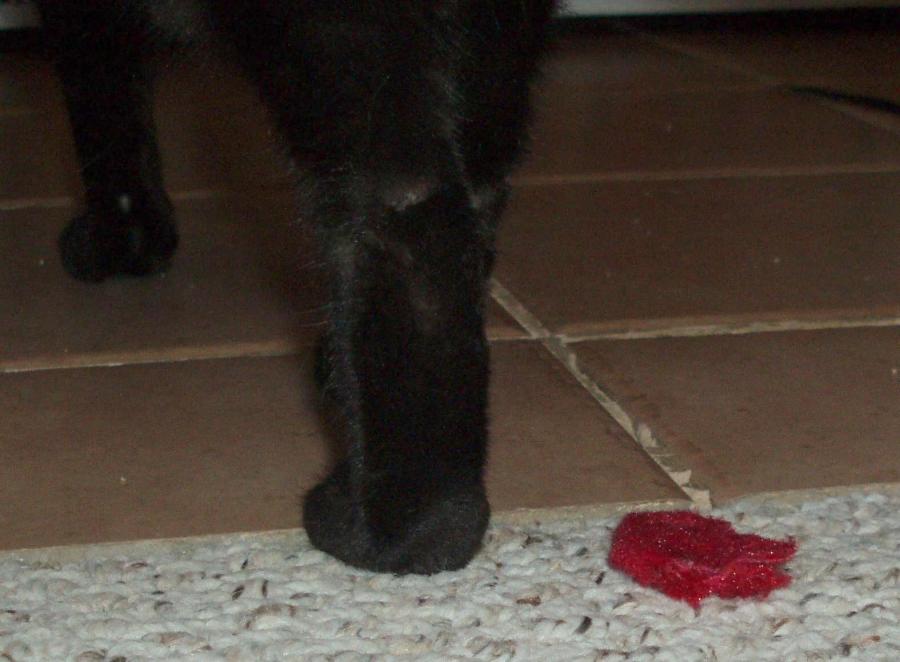 I guess we're left to find our own answers about this senseless loss of sparkly mouse….